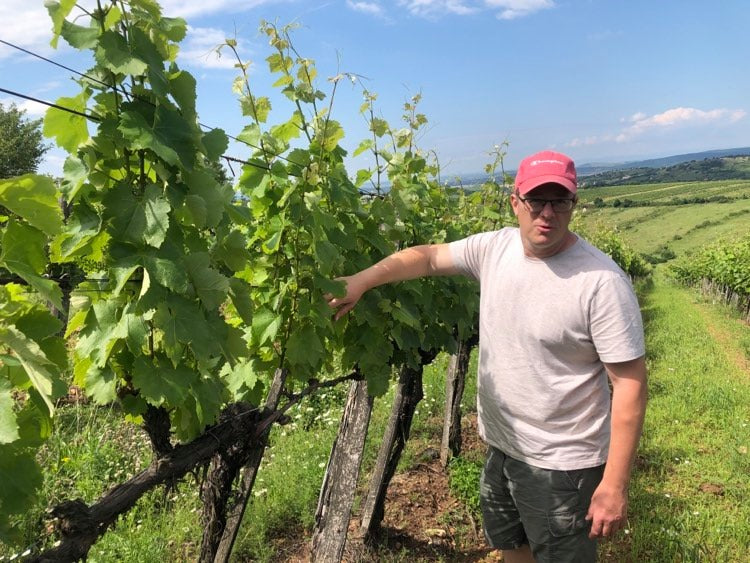 Meet Laszlo Szilagyi, winemaker at Gizella Winery
"It takes a lot of time to realise your potential in Tokaj; it's been a very exciting ride."
Gyorgy catches up with Gizella winemaker Laszlo Szilagyi
Meet Laszlo Szilagyi, winemaker behind Gizella winery, who is passionate about mastering the region of Tokaj in north-east Hungary.
"Tokaj is one of the most complicated wine regions in the world, and Furmint is a very tricky grape variety. A big advantage of Tokaj is its highly diversified volcanic soil, which works very well with Furmint. Either dry or sweet, Furmint reflects the terroir so effectively," Laszlo says.
Laszlo's vines can be found on the soil of volcanoes that were active thousands of years ago. These soils and Tokaj's cooler continental climate, contribute to Furmint's slow-ripening and ideal balance between sugars and acidity. It's this remarkable balance that gifts Tokaj Furmint it's minerality, a term used to describe the freshness and intensity of the style.
His collection of vines features several small parcels and Laszlo's willingness to experiment and pursue perfection just ooze excitement. In a generation where Tokaj reinvents itself as one of the world leading producers of dry white wines, Gizella is one of those wineries at the forefront of the revolution.
However, it's not all Furmint. The region's second most important grape variety is the voluptuous and aromatic Harslevelu. Harslevelu, in its varietal expression (like the Barat parcel, pictured above), shares similarities with Viognier but with more acidity and bite; a fruit salad of stone fruits, honey and floral aromas.
It's also a beautiful blending partner with Furmint, offering a little more weight and body. Laszlo's latest edition to his range is the Gizella Furmint x Harslevelu estate blend, which he described as a "snapshot in time".
The blend combines three villages and eight vineyard parcels of Furmint and Harslevelu, with the vines between 5 and 50 years' old, that are fermented in stainless steel to preserve freshness. The result is a wine bursting with peaches, pears, linden flowers and orchard fruit. It's a pure and raw macro-expression of Tokaj's two most important varieties.
We would love you to join us in sharing a glass of Gizella in September. Here's to Laszlo's success and sheer determination for quality Tokaj. Cheers!