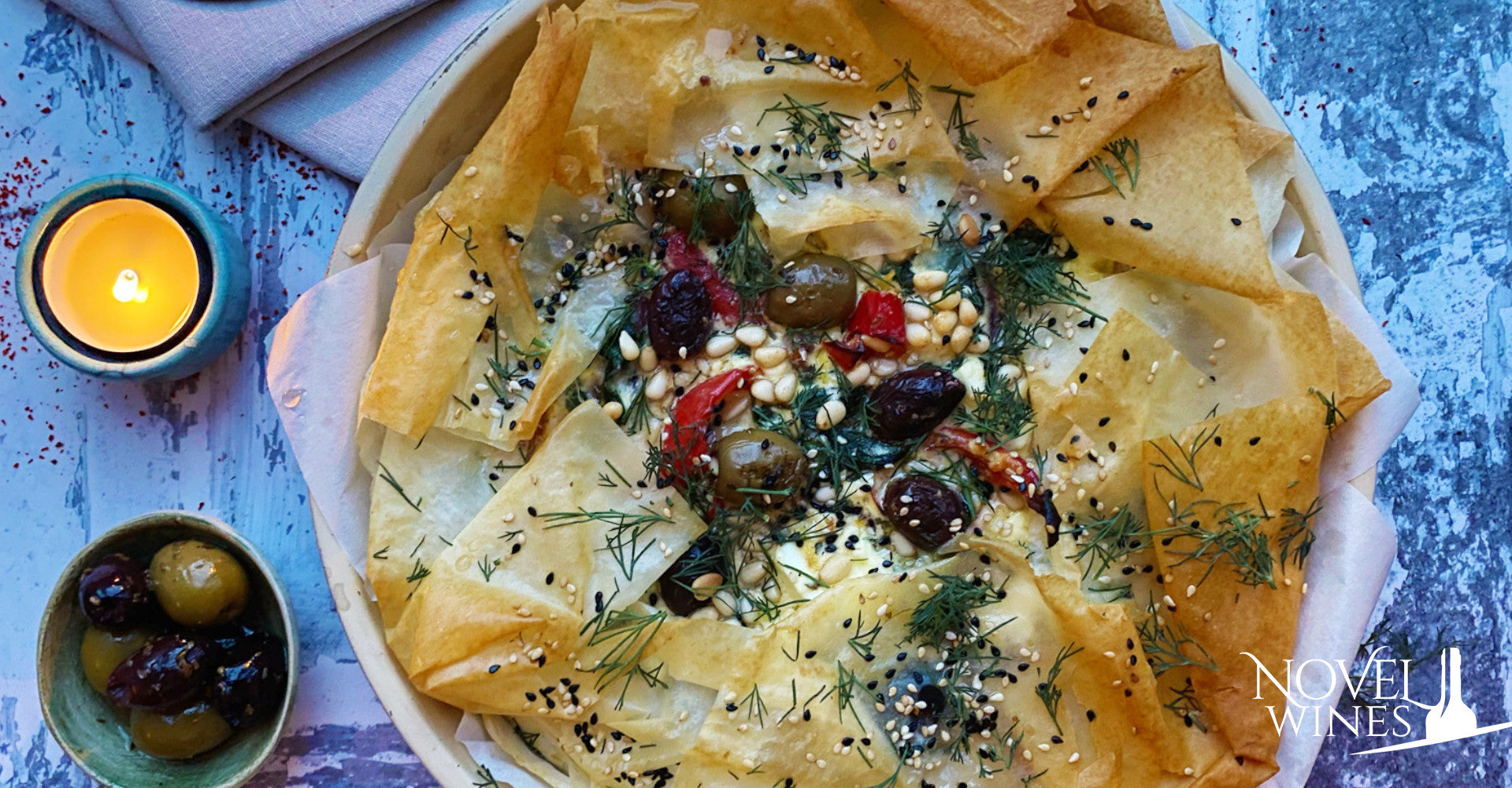 Pairing wines with Raphael's Roasted Red Pepper Tart recipe by Kiki Burton
We are really excited to announce a partnership with foodie Kiki Burton, behind popular food blog Cardamom and Dill, alongside our friends at Raphael's Mediterranean Deli Products, who supply our delicious range of oils and olives. 
In our debut recipe collaboration, we've selected Kiki's mouth-watering recipe for a beautiful tart inspired by Raphael's products. At the end of the recipe, you'll find our top wine pairings personally selected by our buyer, Ben Franks.
What you'll need:
1 red bell pepper thinly sliced, with the membrane and seeds removed
1 yellow bell pepper thinly sliced, remove membrane and seeds
Raphael's Greek Extra Virgin Olive Oil (buy here)
Half teaspoon of dried oregano
Sea salt flakes and ground mixed peppercorns
A knob of butter
2 finely sliced red onions
2 large, finely chopped garlic cloves
120g of baby spinach
2 large free range eggs
250ml creme fraiche
200g good quality feta cheese
1 lemon, zested
Freshly grated nutmeg
4 sheets of filo pastry
Raphael's olives (choose your favourite here)
Pine kernels
Sesame seeds
Fresh dill, for garnish
Kiki's method
Heat your oven to 190C.
Line a baking tray with parchment and arrange your pepper slices on top. Drizzle 1 tbsp of Raphael's extra virgin olive oil, season and add a pinch of dried oregano. Roast these for 20 mins and then set aside.
While they're roasting, put a frying pan on medium heat and add the remaining olive oil and the butter. Sautee the onions for 10 minutes until translucent and then add the garlic, frying for a couple of minutes more. Add spinach and wilt down before removing the pan from the heat and set aside.
Beat your eggs with creme fraiche and crumble in your feta. Add a squeeze of lemon zest and the nutmeg. Season to taste and pour in your cooled onion mix and roasted red peppers.
Arrange your filo sheets on a round pie dish and brush each layer with olive oil, making sure you cover the bottom and leave plenty of pastry hanging over the edge of the tray. 
Tip your filling into the pastry and spread it to the edges, then arrange olives and pine kernels over the top. 
Gently fold the overhanging pastry over the top and brush each layer with the olive oil as you go. Then brush the top of the pie with the olive oil and sprinkle over sesame seeds.
Bake for 25 minutes until golden and the top will be firm. Rest for 15 minutes and then serve with fresh dill and a simple Greek salad.
Read Kiki's original recipe here.
Don't forget the wine
What wine do you pair a Mediterranean roasted red pepper tart with?
This superb tart needs something with acidity to cut-through but not overpower the dish. It makes sense to plum for a wine from a region similar to where you imagine you'd be enjoying this tart, whiling away the afternoon in the Greek sun, perhaps. 
The wine jumping immediately to mind is our Monemvasia Winery Tsimbidi Kydonitsa from Laconia in southern Greece. "Kydonitsa" means "quince" and, just like the fruit, this wine lives up to its names with bittersweet ripe quince and grapefruit flavours. Mouth-watering and fresh, it's got to be an instant winner with Kiki's tart. 
More of a curveball, but something I love with roasted red peppers (especially when garlic is involved) is a crisp, zingy rose wine. You couldn't go wrong with a glass of Aldwick Estate Mary's Rose, locally grown here in Somerset. A blend of Solaris, Pinot Noir and Regent, this English pink mixes layers of pink grapefruit, rhubarb and strawberry fruit with a crisp, dry finish. 
Featured image credit: Kiki Burton, Cardamom & Dill