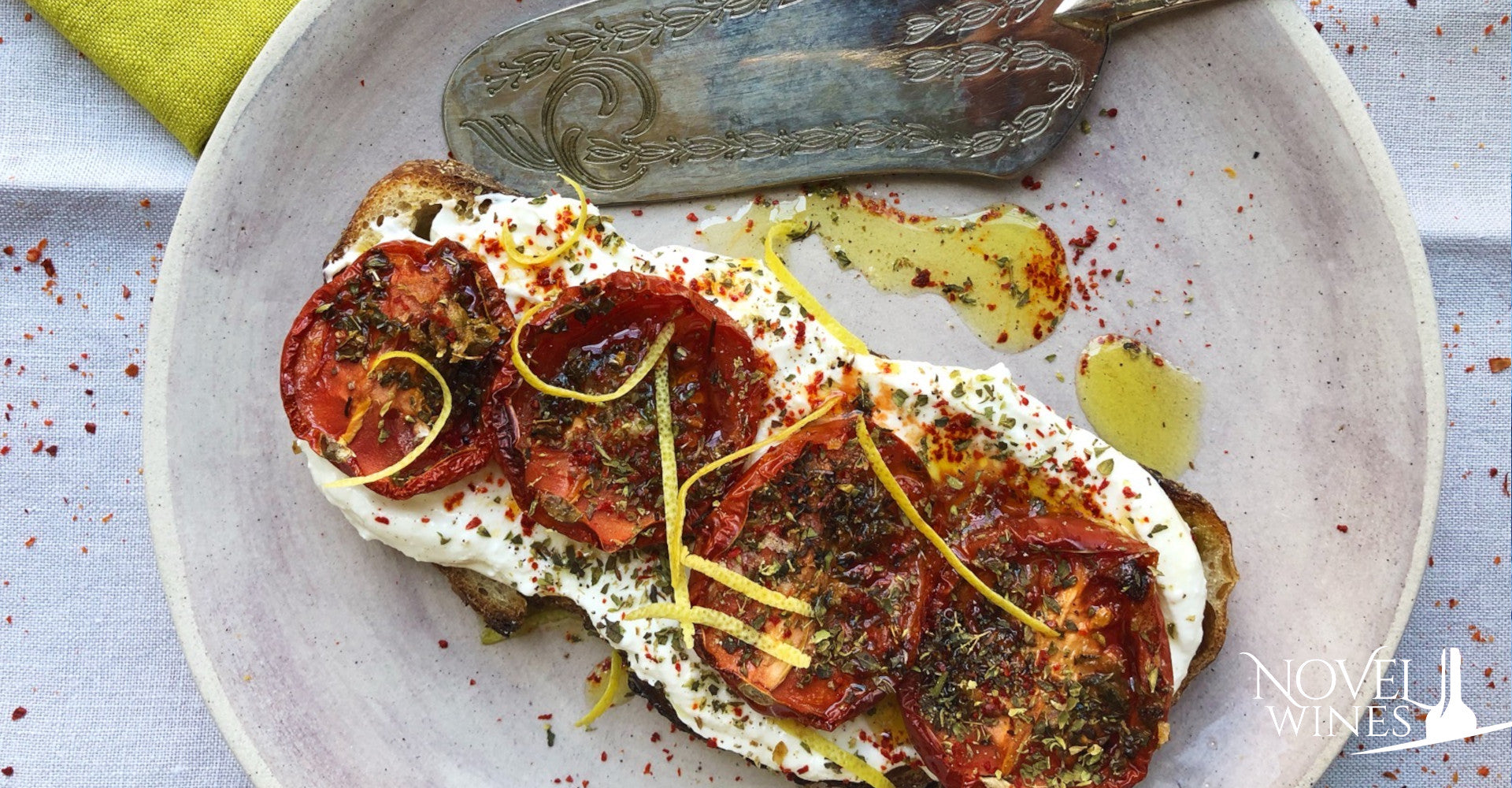 Greek wines with Kiki Burton's oregano-roasted tomatoes and whipped feta on garlic sourdough
Welcome to a series of articles celebrating delicious Mediterranean food and truly Novel Wines. This recipe series is in partnership with foodie Kiki Burton, behind popular food blog Cardamom and Dill, alongside our friends at Raphael's Mediterranean Deli Products, who supply our delicious range of oils and olives. 
In this week's recipe collaboration, we've selected Kiki's lunchtime Greek Wild Oregano-roasted Tomatoes and Whipped Feta on Garlicky Sourdough recipe. Kiki put together this treat after seeing Raphael Deli's Greek breakfast of tomatoes, ricotta, oregano and smoked sea salt on bread. At the end of the recipe, you'll find our wine buyer Ben's perfect pairings with this Med lunch.
What you'll need:
3 plum tomatoes, halved
Raphael's extra virgin olive oil (buy yours here)
Wild oregano
Smoked sea salt and freshly ground black pepper
Whipped feta (200g feta cheese at room temperature and 80g creme fraiche, also at room temperature)
Two slices of sourdough bread
1 peeled clove of garlic
Half a lemon, zested
Pul biber, to garnish
Kiki's method
Heat your oven to 150C.
Line a baking tray with parchment and place your tomatoes on cut-side up, then drizzle them with the olive oil and season with oregano and sea salt to your taste.
Gently roast for one and a half to two hours - Kiki says this will make your kitchen smell dreamy! Remove from the oven once done and allow to cool a slightly.
Meanwhile, crumble the feta into a food processor and pulse for a few seconds. Add the creme fraiche and puree until its smooth and creamy.
Toast the sourdough and rub it with your garlic clove. Spread the whipped feta generously over it and add tomatoes on top.
Finally drizzle with olive oil, garnish with lemon zest, a sprinkling of oregano and pul biber.
Read Kiki's original recipe here.
Don't forget the wine
What wine do you pair with roasted tomatoes, whipped feta and garlicky sourdough bread?
Good, fresh acidity is key. So is provenance. Stay where tomatoes thrive, i.e. the Mediterranean, but go for higher acidity. Ktima Gerovassiliou Estate White is a blend of zingy and smoky Assyrtiko and the tropical Malagousia grape variety. It has both freshness and mouth-watering fruit. That makes it a star with tomatoes. 
Of course, as it's lunchtime, you could be tucking into Kiki's dish in the afternoon sun. In which case, why not treat yourself to some bubbles? The fruity, moreish Slovenian fizz Istenic Barbara Sec Sparkling is off-dry and full of green apple, peach and brioche. A real star to sip with lunches like this!
Featured image credit: Kiki Burton, Cardamom & Dill