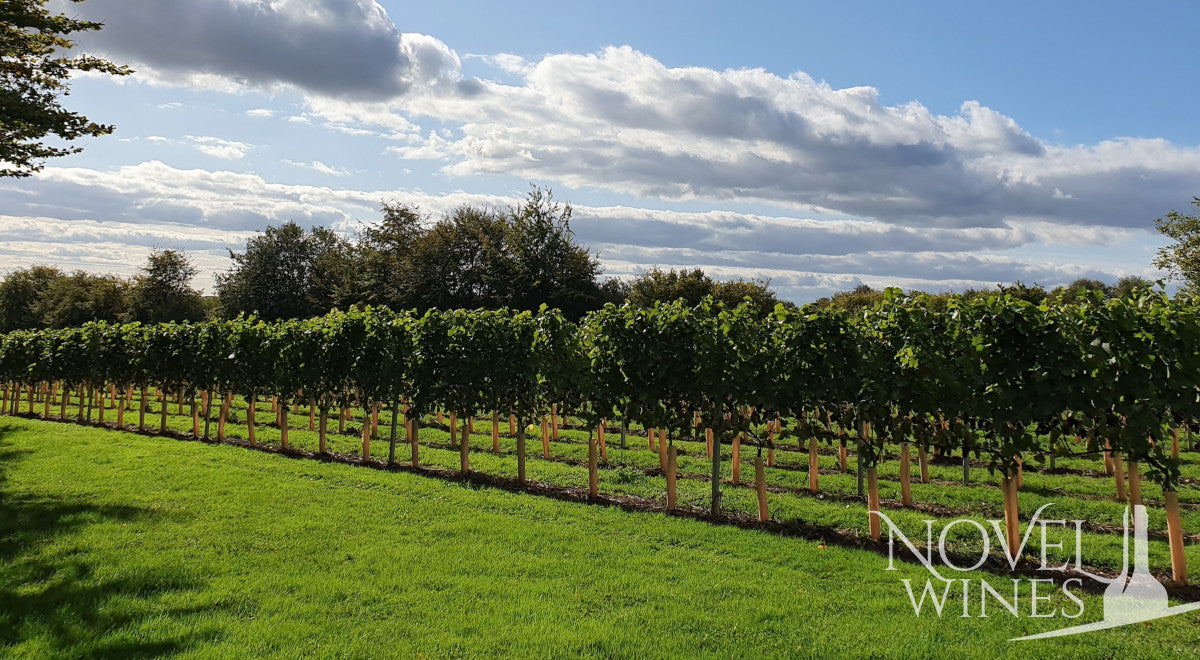 Your Guide to English Wines - This Month's Novel Wines Explorer's Club
Welcome to this month's Novel Wines Explorer's Club, the UK's most exciting wine subscription for the curious drinker. Each month, we will introduce you to a new wine region as part of our promise to deliver no two wines the same for a whole year. Not a member yet? Subscribe here.
Looking for an older guide? See all the Explorer's Club guides here.
What's in this month's Explorer's Club?
In May we have an exciting mix of home-grown English wines to share with you, from a crisp and zippy Somerset dry white blend to a duo of exceptionally good fizz from the south west. We're sure there's a few bottles of English wine in here you may never have tasted before and we're confident you'll love them. While much success has been awarded to the south and south-east wines of England, this mix is closer to our home here in Bath and celebrates a very south-west centric selection. There's also one of the finest English reds we've tried... a Divico from Wolverhampton, no less!
In this box we have the following wineries: Aldwick Estate, Woodchester Valley, Bluestone Vineyards, Oatley, and Pattingham Vineyards. Each wine celebrates its own individual style, and both the sparkling wines are traditional method - meaning they're Champagne quality!
So without further ado, let's dive in to your English box. Here's our buyer Ben chatting you through this May's Explorer's Club selection.
If you have any specific questions about the wine, you can get in touch with our team here. However, we've got lots of info on the wines below, so pull the cork and get stuck in!
Starting this month's Explorer's Club is our Woodchester Valley Vineyard Cotswolds Classic (included in The Globetrotter only). Easily one of our best-selling English wines, this traditional method sparkling wine from the Cotswolds is made from a blend of Seyval Blanc and Pinot Blanc. Seyval, not the same as Sauvignon, is a grape that works beautifully here in the UK and produces wines with zippy lemon-like freshness. The Pinot Blanc adds raciness to the wine.
Almost like bottled up apple pie, this wine is familiar and flavourful. It's great for celebrations or will sit nicely next to poached salmon or finger food. As the weather starts to warm up, this is a sure-fire favourite! Enjoy.
Next up is our newest English fizz, the Bluestone Vineyards Classic Cuvée (included both The Rambler and The Globetrotter). This wine is from England's vibrant and ripe 2018 vintage, so the fruit concentration here is marvellous. A fine wine made from majority Chardonnay grapes and aged on its lees for 3 years, this fizz combines flavours of orchard fruits, lemon and pastry over a soft mousse. 
The vineyard is owned and operated by Nat and Toby, the current generation of the McConnell family, in Wiltshire near Stonehenge. The family also has a rare breeds farm, which neighbours the vineyard.
Their Classic Cuvée has an intensity to it that makes it a wonderful food partner. Enjoy with seafood risotto and plenty of cheese, mopped up by chunks of sourdough bread.
Your first white wine in the box is Aldwick Estate BS40 (included in both The Rambler and The Globetrotter). This wine comes from one of our oldest friends here in Somerset, the Luck family in the Yeo Valley just south of Bristol. This gorgeous vineyard and wedding venue is a picturesque place to make some of the south west's very best still wines. 
A light and fresh mix of Seyval Blanc and Bacchus, the wine is zesty and floral with a good texture and a long finish. It's a very English style of white wine. Pairs beautifully with picnic food, lemony grilled shrimp, or goat's cheese. 
For Globetrotter subs you'll also have a bottle of Oatley Jane's (included in The Globetrotter only). This wine was one of the very first added to the Novel Wines list back in 2016. It's a dry white wine made from Madeleine Angevine, an early ripening white grape. The wine's made by Jane and Iain Awty near Bridgewater in the south-west and is full of garden aromas of elderflower and hedgerows. On the palate it's crisp, fresh and delightful summer drinking.
Pair a soft and rounded white wine like this with a cheeseboard, chicken in cream sauce, or a green leaf salad. Ideally, also serve with sunshine!
Our next wine is the Woodchester Valley Vineyard Rosé (included in The Globetrotter only). This still rosé wine may look deep in colour but it's a dry and flavoursome style. Packed with red cherries, cranberries and citrus notes, it's also creamy and long on the finish. This delightful balance is achieved thanks to Woodchester's limestone soils and plentiful aspect, ensuring a good mix of drainage from rain and sunshine in our marginal climate.
Rosé like this is an expert pairing with soy-based stir fries, sweet and sour Asian cuisine, or pizza. 
Finally we have Pattingham Vineyard's Divico (included in both The Rambler and The Globetrotter), one of our favourite English red wine discoveries. Grown in Wolverhampton, this is a piwi variety, a new species of vine that can survive in high disease pressure environments like the UK. It is lovingly tended to at Pattingham and fully ripe, presenting a red that's deep in colour and smells like plums and dark fruits. It's been aged for 6 months in French barrique, giving it texture, toast and spice as well.
Perhaps piwi vaieties are the future for England? They are certainly more sustainable. You can find out more about piwi varieties here.
Pair this red wine with pan roasted duck or gamey dishes, or try with shepherd's pie, mash and gravy. Yum!
Where can I find out more?
If you're not subscribed to the Club, crack on and get your subscription online by clicking here and join from only £49. If you'd rather just stock up on wines then find our wines from Austria, go here.