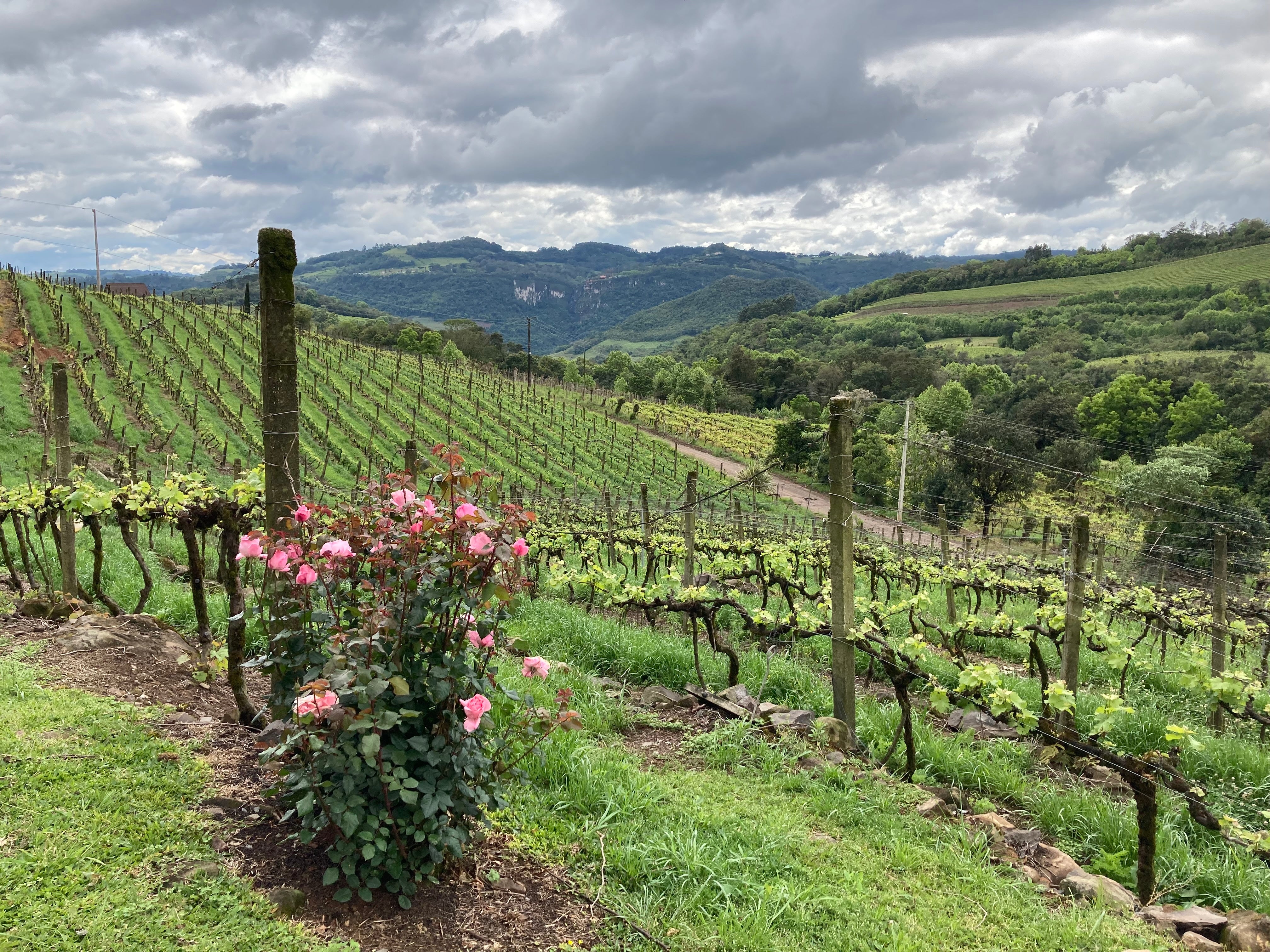 Brazilian Wine - a Q&A with Nic Corfe, founder of Go Brazil wines
This month at Novel Wines we're excited to be launching new Fausto wines from Pizzato of Brazil. We've been lucky enough to stock Fausto's Tannat for a while now but as we're such fans of Fausto we've added their chardonnay, sparkling wines and Verve red blend to our shelves too. They're all great examples of modern Brazilian winemaking and are the perfect way to explore wines from this incredible country. 
We were keen to learn more so we sat down with Nic Corfe, founder of Go Brazil wines and a fount of knowledge on Brazilian wine for a quick Q&A. Nic tells us what we should know about wine in Brazil, which regions to look out for and provides a great tip on where to visit in Brazil for the best chance to see wildlife...

NW: Hi Nic, how are you doing today?
NC: All fine and a little snowy here, since you ask! Brazil does occasionally get snow, in the southerly states of Santa Catarina and Rio Grande do Sul - which happens to be where the majority of the country's vineyards are to be found. Very different from the Brazil stereotypes that we're familiar with in the UK. 
NW: Very true! So, Brazil, not just samba dancing and football. They make great wine these days! This might surprise people, so what should they know about Brazilian wine?  
NC: Well, although Carnival, football and the fabulous beaches are all a reality, Brazil industry is dominated by the agricultural sector. Wine production is one very small part of this – but it is not new. Italian immigrants established a commercial wine-making industry in the late 19th century, and it has grown steadily since then. Once dominated by large co-operatives, in 1999/2000 numerous new family-run wineries emerged, wanting to make their mark independently, and where quality is of more importance than quantity. Indeed, in the last two decades Brazilian wines have won over 3000 international awards and in 2020 a Brazilian red featured on the front cover of Decanter magazine – a first for the country!
NW: And tell me, how did you became involved with Brazilian wine?
NC: My love of wine dates back many years, and I have been visiting Brazil since the 1990s, but it was a chance meeting in London around fifteen years ago that led me to establishing Go Brazil Wines. Despite the many obstacles Brazilians face in their daily lives, they are naturally passionate and have a great 'joie de vivre', which I find very attractive... hopefully my (Brazilian) wife would agree!
NW: Brazil is a huge country, is wine grown all over? Where are the wine regions? 
NC: Indeed, it's the fifth largest country on earth. As I mentioned earlier, the two most southerly states of Rio Grande do Sul and Santa Catarina, which border Argentina and Uruguay, account for around 85% of the country's wine production. However, over the last 5-10 years, there has been a growing trend for vineyards to be planted within the Tropics, most noticeably in the highlands of São Paulo and into the neighbouring state of Minas Gerais, in Brazil's traditional coffee belt.
In this region they practice a winter harvest, when it is cold and dry, thus avoiding the extreme heat and rains which would be experienced if they had to pick grapes during the 'normal', late summer period. Some of these 'tropical' vineyards are very small and/or experimental but we will be keeping a close eye on their development, as it is very much the future for Brazilian wine-making.
NW: I'd imagine Brazil being really hot. Is the heat a factor in how the wines taste?
NC: I would ask people to forget the clichéd images of the Amazon rainforest or the baking beaches of the northeast. With only a few exceptions, Brazil's vineyards are planted at an altitude of between 400-1200m, and this is crucial in ensuring temperatures are never too hot. While snowfall is occasional, it is rain which carries the most threat and, as mentioned with the vineyards within the Tropics, sufficiently intense there to require a winter harvest. Overall, we can say that Brazilian wines are usually very well balanced, neither with overripe fruit or excessive alcohol, and presenting a pleasantly high level of natural acidity.
NW: Focussing on Pizzato's Fausto wines specifically, what can people discover there?
NC: The original Sr. Pizzato arrived in the south of Brazil from Italy in 1879, so part of that wave of early Italian immigration we discussed earlier. The current winemaker, Flavio Pizzato, is the family's fifth generation: highly experienced (and Brazil's 'Winemaker of the Year' in 2020), he manages operations spread over two vineyards covering just under 50 hectares, at an average altitude of 500m. The original vineyard surrounds the winery itself, producing thier 'Reserva' quality wines, while the second, smaller vineyard with younger vines is located around 35km away. It is here that the grapes for the Fausto range are harvested. While the Fausto range is intended to be drunk 'young' (ideally within 2-3 years), our experience is that the reds are can be enjoyed for at least five years, the Fausto Tannat being a good example of this.
Flavio is known for using - and re-using - both American and French oak barrels for maturing his red wines; in fact, with the exception of his Fausto Chardonnay and Fausto Rosé, all his still wines are oaked to a greater or lesser extent. 
Perhaps of all the Brazilian wines I have enjoyed over the years, Pizzato's are the most European in style: they're subtle, structured but restrained, and with a level of acidity which makes them ideal for food-pairing.
NW: Who else should we really be drinking? What other winemakers should we look out for? 
NC: In addition to Pizzato, I can highly recommend Familia Geisse for Traditional Method sparkling wines. Founder Mario Geisse established his company in 1979 and is now widely recognised as Brazil's leading exponent of Trad Method fizz – indeed, that is all Geisse makes. Brazilian sparkling is also excellent value and heavily promoted by the country's export association. That said, Brazil produces excellent reds and wineries such as Miolo, Don Guerino, Casa Valduga and Salton are leading the way internationally. Far fewer white wines are produced but there are some intriguing, high quality examples, not least from Pizzato and Campos de Cima, the latter having recently launched a stunning Alvarinho / Assyrtiko / Arinto blend.
NW: And lastly, any recommendations for places to visit in Brazil beyond the beach?
NC: I don't represent Brazil's tourism authorities (a shame really!) but, beyond the beaches, my recommendation would be a trip to the Pantanal. This is a vast swampy wetland, the world's largest, that sits in Brazil's central west, bordering Bolivia. If you enjoy wildlife, you're in for a treat: guides will take you to find jaguars, tapirs, exotic birds and other creatures, including piranha fish..A long way to go, but well worth it! 
NW: Thanks Nic! 

NC:Thanks! 
Three to try: 
Pizzato Fausto Chardonnay 2022 (£16.99) - Crisp and fresh modern chardonnay with luscious apple, lemon and lime notes. 
Familia Geisse Amadeu Brut Rose NV (£21.99) - A rosé fizz chock-full of strawberry notes, waxy lemon, toasted almonds and brioche from Brazil's leading producer of traditional fizz. 
Don Guerino 'Vintage' Malbec 2020 (£19.99) - A softer Malbec with aromas of violets, mulberries and juicy plums.