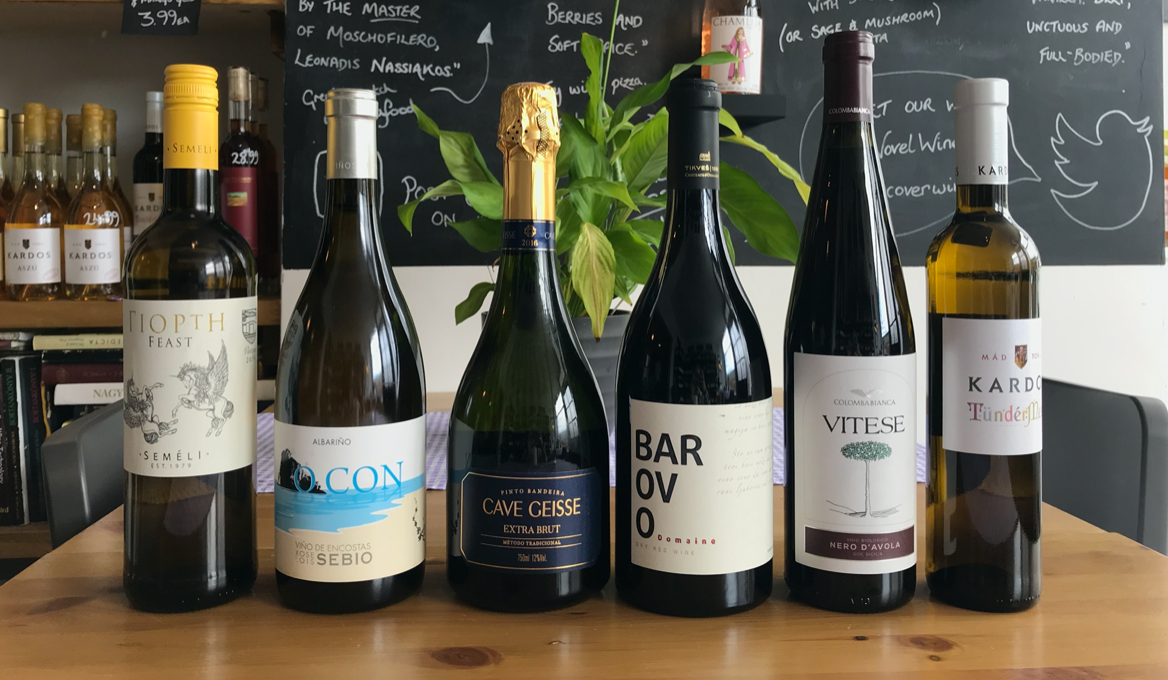 Unconventional Graduation Celebrations - Favourite Wines
Elena talks us through some of her favourite wines available in her special Celebration Case.
I am delighted to have finally received my Psychology with Innovation MSci from the University of Bristol last week. As with all my fellow 2020 graduates I have found myself finishing my degree in rather unusual circumstances, often calling for more unconventional celebrations! Coinciding with me working here at Novel Wines for just over a year now, I thought I'd mark the occasion by presenting some of my favourite wines from my time here. I have also created an exclusive celebration case showcasing these wines.
Geisse Extra Brut Tradicional 2016, Brazil 
I'll certainly be toasting to having finished my degree with a glass of this! I've always been a fan of sparkling wine, but before joining Novel I'd failed to appreciate anything beyond classic Champagne, Cava and Prosecco. A traditional method sparkling, it has creamy notes of brioche and peach, lifted with a touch of citrus and a long sherbet finish.
For any other fizz fans looking to celebrate special occasions with something slightly different yet delicious, I'd also highly recommend our Istenic wines from Slovenia.
Xosé Lois Sebio Albarino 'O Con' Rias Baixas 2018, Spain
I moved from Spain to come and study in Bristol, so I've had the opportunity to drink a great variety of Spanish wines - needless to say I'm a big fan! I particularly love Albariño, so was very excited to find this wine in the Novel Wines collection. In true Novel Wines fashion, this is an incredibly unique and very special wine - Xosé Lois Sebio is a talented winemaker creating some of the most exciting wines at the moment! I struggled to understand the idea of 'a wine with personality' before trying this… It's bursting with citrus, with subtle floral and mineral notes evoking a strong yet soothing sea breeze, making this a delicious and satisfying wine for when I'm missing home! It's fantastic with fish - I recently had it with home made beer battered fish and chips which worked wonderfully!
Semeli Feast White Moschofilero 2019, Greece 
Apart from a Moschofilero sourced by some family friends a few months before I joined Novel Wines, (I should have seen the signs of a wine love affair to come!) - I was new to Greek wines. This is a soft wine with rose petal and grapefruit tones which has been a great introduction to sunny Greek wine styles. This wine has also led me to discover Assyrtiko wines, and other mediterranean grape varieties. It helps that it is one of my favourite cuisines - this wine pairs especially well with dolmades (rice stuffed vine leaves)! A great, accessible Greek wine.
Tikves Barovo Single Vineyard 2017, North Macedonia
I took this wine back to Spain for my family Christmas dinner and it was a big hit! It's a special wine and even more special to me now as it reminds me of time spent with loved ones. Rich yet supple, this great example of a perfectly balanced wine. Simply lovely.
Colomba Bianca Vitesse Nero d'Avola, Sicily
This is a fantastic go-to Sicilian red, which also happens to be vegan and organic. This smooth, cherry-plum fruit wine with a hint of spice, makes for very easy, relaxed drinking.  It's a great wine to go with pizzas (make an evening of it with homemade ones) and will stand up well to most grilled meats, so it is also an ideal wine to bring along to a BBQ. And something to keep me going whilst my Sicily travel plans are put on hold!
Kardos Tundermese Fairytale, Hungary
I couldn't create my personal Novel Wines Best Of case without including the beloved, customer favourite Fairytale. I tasted this wine on my first day here - which was fitting as it was the first wine that Ben and Gyorgy brought in when they started the business back in 2016!  It's always a big hit at tastings and I was told it paired beautifully with blue cheese. However, not being a massive blue cheese fan, I was a little hesitant to try this combo but oh so glad I did! It's a fantastic crowd pleasing dessert wine that I'd recommend to all, even sweet wine sceptics!
So these are some of my favourite wines. It was hard to choose just six, and ask me next week and I might have a new favourite! This said, I feel that these bottles best represent my time here so far as well as the range that Novel Wines has to offer.
I would highly recommend any of these wines to casual wine drinkers and more serious enthusiasts alike. We all have our own personal tastes when it comes to wine and I'm always excited to help customers discover their own favourites! 
My Celebration Case is now available from our online store. 
Cheers!