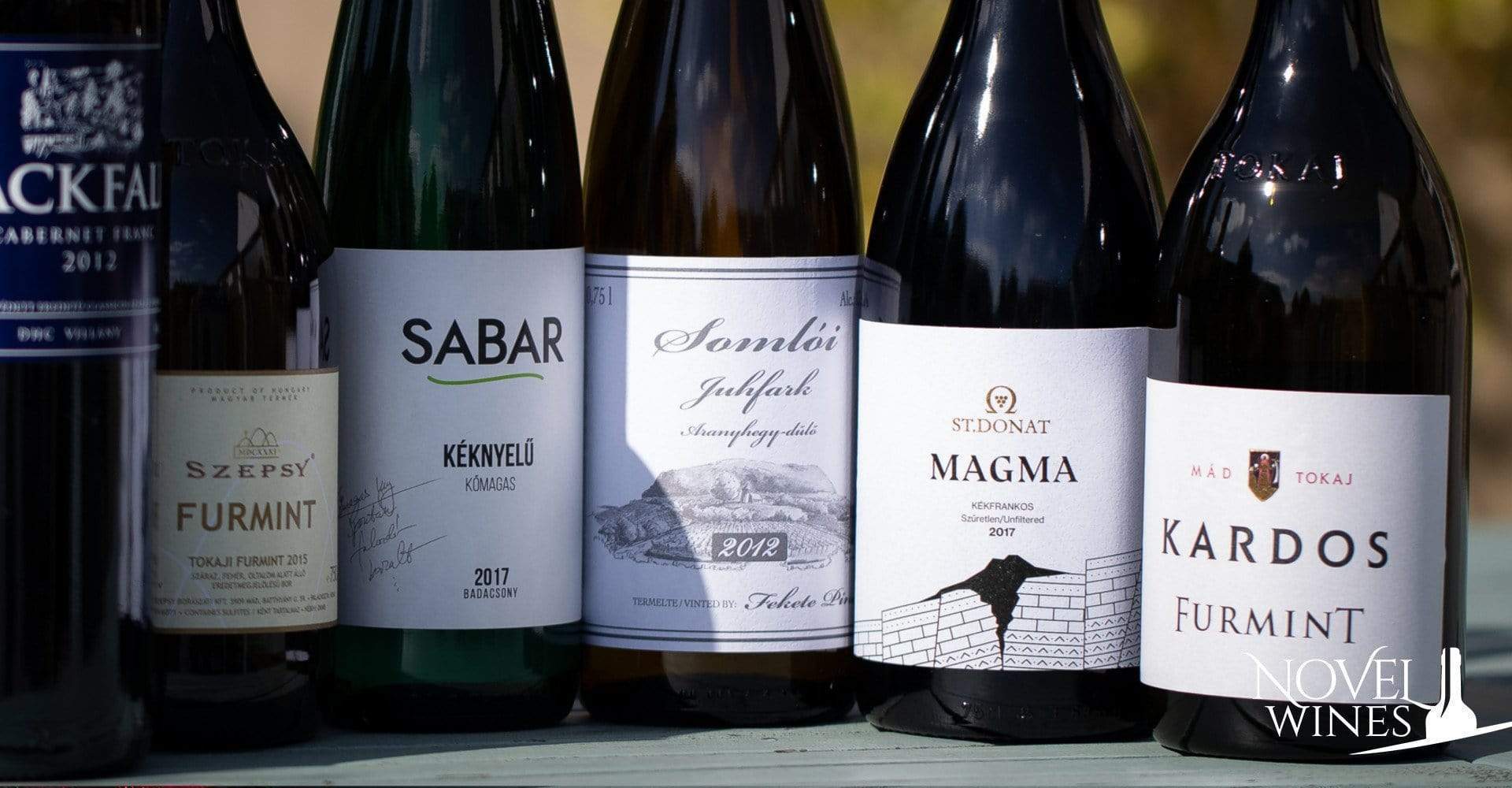 6 Great Hungarian wines you should try next
Whether you're new to Hungarian wine or looking for some recommendations of what to try next, we're excited to show you six wines that are sure to please.
Kardos Dry Furmint, Tokaj
New to Hungarian wines? You should try the country's most compelling grape variety: Furmint. This Chardonnay-meets-Riesling grape variety is indigenous to Hungary and for many years was famed for its indulgently sweet wines. However, there is a movement today in Tokaj towards crisp dry white wines and Furmint, with its bags of acidity and character, is the obvious choice for this style of white wine.
The best place to start is with Gabor Kardos' Dry Furmint. An approachable white wine, it also has layers of complexity that will please most wine lovers. This complexity is coming from 20 year old vines in the south-facing Arany Sajgo vineyard near the village of Mad in Tokaj. The unique mix of volcanic soils and the cooler climate here mean the wine balances zippy lime and gooseberry with soft white peach and conference pear flavours.
Mouth-watering in the finish, it's a good summer choice with seafood linguine, stuffed bell peppers, grilled halloumi or honey-lime chicken.
Sabar Keknyelu Komagas, Lake of Balaton
Now for something very different. Ever heard of Keknyelu? It's a rare single sex grape variety that means "Blue stalk", named after the blue colour on the vine. This flinty grape variety is grown exclusively in the Balaton region of Hungary and produces a really delicious, mineraly and fresh white wine. 
If you're a Sauvignon Blanc fan, or like Riesling's zippy and dry, you're in for a winner here.
We discovered Sabar Winery's Keknyelu Komagas single vineyard white wine last year when we visited on a buying trip. All the grapes are hand-harvested from the Komagas vineyard on the southern slopes of the Csobanc Hill, a region known for its volcanic soils. They are then fermented in stainless steel and partly matured in oak barrel.
The result is a vivid floral nose leading you into a surprisingly weighty palate electric with lemon sherbet, grapefruit and apple blossom. Remarkable on its own or even better with lemon-dressed white fish or vegetable risottos.
Fekete Pince Somloi Juhfark, Somlo
Somlo Hill, a small hill 40 miles from the Lake of Balaton, is home to a hidden collective of quite brilliant winemakers. Although well-known in Hungary, the wines of Somlo are relatively undiscovered in the UK - so we decided to bring the best. 
On our travels, we discovered the final vintage from Hungary's exceptional winemaker Béla Fekete, known affectionately the 'Grand Old Man of Somló'. Using the unique Hungarian variety Juhfark, his barrel-aged white wine from 2012 is full of warm spice, smoke, ripe peach, lemon, honey and winter apple. 
It's a full bodied wine that keeps on giving in the finish and pairs so well with lasagne, falafel or roast turkey and all the trimmings.
Szepsy Estate Furmint, Tokaj
Lauded by critics and held in legendary regard, Szepsy holds a similar spot to German Egon Muller as one of the kings of quality wine-making in Europe.
István Szepsy is today the most highly-regarded wine-make in Tokaj and holds some of the region's top vineyard sites. He has over 50 years of knowledge in the region and knows the demands that need to be met to make truly brilliant wines. Wine writer Jancis Robinson described Szepsy as a "genius".
His Estate Furmint, which is very good value, is a good place to start if you want to explore the potential of the Furmint grape variety. It is expressive with a long, lingering finish of spice, lime, apple and orange peel.
St. Donat Magma Kekfrankos, Lake of Balaton
Moving into the red wines of Hungary, the variety Kekfrankos (known as Blaufrankisch in Austria) is the country's most-planted red grape variety. In a similar way to Chardonnay, Kekfrankos has a huge spectrum of styles: the light, curranty style not a far cry from Gamay or Pinot Noir; the medium-bodied, smooth and silky texture from some maturation or riper grapes; and the full-bodied, spicy style that is often seen in oaked styles.
One of the most exciting versions of Kekfrankos we've enjoyed is the St. Donat Magma Kekfrankos, which is grown on the volcanic shores of the Lake of Balaton (hence the name 'Magma').
Here, winemaker Tamas Kovacs has successful made a wine that showcases Balaton's volcanic terroir. As such the style is smooth and silky, medium-full and packed with ripe fruit that's balanced by a real freshness and minerality. 
The current vintage on sale - 2017 - is one of Tamas' best yet.
Jackfall Cabernet Franc, Villany
Cabernet Franc has achieved something wonderful in Villany, Hungary. This region, located at the southern tip of the Danube River in Hungary, is famed for its long tradition of winemaking. As such, the region attracts some of Hungary's best winemakers and investors leading to a thriving trade in high quality wines.
Also seen in the Loire, Cabernet Franc in Hungary can be just as rustic and tannic. However, at its best (and given some time to age), the wine can be very complex and brimming with a mix of red and black fruits.
We're proud to stock Jackfall Cabernet Franc, one of the best examples of how Villany uses this grape to the best of its ability - and at a good price (under £20). Winemaker András Kőszeli has created a layered style with aromas of smoked meat, plum and bramble and a spicy, full-bodied palate bursting with cherry and cracked black pepper.
Cab Franc like this pairs so well with Portabello mushroom steaks (grilled with garlic butter), steak or smoky-grilled lamb chops.