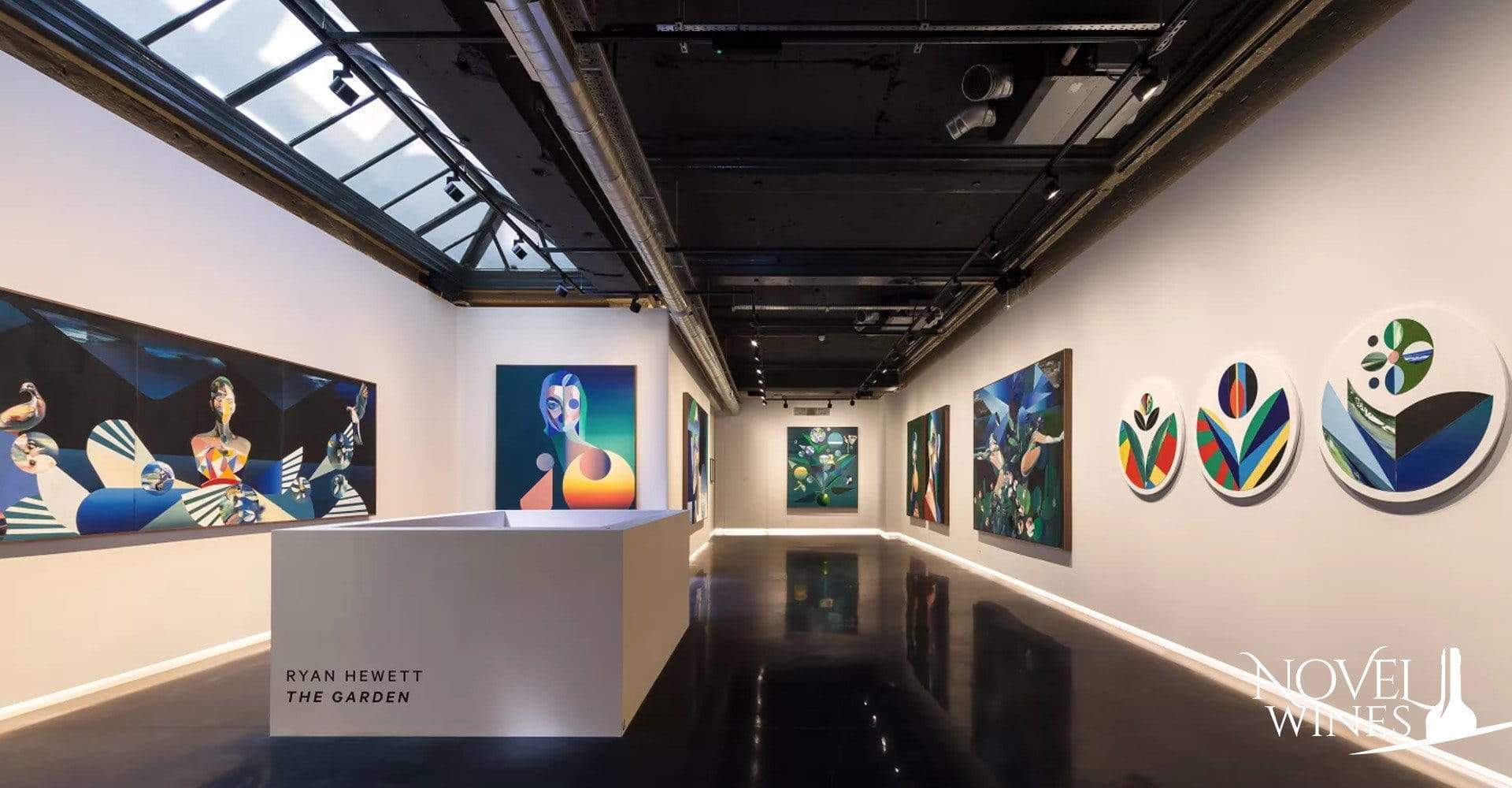 Novel Wines x UNIT London: Ryan Hewett
Next week we are excited to be back and UNIT London, Mayfair's awesome contemporary art gallery. Our team will be providing a special selection of wines to pair with the VIP dinner, celebrating the launch of South African artist Ryan Hewett's latest exhibition.
Ryan Hewett is one of South Africa's most distinguished artists, "renowned for his brooding and evocative paintings" according to the gallery. His latest exhibition features geometric structures depicting abstract figures with bold brushstrokes. 
Around 50 VIP guests have been invited for the launch of Hewett's new exhibition at UNIT and will enjoy a three course meal provided by Caiger & Co catering. Their exquisite menu will be paired with our truly unique wines to reflect Hewett's art and leave the guests with a night to remember.
A glass on arrival
On arrival, guests will be greeted with a welcome glass of sparkling wine. We've chosen the delicious Babylonstoren Sprankel, a wine from Simonsberg in South Africa that we hope will celebrate Hewett's national heritage. 
The Sprankel, created by cellarmaster Charl Coetzee and winemaker Kaal Stoffberg, perfectly balances notes of almond, lime and passion fruit with a fine mousse and soft acidity.
The Starter
Sea bass ceviche, red pepper pearls, butter poached broad beans, coconut and lime dressing
Paired with: Sabar Keknyelu Komagas 2017, Hungary
When pairing wines with ceviche-style dishes, especially when using a more delicate fish like sea bass, it's important to choose a mineral wine that will not overshadow the flavours of the food.
Keknyelu is the ideal choice; not only is this wine rare and very interesting, the blue stalk variety also has a surprisingly full palate of lemon citrus and a sherbet-like tang. This is balanced with a vivid, inviting floral aroma. It should both complement the ceviche and stand up to the notes of coconut and lime.
The main
Cured star anise duck breast, BBQ asparagus, pea puree, and yellow courgette ribbons
Paired with: St. Donat 'Magma' Kekfrankos 2017, Hungary
Duck can be a really exciting meat to pair wines with. However, it's important not to overpower the meat so choosing a medium or medium-full bodied wine is vital. Furthermore, duck has great fat content so make sure your wine choice has acidity to cut through it!
We picked the Magma Kekfrankos because it has all those gorgeous red berry fruits that complement duck so well, but also great acidity thanks to the terroir in which its grown. Also, as the wine has been aged in barrel for 10 months, it has subtle notes of cocoa and vanilla that will match any BBQ flavours on the plate.
The dessert
Roasted apricots with glasses of pistachio gelato, white chocolate and pistachio biscuits
Paired with: Kardos Tundermese 'Fairytale' Tokaji 2017, Hungary
What better way to end the dinner than on our number one wine? The Fairytale was the first wine we ever stocked at Novel Wines because of its elegant balance between freshness and sweetness that makes it such a crowd-pleaser. When choosing a wine for this dessert we needed something to go with the sweetness of roasted apricots and white chocolate while also matching up to the kernel notes of pistachio. That made the Fairytale an ideal choice!
Being bold and telling Hewett's story with wine
The range of 3 Hungarian wines were selected for Ryan Hewett's exhibition because they are fantastic examples of layered, bold and innovative wine-making. Each one showcases an indigenous grape variety: the RARE Keknyelu, the mastery over Kekfrankos, and the delicacy of a well-blended Furmint / Sargamuskatoly dessert wine. The winemakers take familiar parts (acid, sweetness, alcohol) and form them into something new and unique for the UK market, due to Hungary's relatively undiscovered terroir, climate and grape variety.
Are you running an event?
We're proud to go above and beyond just selling wine. Not only we will we choose the right wines to pair with your food, we will also help you choose from over 250 truly unique wines that match your story as well. We're in the business of making memories, so if you want some great wine at your event you can get in touch with us here.