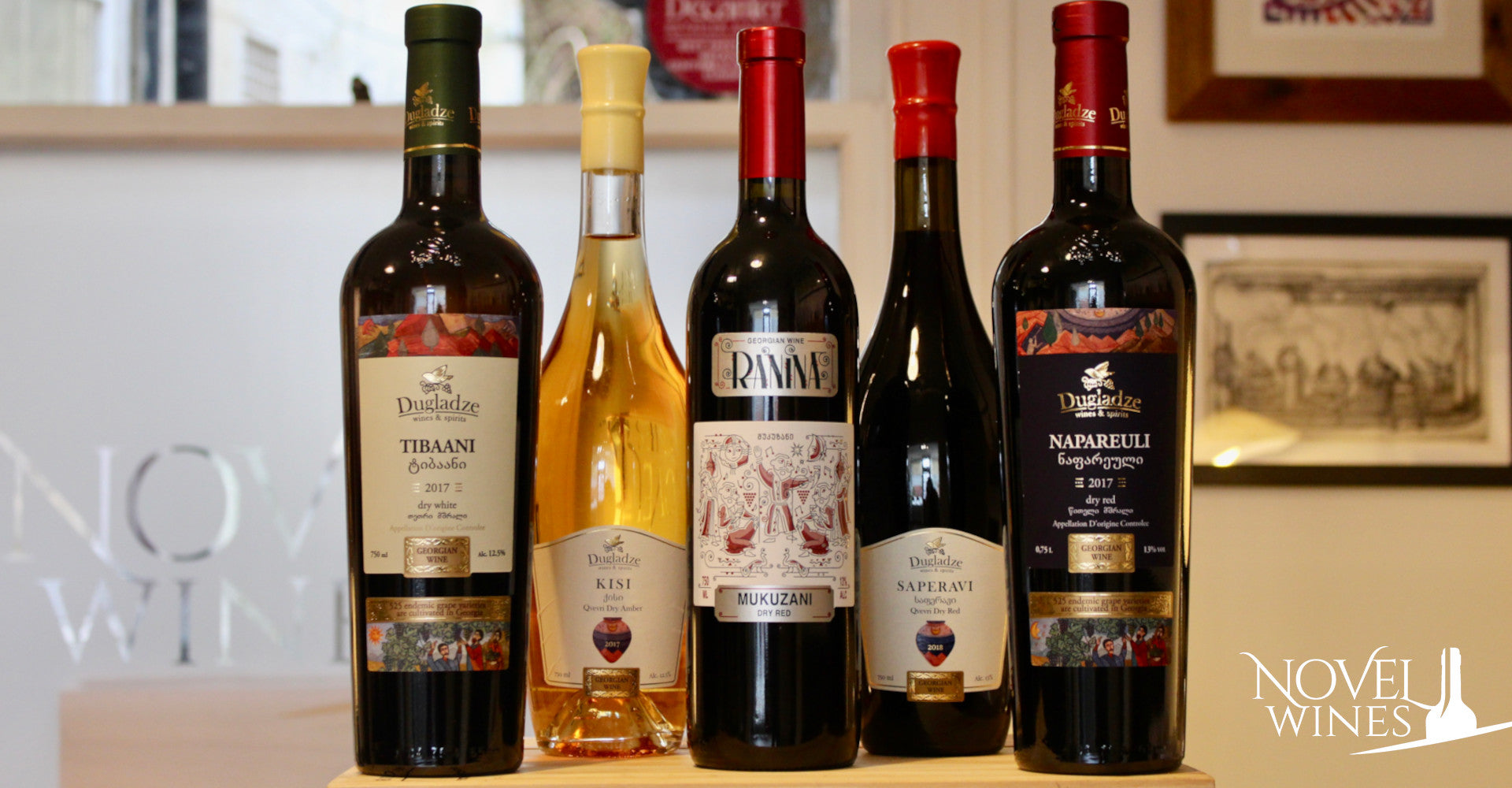 Introducing Dugladze Winery: Our New Georgian Wines
Georgia is described as 'The Cradle of Wine' with evidence of winemaking and drinking since ancient history. Most of the Dugladze family winery's vines are nestled in the Kakheti valley in eastern Georgia. As well as wine, this area is home to rich Georgian family history with the habitations some of the eldest in the Caucasus region.
The vast rolling hills give way to an array of microclimates and terroir that bring lots of diversity. This means Kakheti can produce many styles even from the same grape variety. We have focused our new selection from Dugladze on three grapes: Rkatsiteli and Kisi white wines, and Saperavi red wines.
The new range: White wines
Joining our popular Tbilvino 'Iveriuli' Rkatsiteli, which is made in a more international and fruit-led style, is the Dugladze Tibaani AOC Qvevri Orange 2018, fermented in the ancient Qvevri method.
This fuller bodied style of 100% Rkatsiteli, a grape indigenous to Georgia, has aromas of dried fruits and hazelnut. It's a distinctly orange colour, gained from the Qvevri fermentation whereby the grapes are pressed and fermented with stalks and all in clay pots, often buried in the ground. The fermenting liquid is kneaded a few times a day to extract flavour and gentle tannin.
The resulting wine is one full of character. Dried apple, sugared hazelnuts, melon and herbs combine with tannin and structure for a really satisfying Georgian wine. It's a good pick with spicy curries like Madras, or go for a Moroccan lamb tagine for a really fab match.
Our other white wine addition comes from a premium range introduced by Dugladze in 2018 to celebrate its top Qvevri method wines. The first vintage of 100% Kisi orange wine was a sure-fire favourite for our buyer, Ben.
"It offers you an approachable, silky-smooth texture combined with intense aromas of candy peel, dried apricot, peach and apple. A marvellous orange wine," says Ben.
Hand-harvested from Dugladze's estate in Maghraani, the birthplace of the indigenous Kisi variety, it is one of our favourite Georgian wines.
The new range: Saperavi red wines
Saperavi is Georgia's most important, indigenous red grape. One of the rare teinturier grapes (where the flesh is red like its skins), Saperavi retains its acidity in much the way premium Sangiovese wines (think Chianti) do, giving the wine real freshness.
We've added three examples to join the Tbilvino 'Iveriuli' Saperavi, already a firm customer favourite.
The first arrives from the Mukuzani AOC, considered the benchmark AOC region for quality Saperavi. Bottled under the 'Ranina' label, it also offers great value for money at £13.49/btl. Here you get everything typical of great Saperavi: bright cherry notes, sweet spice and toasty oak influence. It spends 12 months in oak to develop complexity and it packs a lot of flavour for its price tag.
A step up, we have Dugladze Napareuli AOC Saperavi, sourced from vines growing around the historic winemaking village of Napareuli in the upper Alazani river valley. The wine's fermented in stainless steel but undergoes maturation on lees for 15 days to develop rich berry flavours and meaty tannins. It's then softened in French 300 litre oak barrels for a year, giving it notes of vanilla, toast and spice. The style will please any Shiraz fan. Enjoy with herby pork sausages and mustard mash.
Finally, also from Dugladze's new premium range, we have their Qvevri Saperavi. Unlike the other new red wine additions, this isn't aged in oak. Instead by using the traditional clay Qvevri vessels, you get a true purity of Saperavi. Super smooth (although do decant) with striking notes of dried berries and cocoa over earthy, savoury tones. The finish is long and shows you just how great Georgian fine wine can be. Pull the cork with ribeye steak and truffle chips or, if you're vegetarian, a rich mushroom stew.
A family name in pursuit of quality
The winery for Dugladze was built in 1984 as one of the largest wine producing sites in the Soviet Union. After the fall of the USSR, the gifted businessman Dimitry Dugladze took over the site and helped to grow Georgia's reputation in a quest for quality winemaking.
Dugladze Wine Company LLC was then founded by Dimitry's sons in 2004, equipping the winery with modern technology from Italy and Germany. For the first time, the site's wines were exported under the Dugladze family name. By 2013, they had moved into spirit-production by purchasing the Vartikhe Factory that had been producing Georgian brandies since 1908.