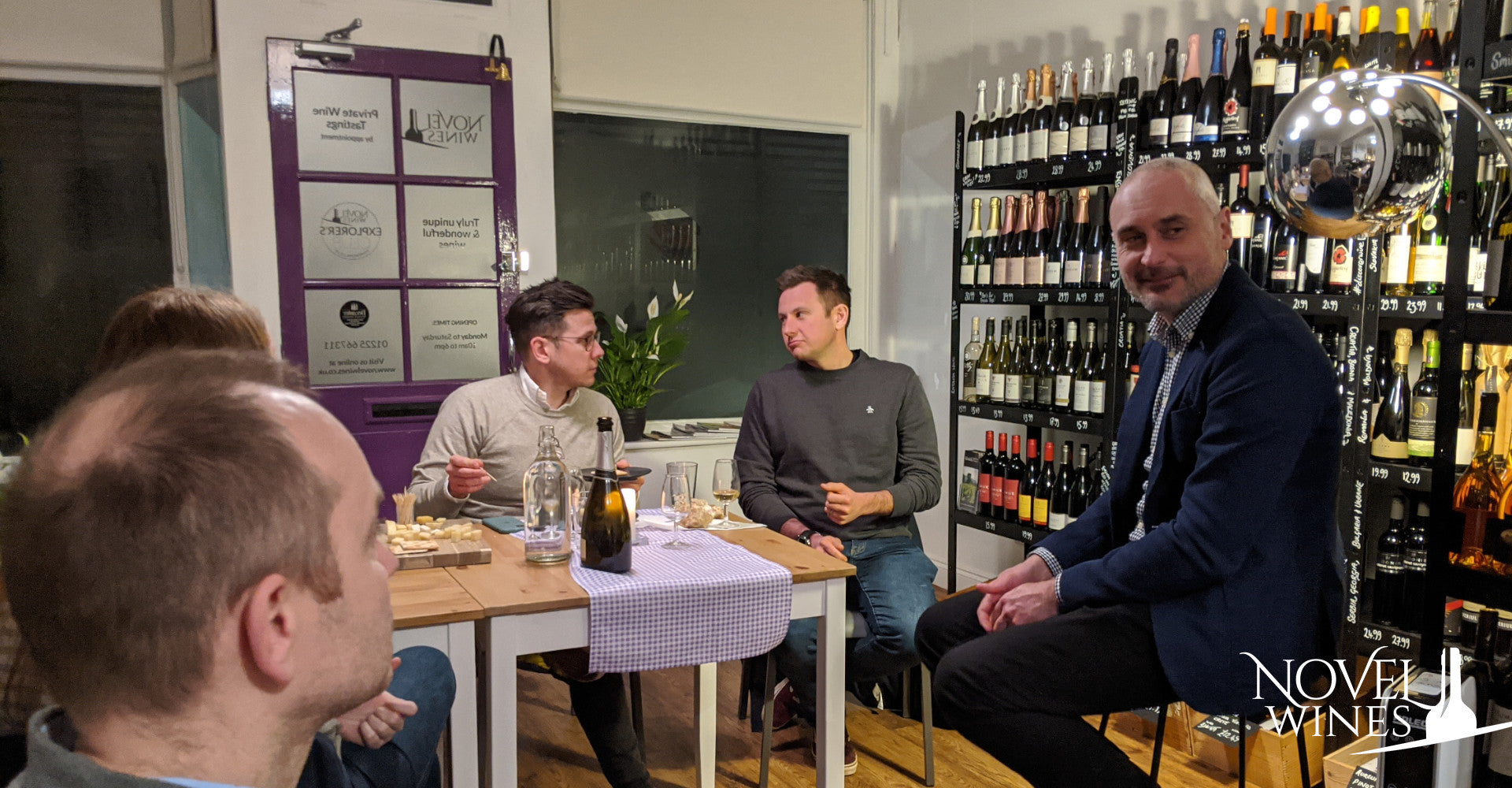 Dr Endre Demeter Visits UK to Share World Class Furmint Wines
The Novel Wines team was honoured to be joined by winemaker Dr Endre Demeter for the last weekend of February. Demeter, who is one of the leading lights of Tokaj talent, introduced his wines to our Bath customers at Cork Place on 28 February before co-hosting a dinner with Chef Proprietor Jonas Lodge at Restaurant GL50 in Cheltenham on 29 February.
His Demetervin estate looks after 8 hectares of vines, including Tokaj's sought-after Grand Cru sites situated around the village of Mád. The grapes are organically cultivated and hand harvested. Everything is done by hand with wild fermentation and traditional artisan winemaking. The philosophy and focus is on showcasing the terroir of Tokaj with the Furmint variety.
We talked a lot about Furmint here last week, however in short Furmint is renowned for its high acidity and intense minerality, creating fresh and mouth-watering wines without sacrificing on richness of flavour.
Tasting Something Special
During the tasting for our Bath customers, Demeter introduced us to his Brut Sparkling Traditional Method 2014, made from 100% Furmint. This wine was made to be enjoyed by visitors to the Demetervin Estate in Tokaj and kick-off celebrations. It's an elegant fizz with crisp apple notes.
Next followed his Estate Furmint – the wine where he gets to play! The 2017 is a blend of pressed fruit from different vines on Demeter's estate. Each parcel is different and the geography of the area is what makes Demeter's wines so unique. In his blend you get aromas of sliced apple followed by a deep note of peaches and quince with a racy finish that lingers on. Cheese cuts through the acidity while opening up crisp, bright notes of lemon and stone fruits. At Jonas Lodge's dinner in Cheltenham, the wine was served with a scallops, rhubarb and gingerbread starter.
Grand Cru Furmint
We were treated to two Grand Cru single vineyard Furmints from Demetervin. The first was the Kiraly 2015, made from a parcel with no soil and vines instead growing in the volcanic stones on steep terraces. This forces all cultivation to be done traditionally by hand. Grapes are hand-pressed the old-fashioned way and then fermented in local oak.
The name 'Király' means 'King' and refers to the hill in which its grown. It's a deep, slightly nutty Furmint with a smooth texture and a mixed palate of apple, pear and lilies. The Kiraly was served with sea bass, roast squash, pumpkin and pumpernickel. Is your mouth watering yet?
The second Grand Cru was truly special. Taken from Demeter's eldest vines on the Uragya 57 parcel, his Uragya 57 Grand Cru 2015 Furmint is a real experience to savour. The prestigious name means 'Bed of the Lord' and includes a plot of 99-year-old, hand-crafted vines. Grapes are then put into an old press, gently squeezed to release their juice and left to wild ferment in barrel. This is followed by malolactic fermentation and maturation in old Hungarian oak barrels.
The wine is intensely fragrant with green apple, conference pear, hay and toasty yeast. In the mouth you get a cocktail of smooth red apple, kiwi, yeast, cream and gooseberry with a backbone of good acidity. Mineral and fresh on the finish with a long, mature finish and delicate aromas of petrichor.
This classy wine stood up so well with Jonas Lodge's main of hay smoked lamb rump, broccoli and ewe's curd. Pure luxury!
The Sweets
In the sweet wines, we were treated to the best-selling sweet wine from Demeter the Tokaji Szamorodni 2013. This is a richly bodied wine with great balance, sitting somewhere between late harvest and Aszu in style. It is complex with a mix of fresh and dried fruits, zippy citrus and gingerbread spices. It was paired with cherry "meat fruit" and chicory.
Finally came the Tokaji Aszu 2013. This is perfect winemaking. Aszu is the most highly-regarded style of wine in Hungary. It uses only the finest botrytised grapes, picked one by one, with a concentration of 6 Puttonyos. These wines are only made in the best vintages and 2013 was exceptional. Full of apricots, honey, orange citrus, caramelised apples, and still holding freshness, zing and minerality. Alongside a slice of lemon tart topped with poppy seed and jasmine hints, this was a match made in heaven!
Two Legends
Demeter is showing the world that Tokaj is one of the world's best sites for premium white wines, while Jonas Lodge is taking the familiarities of beautiful, delicious home-cooking and presenting it in a fine dining style that'll ensure it's an experience you won't forget.