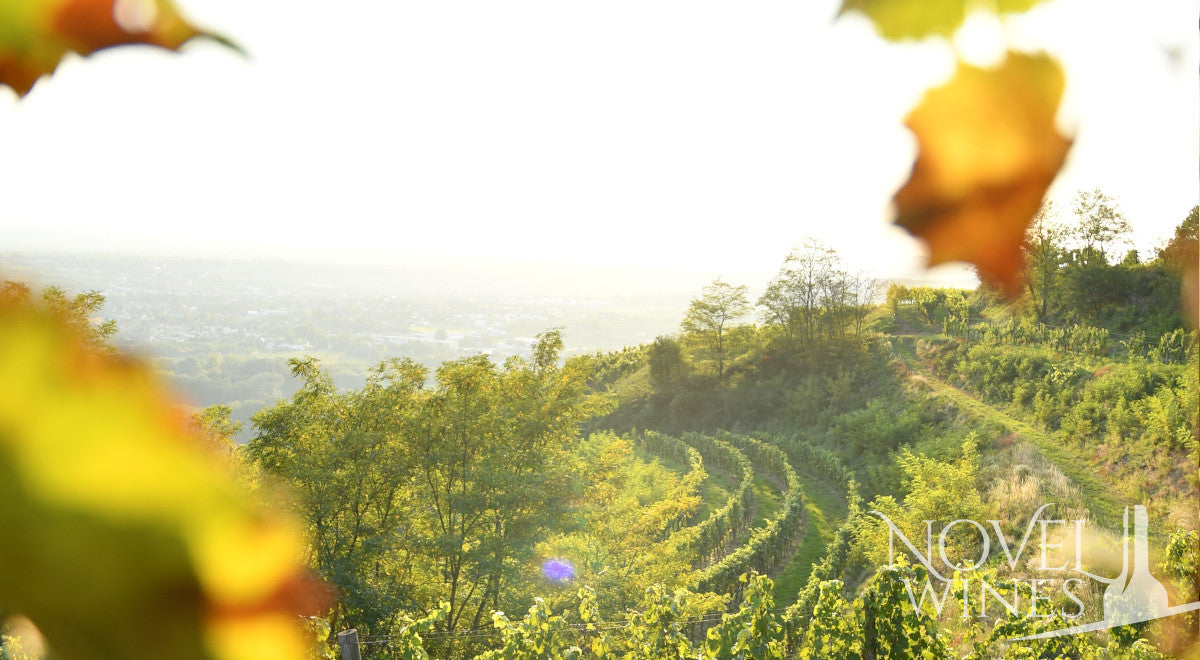 Your Guide to Austrian Wines - This Month's Novel Wines Explorer's Club
Welcome to this month's Novel Wines Explorer's Club, the UK's most exciting wine subscription for the curious drinker. Each month, we will introduce you to a new wine region as part of our promise to deliver no two wines the same for a whole year. Not a member yet? Subscribe here.
Looking for an older guide? See all the Explorer's Club guides here.
What's in this month's Explorer's Club?
This March, we're introducing you to our line-up of Austrian new arrivals from Walter Glatzer, alongside some of our favourite picks from the Waldschutz and Kracher* wineries. 
Austria is one of our favourite wine regions with a host of different styles you can discover along the Danube river in the north-east region of Niederrostereich or Lower Austria. This is where this month's case focuses, with a selection of styles showing you the wines of Kamptal, Wagram and Carnuntum. 
*Please note that the Kracher Reunion Blaufrankisch is now out of stock and some Club members may have received the Waldschutz Wagram Blauer Zweigelt as a replacement. Apologies for any inconvenience.
In your box you'll find grape varieties like Austria's flagship Gruner Veltliner and Zweigelt, their leading white and red wines, as well as discoveries like Blaufrankisch and St Laurent.
So without further ado, let's dive in. Here's our buyer Ben chatting you through this March's Explorer's Club selection.
If you have any specific questions about the wine, you can get in touch with our team here. However, we've got lots of info on the wines below, so pull the cork and get stuck in!
Starting this month's Explorer's Club is our classic Kamptal-born Waldschutz Riesling (included in The Globetrotter only). This is a dry Riesling coming from loess soils at a higher altitude along the north of the Danube River with a cool climate and good drainage ensuring for a piercing, fresh acidity. The grapes are picked at optimum ripeness giving freshness and length.
The grapes are hand-picked, fermented in stainless steel under temperature control, and then aged on its lees (spent yeast) for a short period to provide complexity. It's a delicious wine with grilled fish, goat's cheese, or chicken in cream sauce.
Next up is one of my top white wines from Glatzer, their Organic Gruner Veltliner Carnuntum DAC (included in The Globetrotter only). This is one of my favourite examples of the Gruner grape variety because it combines an approachable, fruity style - thanks to the warmer Carnuntum growing region to the south-east of Vienna - with those classic peppery tones that make Gruner so special. You'll love this wine if you're a Sauvignon Blanc fan, but it's also something beyond that, providing a memorable drinking experience.
It's a delight with all sorts of dishes, but works so well with roasted artichokes, simple pasta dishes, or pork loin.
The final white, included in all your boxes, is the fuller bodied Walter Glatzer Weissburgunder (included in both The Rambler and The Globetrotter). This is the same grape as Pinot Blanc, but in the hands of Glatzer is a richer, nuttier, oilier and all-round more complex style than what you might find further west. Lots of depth, style and breadth make for a superb food wine.
Pair it with roast dinners, fatty meats, BBQ dishes, or Greek meze.
OK, now it's time for rosé! Introducing the wonderful Waldschutz Hof Zweigelt Rosé (included in both The Rambler and The Globetrotter). This has that beautiful Provence-style colour but it's brimming with cherry fruit, spice, melon and a long finish. Who knew rosé could be this good?
A rosé like this goes so well with soy-based stir fries, spicy soups, or any glazed meats. It's also wonderful with sheep's cheese. Serve it lightly chilled to get all of its character.
Our next wine is the Glatzer St Laurent (included in The Globetrotter only). This is your first red wine in the case and it's the wine that we first discovered from Glatzer. He is the master of St Laurent, a grape variety that is a deeper, almost more big and brash take on Pinot Noir. Velvety smooth, bold with black fruits, and soft as anything, it's a star. 
Just like great Pinot Noir, a wine like St Laurent - especially when it's this good - is one of the most versatile food pairing wines you can be. Sip it with anything! 
Last up in your case is this Kracher Reunion Blaufrankisch (included in both The Rambler and The Globetrotter), this is a Bordeaux-meets-Chianti type of wine with black cherry, tight tannins and rich on the finish. Blaufrankisch is the most planted red grape east of Vienna, and this example, from Burgenland, is the gateway to the huge breadth of styles you can discover as you venture east. This one is a perfect wine by the glass but it will also stand up to a steak!
Where can I find out more?
If you're not subscribed to the Club, crack on and get your subscription online by clicking here and join from only £49. If you'd rather just stock up on wines then find our wines from Austria, go here.