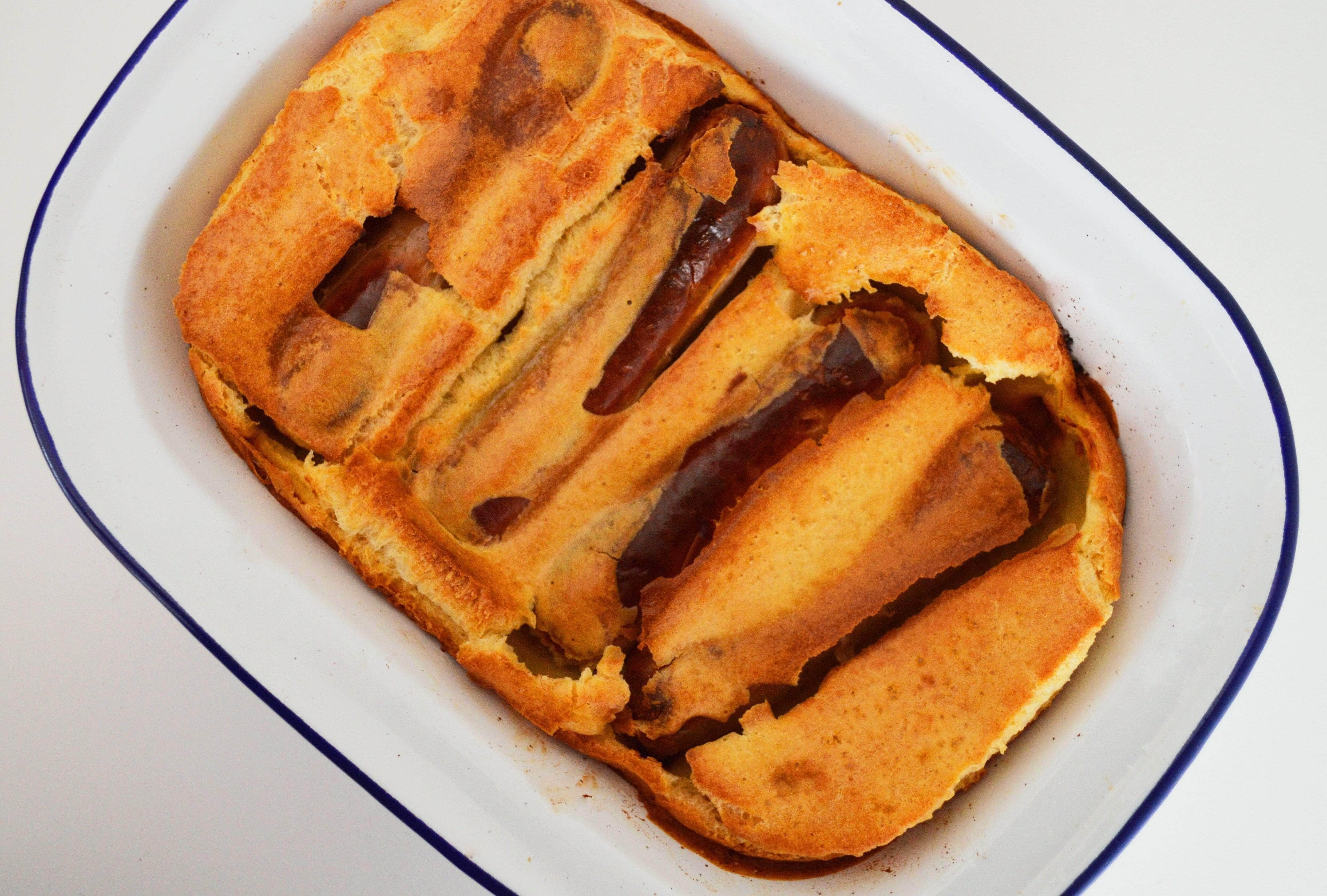 With fluffy golden Yorkshire puddings and plump, juicy sausages, toad-in-the-hole is a teatime comfort food classic, but this recipe has been given a bit of an upgrade with venison sausages (not only full of flavour but leaner than pork, too) and a gorgeous onion gravy made with blackcurrant jam. The Budureasca Feteasca Neagra is a deep and velvety red full of black fruit flavours, making it perfect to pair with tangy blackcurrant and rich game.
Ingredients
Serves 2
4 venison sausages
Olive oil
140g self-raising flour
2 eggs
180ml milk
Salt and black pepper
For the gravy:
1 large onion
Butter
1tbsp flour
A splash of vinegar
450ml beef stock
1 tsp dried thyme
1 tbsp blackcurrant (or other dark fruit) jam
Method
Preheat the oven to 220˚C (200˚C fan). Pop the sausages into the roasting tin you're going to use for the toad-in-the-hole, along with a splash of olive oil, and once the oven is up to temperature put the sausages in for 15 minutes.
Meanwhile, get the gravy started. Slice the onion very thinly, using your fingers to separate all the layers once sliced, and put in a large frying pan with a generous scoop of melted butter and a splash of vinegar. Fry gently so the onions soften without going crispy.
While the onions are softening, make the batter. Simply combine the flour, eggs and milk in a jug and beat with an electric whisk until smooth and thick. Season with a pinch of salt and a sprinkle of freshly-ground black pepper.
Once the timer goes for the sausages, take the tin out of the oven and pour the batter in around the sausages – you need to fill your tin about halfway up (without entirely covering the sausages) so you may not need all of your batter. Return to the oven for 25 minutes.
By now your onions should be really nice and soft. Add the flour and cook for a few minutes, stirring regularly, then add the beef stock, thyme and blackcurrant jam. Give it all a really good stir, bring to the boil, and then turn the heat down again and simmer.
When the timer goes for the Toad in the Hole, the batter should be nicely risen, golden and crispy on top, and your gravy should be nicely thick. Serve up straightaway with your favourite steamed vegetables.