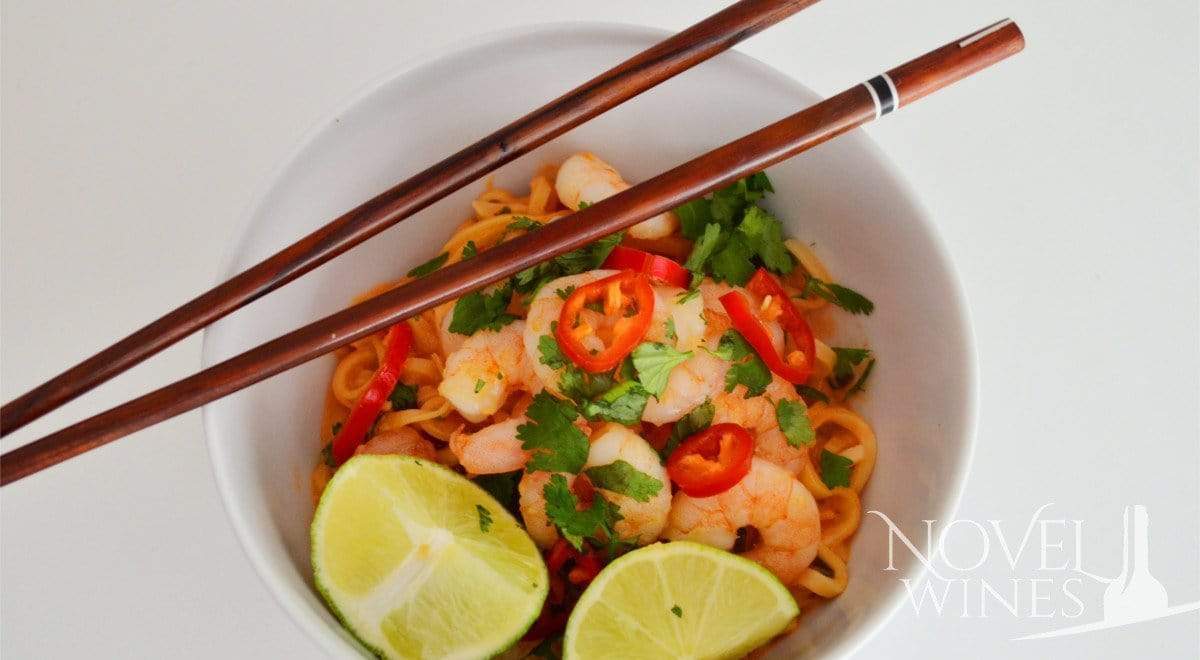 Thai red curry noodle bowl
This is a really quick dish that's full of fabulous flavour – perfect for lunch or an easy midweek dinner. Noodles are tossed in a spicy Thai red curry sauce made with coconut milk, coriander, ginger and chilli, and topped with king prawns and a squeeze of lime juice. It makes a lovely accompaniment to the tropical Terra Tangra Tamianka Muskat.
Ingredients
Serves 2

2 nests of medium egg noodles
150g peeled, cooked king prawns
Butter
A large handful of fresh coriander
1 or two fresh chillies (according to taste)
2 tbsp grated fresh ginger
1 tbsp tomato puree
1 tbsp Thai red curry paste
300ml coconut milk
A pinch of salt
1 lime
Method
Finely chop the grated ginger and about half of the coriander, and get them frying in a small amount of melted butter. Depending on how spicy you like your food, finely chop either half a fresh chilli or a whole one, and add that to the frying pan too.
In the meantime, in another frying pan, melt a little more butter and gently fry the prawns – you will usually find them for sale already cooked, so this is just to warm them up and give them a bit of colour.
Next, add the Thai red curry paste, tomato puree and coconut milk to the pan with the coriander, chilli and ginger, and stir well to combine. Season with a pinch of salt and a squeeze of lime juice, and leave to simmer gently.
Prepare the noodles according to the instructions on the packet. Once they're cooked, drain them and toss in the prepared sauce. Finally, divide the noodles between two bowls and top with king prawns, the remaining fresh coriander, and a few fresh chilli slices, and serve with lime wedges.