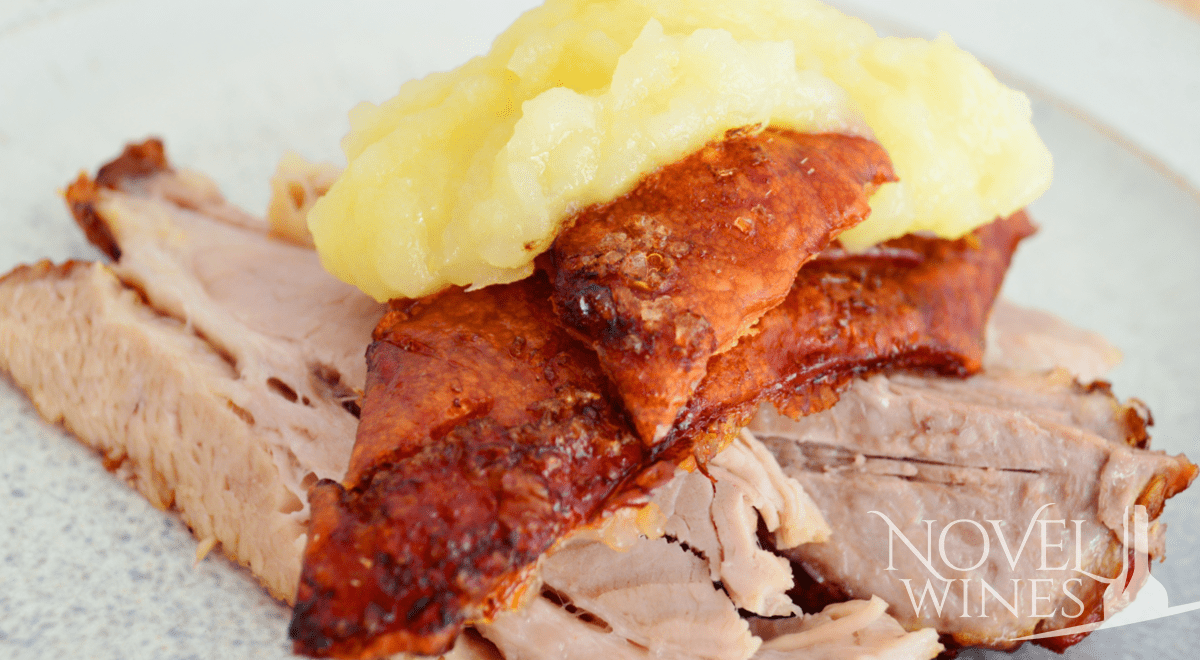 Roast pork belly with apple sauce
Pork belly might be a cheap cut, but if you show it a little love and attention it can be fantastic. Slow cooking means the meat is soft and juicy, while you get the most incredible crackling on top. It's served with a quick homemade apple sauce, which unlike the shop-bought stuff is tart & tangy rather than sweet. The richness of the pork and the freshness of the apple pair perfectly with the full-bodied, fruity Sutton Ridge Dewdown Yeo Valley Sparkling.
Ingredients
Serves 2-4, depending how hungry you are!

Piece of pork belly (about 800g)
1 tbsp fennel seeds
Small handful of fresh sage
Coarse sea salt
1 fat garlic clove, chopped
Olive oil
Lemon juice
For the apple sauce:
2 Bramley apples
40g butter
30g caster sugar
Method
The pork belly takes a long while to cook, in a couple of stages, but not much actual effort is required. First, grind together the fennel seeds, sage, 1 teaspoon of sea salt, garlic and a splash of olive oil together with a pestle and mortar, to make a thick paste. Spread all over the underside of the pork belly and leave to marinade for at least an hour.
Next, preheat the oven to 200°C (180°C fan). Lay the pork belly on a wire rack over a roasting tin, with the skin facing upwards. Use kitchen paper to blot the skin dry, and then sprinkle with a good layer of salt – this will help it really crisp up. Place in the oven for thirty minutes.
After thirty minutes, sprinkle the skin with lemon juice and then turn the heat down to 180°C (160°C fan) and cook for 90 minutes.
After 90 minutes, turn the temperature up to 200°C (220°C fan), and roast for a further 30 minutes. Then remove the pork belly from the oven and use a sharp knife to remove the crackling from the top – it should come away quite easily. Wrap the meat in tinfoil and then a clean tea towel, to keep warm, and put the crackling back in the oven, on the wire rack, for a final 30 minutes – this is the secret to getting it really crisp and crunchy.
Finally, make the apple sauce. Melt the butter in a saucepan on the hob. In the meantime, peel and core the Bramley apples, and chop into bite-sized pieces. Once the butter has melted, stir the sugar and the apples through it, put the lid on the pan, and leave to simmer gently – after about ten minutes the apples should soften and disintegrate. Stir really well to remove any lumps, and then serve with the pork and crackling.