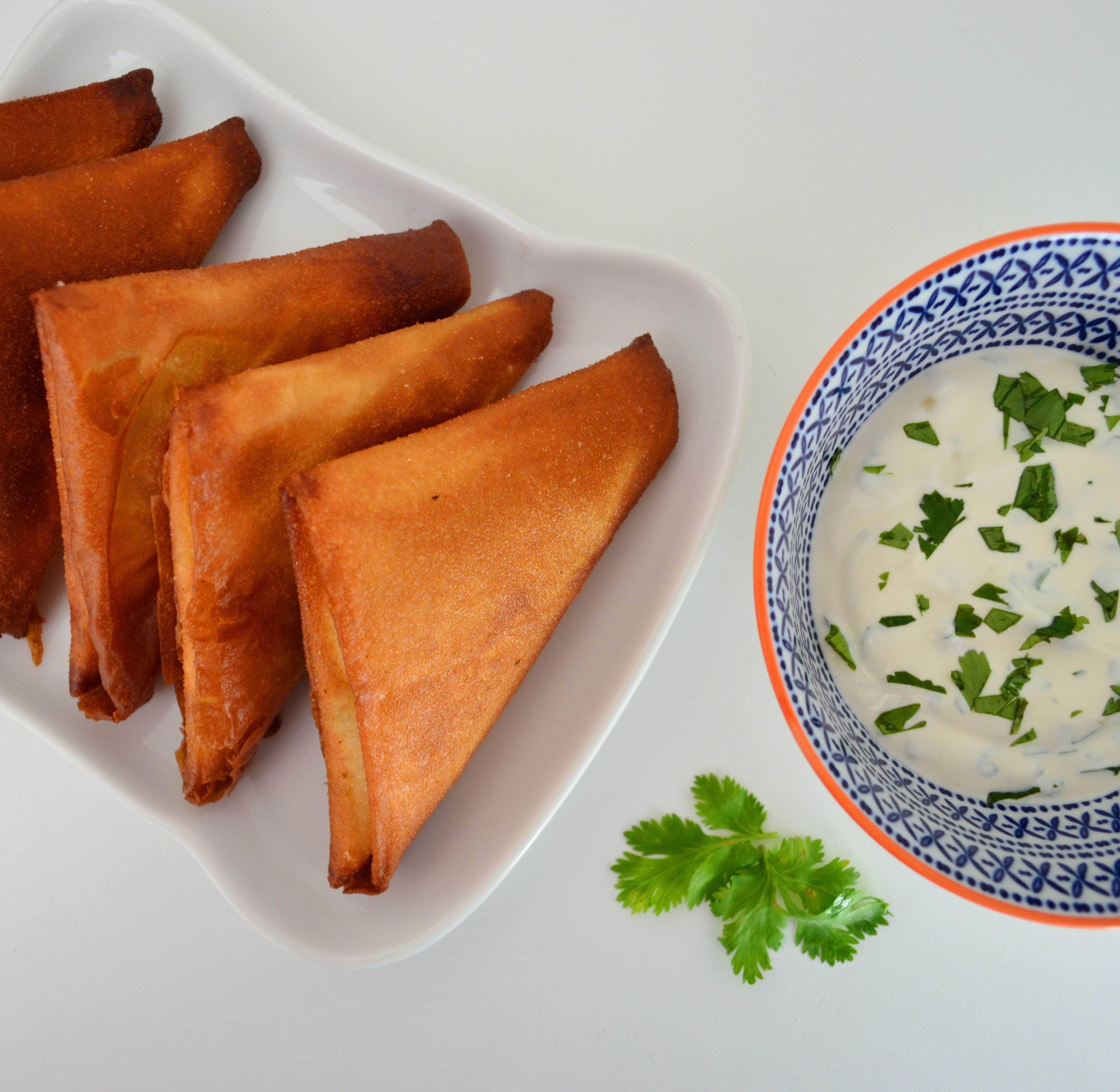 These crispy golden beauties make the perfect pre-dinner nibble, with a rich and spicy stuffing made from potatoes, carrots and peas. They're also the ideal partner for the unique, smoky flavours of the Fratelli Sangiovese. You might wonder why anyone would bother making their own when you can buy samosas in the supermarket, but trust us – the homemade version is just so much more crispy and delicious that there's no comparison.
Ingredients
Makes 20 samosas
1 potato
1 carrot
A handful of frozen peas
Butter
1 tbsp garam masala
1 tsp cumin
1 tsp chilli powder
A bunch of fresh coriander
A dash of lemon juice
Salt and black pepper
10 sheets of ready-made filo pastry
Vegetable oil for frying
Natural yoghurt, to serve (optional)
Method
First, make your filling. Peel the potato and cut into bite-sized pieces, and peel the carrot, cutting into thin rounds. Pop both into a large saucepan with the frozen peas and enough boiling water to cover, and boil on the hob for around 15 minutes, or until the potatoes are soft enough to fall apart when prodded.

Drain the vegetables, then add a generous scoop of butter and mash all the veg together. Add the spices, a dash of lemon juice and a small handful of chopped fresh coriander, season with salt and pepper, and give it all a good stir. Have a taste and make sure the flavours are good and strong – you almost want them to be a bit overpowering at this point, as in the finished product, the plainness of the pastry will reduce the potency of each mouthful.

Next, you're ready to roll your samosas. Take your first sheet of filo and cut it in half – if you imagine it's a sheet of A4, you're cutting it to make two pieces of A5, not to create two really long thin rectangles.

Take one half of the filo sheet, laying it out with one of the long sides facing you. Fold the bottom third upwards and then the top third downwards, to create a long narrow strip that's three sheets thick. Melt a little butter in the microwave and brush along the pastry, and then sprinkle with just a little salt.

Place a teaspoonful of filling at one end of the strip. Fold the top left corner down over the filling, to create a triangle. Press the pastry down around the filling to seal. Then continue folding the pastry over to create a triangular parcel with lots and lots of layers around the filling. Repeat with the remaining filo.

Now, prepare a medium-sized saucepan with vegetable oil to a depth of around 3cm. Place on the hob on a high heat. To check the temperature, drop in a small corner of filo pastry – when the oil is hot enough, it should immediately fizz and float on the top of the oil.

Use a slotted spoon to carefully lower the samosas into the oil – they really only need a few seconds on each side, so you'll probably find it easier to do them one at a time. Once they're puffy and golden brown, transfer to a plate lined with kitchen roll to drain off any excess oil.

Finally, chop up a bit more fresh coriander and mix into the natural yogurt with a sprinkling of black pepper, and serve your freshly-made samosas alongside.