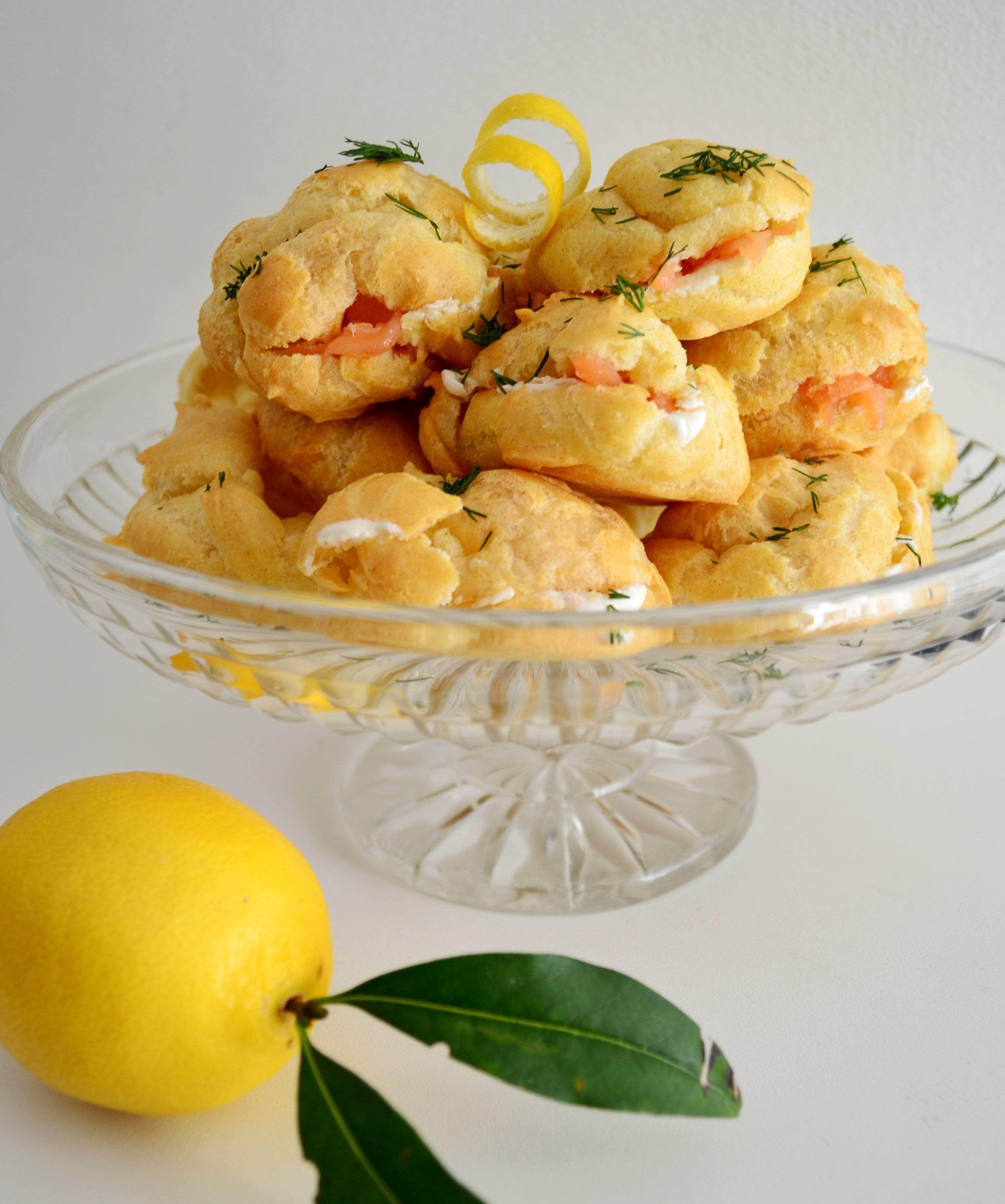 Smoked salmon profiteroles
These little beauties make the perfect canapé for parties – light and fluffy choux buns are stuffed with cream cheese and smoked salmon for a delicious, elegant nibble. The Biblia Chora Ovilos is an unusually weighty white wine, with full, creamy flavours, so it's just the thing to partner the richness of the cheese and smoked salmon.
Ingredients
Makes around 24
For the choux buns:
75g butter
250ml water
A pinch of salt
A pinch of sugar
150g self-raising flour
4 eggs
For the filling:
150g cream cheese
100g smoked salmon trimmings
A small handful of fresh dill
1 lemon
Method
Preheat the oven to 200°C (180°C fan), and then start by making the choux paste. Weigh out the butter, cut into small pieces, and pop into a saucepan on a low heat with the water, sugar and salt.  
Warm gently, stirring every now and then, making sure that the butter melts completely before the water starts boiling.
Once the butter has melted, turn up the heat to bring the water to the boil, then remove the pan from the heat and add the flour. Beat briskly with a wooden spoon – it should quickly come together into a soft, sticky dough.
Break the eggs into a jug and whisk with a fork, then add to the choux mixture a little at a time, beating well to combine. When all the eggs have been added the mixture should be a stiff, shiny paste.
Place blobs of mixture about the size of a two pence piece on a greased baking sheet, and bake in the preheated oven for 22 minutes, or until the buns are well-risen and a pale golden-brown.
Once the time is up, transfer the choux buns to a wire rack and allow to cool completely.
To finish the buns, use a sharp knife to cut each one open, then simply fill with a spoonful of cream cheese, a spoonful of smoked salmon trimmings, a squeeze of lemon juice and a pinch of fresh dill.