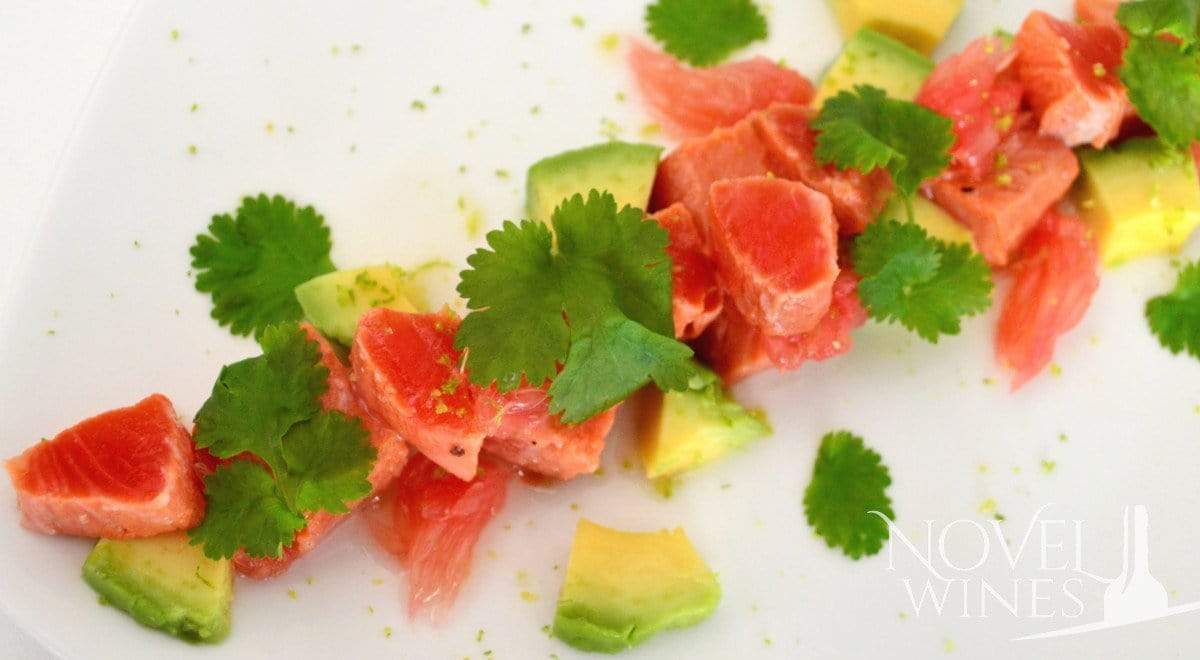 Salmon ceviche with lime & red grapefruit
This is a beautiful little dish that is bound to impress any guests – the perfect accompaniment to our rather special Grace Koshu Kayagatake. Ceviche is a technique where raw fish is 'cured' with the juice of citrus fruit, resulting in a wonderful texture for the fish, which is firm and yet tender enough to melt in the mouth. Here the salmon has been cured with lime and grapefruit juices, to compliment the citrus and grapefruit notes in the wine, and served with rich, buttery avocado, red grapefruit segments and fresh coriander leaves.
Ingredients
Serves 4 as a starter or 2 as a main dish
2 fresh boneless salmon fillets
2 limes
1 red grapefruit
1 tsp fresh chopped chilli
Salt
Freshly-ground black pepper
1 ripe avocado
A small handful of fresh coriander leaves
A note on ingredients: as the fish is not going to be cooked, it's important to buy the best quality organic or wild salmon you can afford. The citrus juices should kill any bacteria that cooking would, but it would be wise for pregnant women and those with vulnerable immune systems to avoid this dish.
Method
Begin by grating the zest from one of the limes, and then set the zest aside for the moment. Juice the two limes and half of the grapefruit. Mix the juices together in a small bowl with the chilli, a pinch of salt and a sprinkle of black pepper.
With a very sharp knife, remove the skin from the salmon fillets and cut into chunks about 2cm square. Place in the bowl with the citrus juices, mix well, and then cover and refrigerate for 30 minutes.
Peel the avocado, remove the stone and cut into pieces about the same size as the salmon. Remove the peel from the remaining half of the grapefruit, separate into segments and remove any tough pith.
To bring the dish together, remove the salmon pieces from the juice and arrange in a line across the centre of the plate. Add the avocado pieces and grapefruit segments at regular intervals, and top with the fresh coriander leaves. Finish off with good sprinkling of the reserved lime zest.