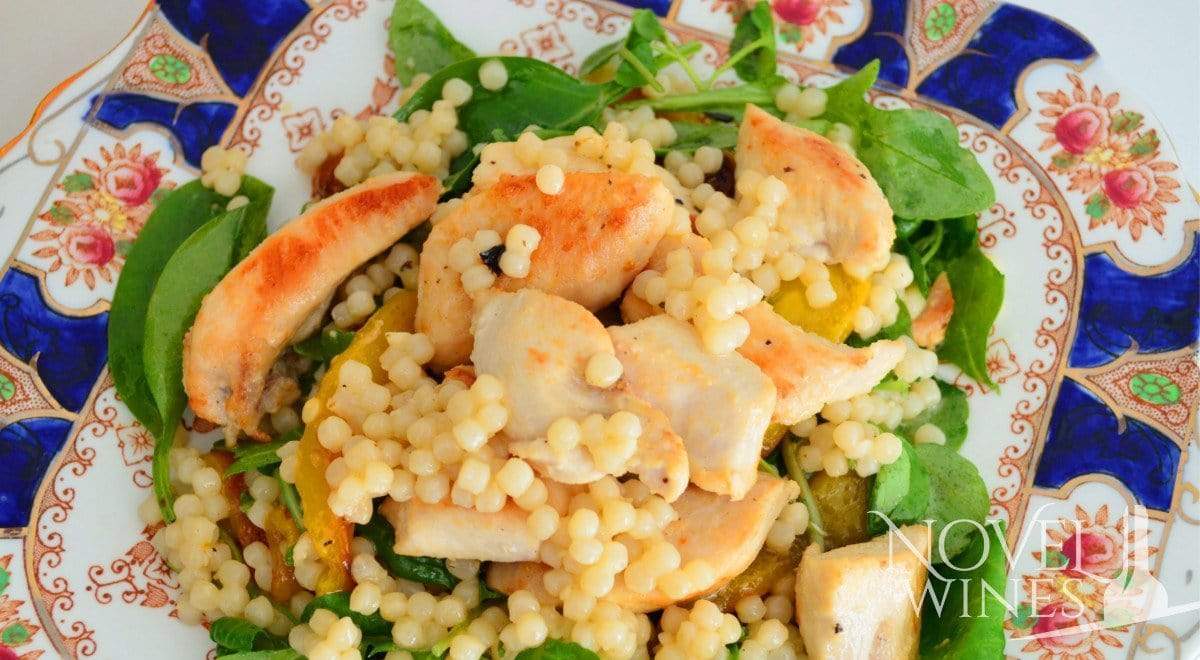 Chicken salad with lemon & pepper dressing
This is a great little dish for lunch or a light dinner, full of summery flavours. The zing of the lemon and the sweetness of the yellow peppers, all soaked up by tender chicken, couscous and fresh green leaves, pairs beautifully with the crispness of Oatley Vineyard Jane's.
Ingredients
Serves 2
2 chicken breasts
A mixture of fresh rocket, spinach & watercress
1 large yellow pepper
80g giant couscous
For the dressing:
120ml olive oil
Juice of one lemon
3 fat garlic cloves, chopped
1 tsp Dijon mustard
Plenty of fresh black pepper
A pinch of salt
Method
Start by preparing the dressing – blitz all the ingredients together in a food processor. Then, cut the chicken breasts into strips and pour two thirds of the prepared dressing over the top, mix well, cover and leave to marinate.
Next, roast the pepper – place under the grill on a high heat and allow the skin to completely blacken on all sides (keep an eye on it, and turn as needed). Allow to cool for a few minutes, and then peel the papery black skin off – it should come away easily. Remove the seeds from the middle, cut the pepper into strips, and then set aside for the moment.
Cook the couscous according to the instructions on the packet. When it's nicely soft & fluffy, drain and then mix the couscous with the strips of pepper. Drizzle over the remaining dressing and stir well
Finally, fry the marinated chicken until lightly golden. Toss the salad leaves with the peppers, couscous and dressing, then divide between two plates and top with the chicken. Serve immediately.