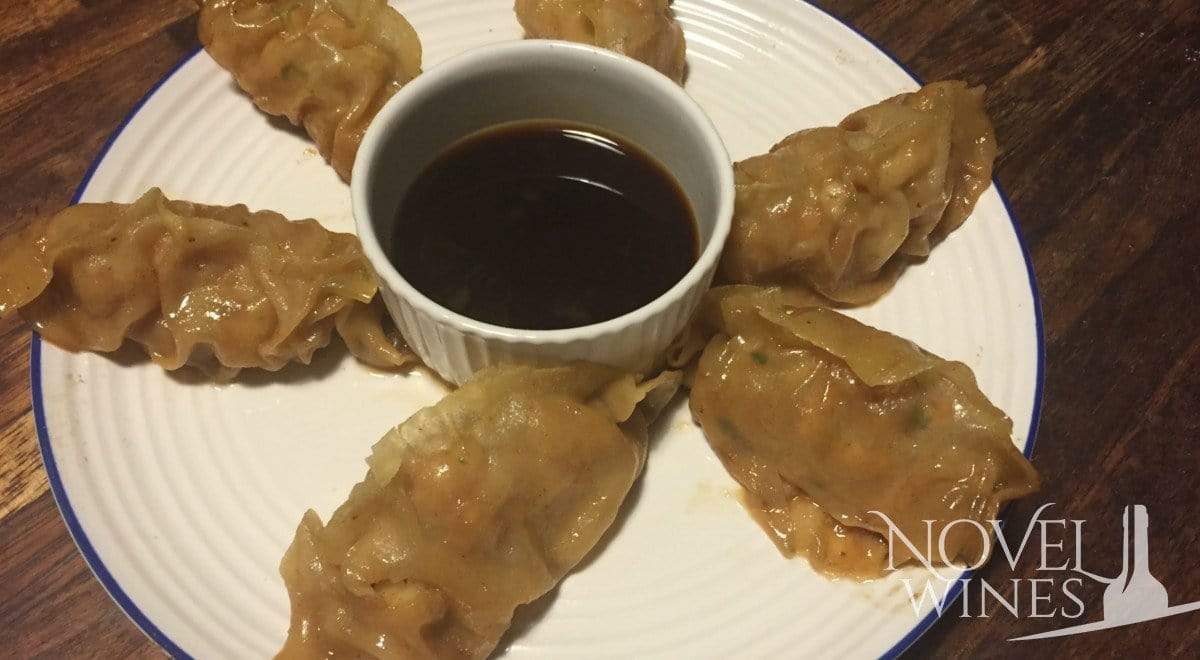 Few wines match as elegantly with Asian-influenced cuisine and spices as the
Kayra Narince
. The savoury, peppery elements of the wine tie in beautifully with the soy and seafood elements of this dish.
Ingredients
Serves 2

150g raw king prawns
150g raw scallops
1 stalk lemongrass, fibrous outer layers removed
1/2 red chilli (seeds removed)
A small bunch of coriander
1 tbsp sweet soy sauce
1 tbsp oyster sauce
12 dumpling wrappers (available frozen from Asian supermarkets)
2 tbsp sesame oil
1 1/2 tbsp light soy sauce
1/2 tbsp rice wine vinegar
1 tsp mirin
A pinch of caster sugar
A few drops of chilli oil
Method
In a small bowl or ramekin, stir together the light soy, rice wine vinegar, mirin and sugar. Add chilli oil to taste and set aside.
Chop the prawns to a mince-like consistency and slice the scallops into small chunks. Dice the lemongrass, chilli and coriander as finely as you can, and place in a large bowl with the shellfish.
Add the sweet soy and oyster sauces to the shellfish mixture, and mix with your hands until well-combined.
Flour your worktop and lay out the dumpling wrappers. Place 2 tbsp of the filling in the centre of each wrapper.
Run a dampened finger around the circumference of a wrapper, then carefully bring together the edges of the dough so that you form a semi-circular dumpling. Crimp the edges together, making sure that you don't leave any holes or gaps. If you like, you can add a few decorative pleats to the crimped edge. Repeat for each dumpling.
Heat the sesame oil in a large, deep frying pan over a medium-high heat. Leaving a little space between each dumping, fry the gyoza for around three minutes.
Add a splash of boiling water to the pan, cover and let the gyoza steam for another three minutes. Remove your lid, and cook uncovered for a final minute. Serve with the dipping sauce.