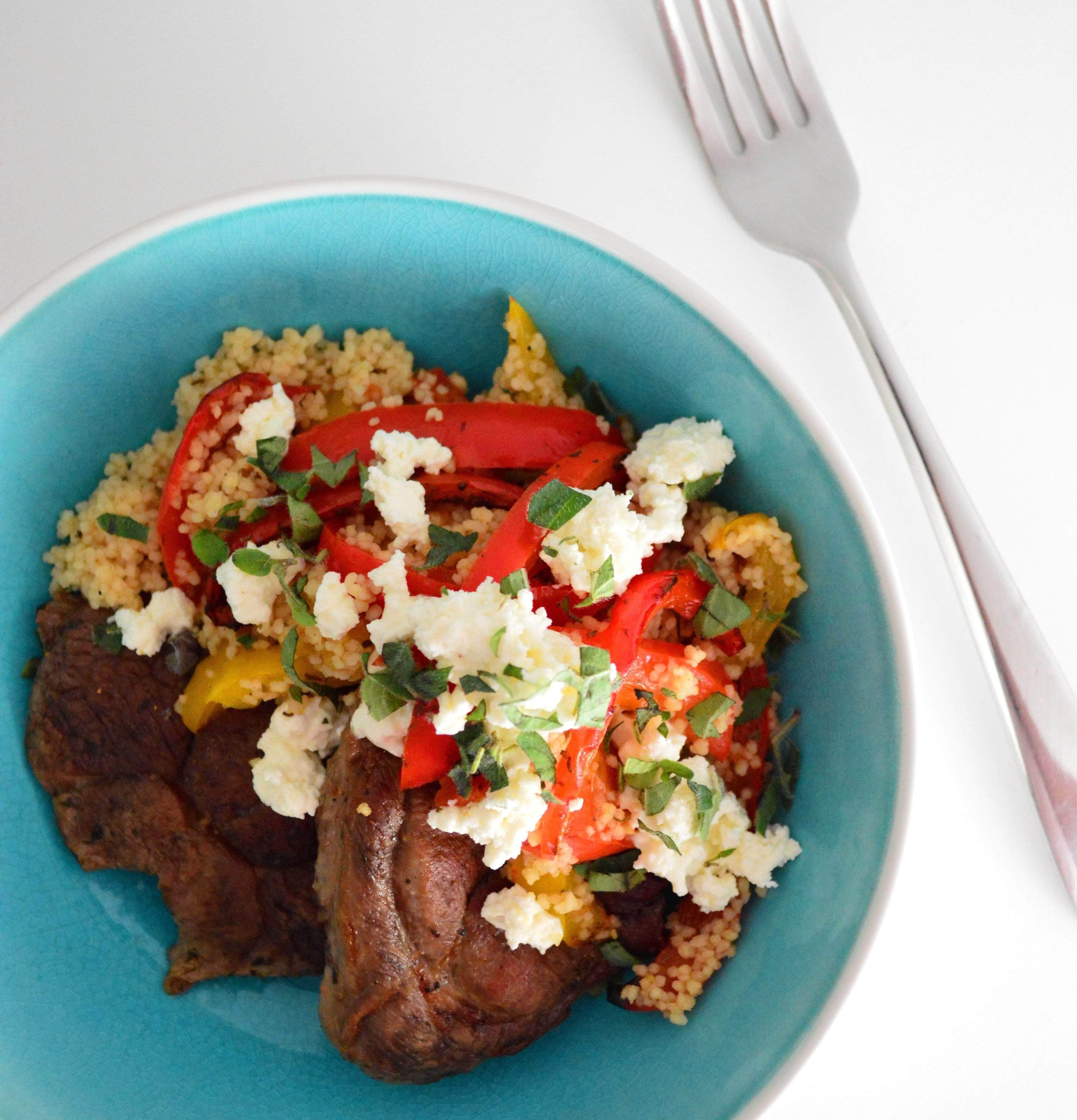 Lamb steaks with roasted pepper couscous
The deep red fruitiness of cherry and plum in the Kayra Kalecik Karasi simply cries out to be paired with lamb, so this simple bowlful of sunshine flavours is just the thing to serve alongside it on a warm summer evening. Rich lamb steaks are topped with roasted peppers, tomatoes and couscous to soak up all the delicious juices, and finished with a sprinkling of salty feta.
Ingredients
Serves 2
2 lamb steaks
1 fat clove of garlic
Salt and black pepper
1 red pepper
1 yellow pepper
4 large tomatoes
1 tsp cumin
1 tbsp dried coriander leaf
Lemon juice
Olive oil
70g couscous
Fresh oregano
Feta
Method
Preheat the oven to 220˚C (200˚C fan) and prepare the vegetables. Deseed the peppers and cut into long thin strips, and roughly chop the tomatoes into bite-sized pieces. Mix both together in a large bowl with the cumin, coriander leaf, a sprinkling of salt and pepper, a dash of lemon juice and a good splash of olive oil. Set aside.
Next you need to brown the lamb steaks before it all goes in the oven. Sprinkle them with a little salt and pepper, then cut the garlic clove in half and rub the cut side all over the lamb. Get a splash of olive oil nice and hot in a frying pan, then add the lamb steaks and just give them a couple of minutes on each side, until they lose their pink colour.
Scrape all the vegetables and juices out into a large roasting tin, and spread out in one layer, with the lamb steaks in the middle. Pop in the oven for 30 minutes.
Prepare the couscous according to the instructions on the packet. When the timer goes for the oven, transfer the lamb steaks to plates and then scrape everything else from the roasting tin into the couscous, giving it a good mix.
To serve, top each lamb steak with a generous heap of couscous, and finish with a little crumbled feta and chopped fresh oregano.