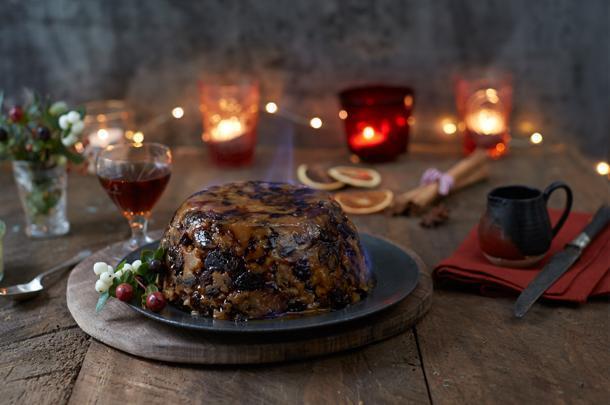 Classic Christmas Eve puds paired with wine
Christmas is a time for indulging and even when you're stuffed to the high heavens with turkey and all the trimmings, there's always room for dessert. We've compiled our top pairings of wines with the classic Christmas puddings so you can take your desserts to the next festive level.
Christmas pudding - a true yuletide tradition, dating back well into the 14th century, so it would be only right to pair it with an old classic, the Muscat. Christmas puds are dense, rich and strong in flavour, so it needs a wine that can stand up to the taste. Our Bulgarian Terra Tangra Tamianka Muskat 2016, complements the sweetness of the boozy pudding, with honeysuckle and orange citrus notes and flavours of peach.
Yule log – Tis' the season for all things chocolate, but this can be a tricky taste to match. Wines to go with chocolate need to be high on the sweetness scale to truly take on all the different flavours. An aged Tawny Port like the Alves de Sousa Quinta da Gaivosa is rich and smooth, with caramel and nutty hints, pairing perfectly with chocolate, roasted chestnuts or an indulgent nut-based dessert like pecan pie.
Tarte Tatin – the traditional French dessert of light, golden puff pastry with soft juicy fruit and crisp caramel is a great, seasonal combination. To echo the acidity from the apples and the sweetness of the caramel, the Kardos Tundermese "Fairytale" 2016 from Hungary is a perfect match. Fresh tastes of honey, melon, quince and pear flavours create a sweet wine that's succulent but never syrupy.
Gingerbread – Smells of the warming spices of cinnamon and ginger are characteristic of a traditional Christmas dessert found anywhere in the world. With these types of seasonings, mulled wines aromas come to mind. Think vanilla, black fruits and figs. A wine that has it all is the Matusko 'Rare' Supreme Dingac Reserve 2009 from Croatia. Drinking in this wine with the scents of gingerbread in the air is pure festive bliss.
Christmas cake – yet another Christmas classic! And whilst some folk in Yorkshire swear by pairing it with creamy Wensleydale cheese, for others, it's all about the timeless Tawny Port. Other fruit breads also take centre stage around Christmas, such as Panettone and Stollen. To compete with the intense dried fruit flavours, this Bolney Estate Blanc de Noirs 2015, has everything you need. This stylish English vintage has a good balance of sweetness and acidity and an elegant finish.
Cheese board – A wooden board piled high with cheeses, grapes, figs, walnuts and breads is a sight that brings joy to even the biggest humbug. There are so many wines to choose from to pair with cheese but if you want something special try Quady's Starboard 2006 Vintage. This fortified red is bursting with dark fruits and vanilla flavours, the perfect accompaniment.