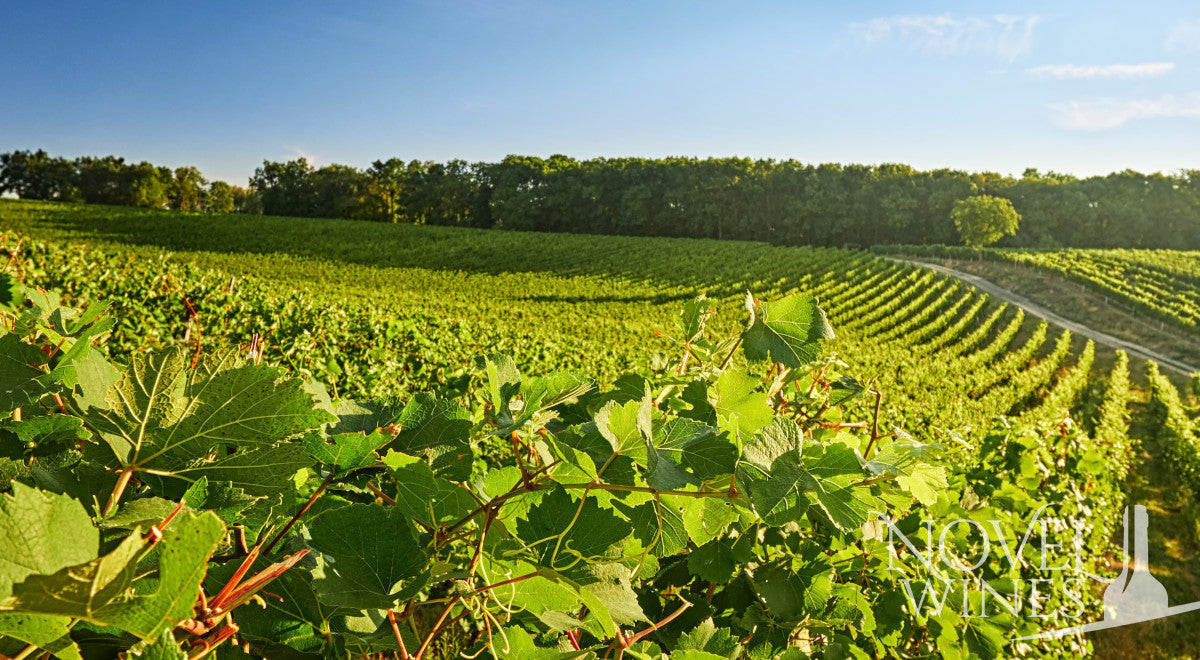 Your Guide to Wine from Czechia & Slovakia - This Month's Novel Wines Explorer's Club
Welcome to this month's Novel Wines Explorer's Club, the UK's most exciting wine subscription for the curious drinker. Each month, we will introduce you to a new wine region as part of our promise to deliver no two wines the same for a whole year. Not a member yet? Subscribe here.
Looking for an older guide? See all the Explorer's Club guides here.
What's in this month's Explorer's Club?
This October, we're introducing our new wines from Czechia and Slovakia. We've got two bottles from Horák in Moravia, Czechia, and four wines from Csernus in Stredoslovenská Vinohradnická Oblast, Slovakia. Everything's here from zippy and fresh Welschriesling and bold Chardonnay to indigenous grapes like Pesecka Leanka and complex reds like St Laurent and Frankovka. It's a real wine lover's case this month.
OK, who's tasted wines from Czechia or Slovakia before? I imagine not a lot of people have. However, wine has been produced in these areas for hundreds of years. There's a strong family, generational culture around vine-growing and winemaking. We're pleased to have two top flight wineries to show you just how good these wines are today, and hopefully lead the way to even more of them in the UK.
Without further ado, here's our buyer Ben chatting you through this month's Club selection.
If you have any specific questions about the wine, you can get in touch with our team here. However, we've got lots of info on the wines below, so pull the cork and get stuck in!
Kicking off this month's box is the Slovakian wine Csernus Pesecka Leanka 2021 (included in both The Rambler and The Globetrotter). This indigenous variety shares heritage with Feteasca Regala (Royal Maiden grape variety from Moldova/Romania), but has been crossed with Moravian Muskat. The result is those enveloping flavours of melon, apple and grapefruit from Feteasca Regala also merge with floral freshness from the Muskat. Surprisingly there's a lean, fresh punch to the finish that'll keep you coming back for more. A great poultry, pork, or aubergine wine partner.
The first wine we've got here from Czechia is the Horák Welschriesling 2021 (included in The Globetrotter only). This is a fresh and zippy style of Welschriesling that's not quite as savoury as some of the Olaszrizling (same grape from Hungary) or Grasevina (again, same but from Croatia) wines that you can buy. This is more about the fruit. Fresh melon, cut grass, and bright on the end. It's a great alternative for those who like Sauvignon Blanc but maybe want something rounder and less acidic. 
A great partner with fish, from grilled white fish to a buttery and rich fish pie, it will also pair really well with tomatoes (bruschetta, salads, and so on).
Back to Slovakia now to bring out the big guns! Introducing Csernus Battonage Chardonnay Selection 2020 (included in The Globetrotter only). This is a properly ripe and fruit-forward Chardonnay (think red apple, pear, fab structure, long finish, opulence!) that's been lees-stirred (a process called Battonage) to bring out all those yeasty flavours that give you a creamy, soft palate. 
This is almost like the great Chasselas wines of Switzerland, if you've tasted those before. It also has nods of Californian Chard about it, too. The alcohol isn't blasé, only 13.5%, so it all balances really well. Think creamy pasta dishes, risottos, or roast turkey and all the trimmings.
Time for some rosé. Sticking with Csernus in Slovakia, let me introduce you to Csernus Lava Cuvée Siller Rosé 2021 (included in both The Rambler and The Globetrotter). The "Siller" part refers to a rosé style popular in central and eastern Europe whereby the grapes are left on the skins for longer to develop a deeper colour and more complexity.
In this Lava Cuvée, Karol has blended Frankovka and St Laurent with the crossing André to create a full bodied, food-friendly rosé with notes of cherry and plum fruit. This one for those Asian stir fries, or sipping lightly chilled in front of the Saturday night telly. 
Next up is red wine! Here's the Horák St Laurent VOC 2018 (included in both The Rambler and The Globetrotter) from Moravia. St Laurent is one of my favourite grape varieties. Imagine Pinot Noir but a darker colour and a more rustic palate. It has some more darker fruits, too.
This St Laurent is light and fresh as far as the fruit goes, but oak maturation in French barrique for 24 months has given it guts and power. The result is a fruit-driven red with some gamey and leathery hues but overridingly a velvety and silky texture with flecks of vanilla and toast. You're going to love this one!
Last up in your case is this Csernus Frankovka Modra Selection 2020 (included in The Globetrotter only), part of a limited run of 3,052 bottles. Another one from our Slovakian friends. It has elegant acids, light and fresh body, contains lush and spicy taste with silky tannins. The aroma and taste are dominated by ripe red fruits, cherries and sour cherries, complemented by fine spices. Almost 8 months of aging in oak barrels makes the wine full and velvety, with a vanilla and smoky aftertaste, which it keeps in the bottle for several years.
Frankovka is the same grape variety as Blaufrankisch and Kekfrankos. 
Moravia: Czechia's winemaking paradise
Moravia is a region with a rich history, with its winemaking scene born out of Roman history and continued in a union with Bohemia. Vines were originally planted here by the Roman Emperor Probus some 276-282 CE near Pálava. The monastaries in the 14th Century upscaled the footprint left by the Romans, planting varieties from France and Germany. Finally Charles IV, King of Bohemia and the Holy Roman Empire, made a proclamation that his citizens must plant vines on every mountain around Prague, cementing Czechia's tradition of winemaking.
Today, Moravia borders Austria in the southeast of Czechia and is responsible for 90-95% of the country's entire wine production. The terroir is not too dissimilar to that of northern Austria, with lots of loess deposits over sea and freshwater sedimentary rock, all providing exceptional drainage.
Mount Straz: Slovakian volcanic wines
Csernus' wines are grown on the volcanic foothills of the defunct volcanic Mount Straz. The mix of soils under Mt Straz are granite, volcanic rock, iron ore, tuff, limestone and sandstone, meaning the vines are forced to root deeply into the subsoils to get nutrients. This concentrates the yields, which are kept low to increase the quality of fruit. As with many volcanic wine regions, this produces a salinity in the wine - often called "minerality" - that is like a salty freshness, adding a lift and intensity to the wine.
Eating with Slovakian and Czech Wines
There's a common theme to much of the quality wine coming from Czechia and Slovakia, which is a balancing of natural residual sugar from later harvesting and minerality from the free draining soils. This gives the wine a fruitiness, without necessarily falling into overly ripe or tropical fruit, that makes them great food partners.
Hearty and wholesome dishes like casseroles and soups (even with some spice) fit very nicely with these wines. The reds in this box - with their smoky hues - would pair really well with traditional dishes like goulash. You'll find the whites are natural partners with pork dishes, or softer hard cheese like sheep's or goat's milk cheese.
Where can I find out more?
If you're not subscribed to the Club, crack on and get your subscription online by clicking here and join from only £49. If you'd rather just stock up on Czechia and Slovakia wines, view our full range here.