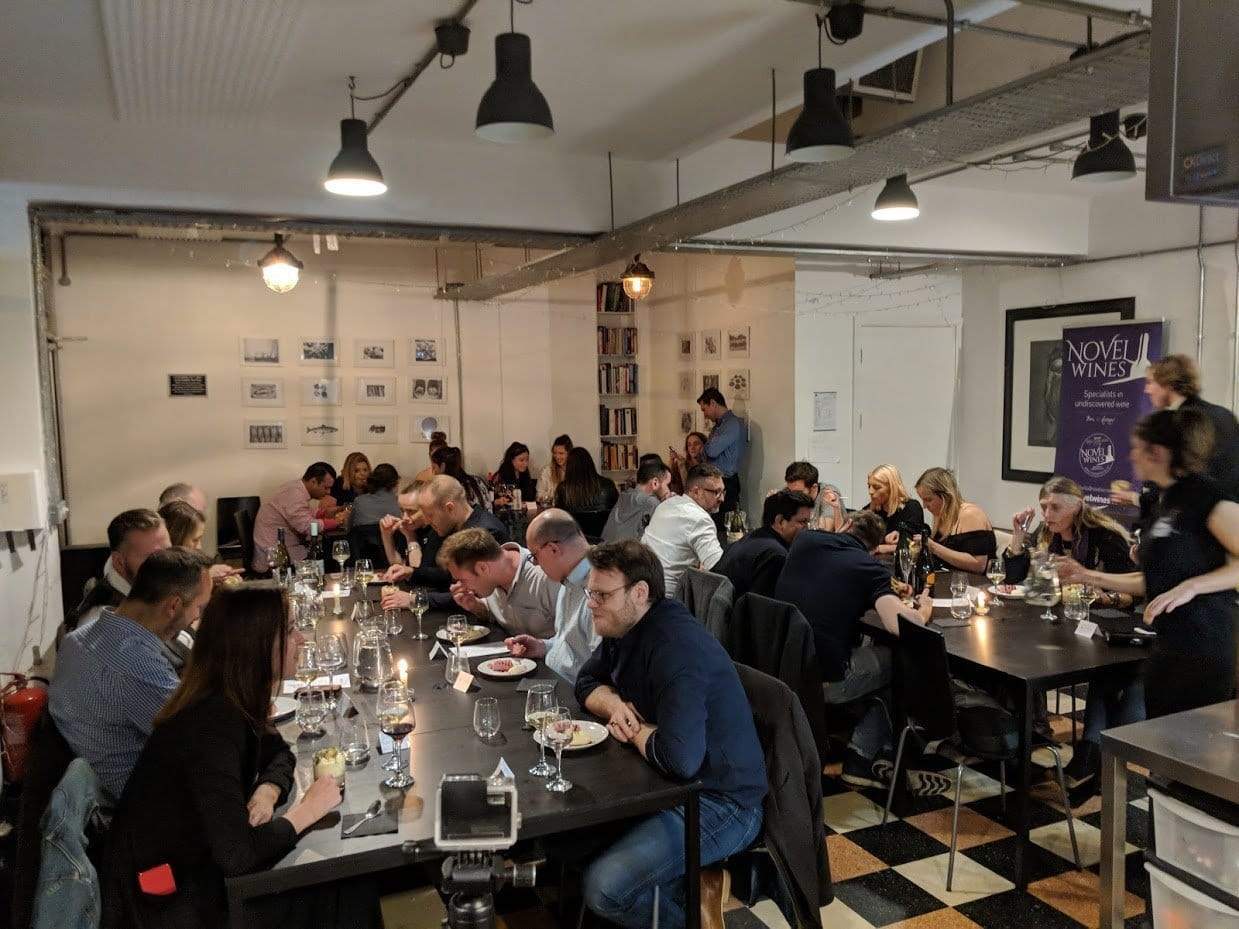 Turul Project X Novel Wines: Hungarian Fine Dining, London
Last week we partnered up with the Turul Project to celebrate all things Hungarian food and wine. Hosted at the London Cooking Project in Battersea on Friday 12 and Saturday 13 October, the evenings featured an elegant five course menu with wine pairings from our truly unique range of Hungarian wine.
The Turul Project are a team of excellent young chefs and front of house staff who want to bring Hungarian fine dining to the London scene. Through a series of supper club style events, they're already making waves with foodies across the big city.
You can find out more about them by following @turulproject on facebook or Instagram.
Greeting guests to a glass of Keknyelu
As eager foodies arrived on Friday and Saturday evening, we introduced them to our brand-new vintage of Sabar Keknyelu. This white wine is a rare single-sex vitis vinifera variety, making it a difficult product to grow. Nonetheless, this unique Keknyelu – or "blue stalk" – grape creates an approachable style of white wine with a flinty backbone, aromatic floral notes and plenty of citrus and stone fruits.

Pic: the Turul Project menu, kicked off with a bottle of Sabar Keknyelu
The new 2017 vintage, hand-harvested from the southern-sloping terroir of Komagas vineyard, is fermented in stainless steel and then partly matured in oak barrel to develop a textural, fuller palate. It's great on its own, lightly chilled, or when served with olives, lemon-dressed white fish or vegetable risottos.
We served this lovely Keknyelu before the starter of either roasted butternut squash soup, a fantastically creamy and flavoursome dish, or the celeriac and walnut soup with sautéed lardon.
A glass of pink with your parfait?
Duck is such a fun thing to pair wines with. It's a fatty but flavoursome meat and it works delightfully well with wines that are both mineral or slightly sweet in style. The second dish served by the Turul Project team was a moreish duck liver parfait with port wine jus and poached pear gel. It was delicious – and especially so next to our St. Donat Soil Stories Volcanic Rose, a blend of Kekfrankos, Merlot and Zweigelt from 2017.

Pic: St. Donat "Soil Stories" Volcanic Rose
We wanted something that was dry but with a sweet ripeness of fruit intensity to complement the duck but also match well with the alternate second course: an inspired beetroot terrine with goat's cheese. Both dishes are impactful but light in body, so a rose with an intense flavour but a zingy, lighter body makes a perfect match.
Hungarian style
The next course featured two more rustic style dishes: a classic Hungarian dish of roasted bone marrow to spread on toasted sourdough (you've got to try it!) or, my favourite dish of the night, mushroom 'paprikash' with thyme dumplings. In this dish the Hungarian 'paprikash' sauce is made by sauteeing onions with paprika. A reduced version of the sauce is used to finish the plate at the end but the real delight is the way its been used to cook and enhance the mixed mushrooms in this dish. Amazing!
Pic: our selection of Hungarian wine pairings.
Mushrooms, with their unami traits, and bone marrow with its depth of flavour, were always going to be a struggle to pair wine with equally. However, just as a great Pinot Noir is versatile with almost any food, Hungary's very own unsung variety Kadarka is equally versatile in the right hands. Introducing Szekszard family winery Vesztergombi, whose Kadarka has everything punching for it: juiciness, ripeness, a long finish and succulent tannin.

Pic: Venison tenderloin main course
The main event
The picturesque main course of venison tenderloin and peas or the mighty indulgent layered dish featuring slices of rich potatoes, Mangalica sausage and sour cream were to die for. Heaven enough on their own, but even better alongside Bolyki "Bull's Blood" Bikaver, our spicy, medium-full red from Eger winemaker Janos Bolyki. All the ripe fruit, peppery spice and silky palate cut-through and added freshness to the scrummy layered potatoes and the mouth-watering venison tenderloin.

Pic: Layered potato cake main
We hit the nail on the head with this match (even if we do say so ourselves).
The finale
Rounding off the evening was a choice of creamy sour cherry parfait with elderflower ice-cream or a chestnut and pear trifle. Anyone who knows me is aware I have a real sweet-tooth so both these desserts ticked all the boxes for me. Hungarians are renowned for their pastry cooking too, so we were in very good hands for this excellent finale.
Of course, only one Hungarian wine deservedly gets to finish off such a brilliant event: the wine that started it all, Kardos Tundermese 'Fairytale'. This late harvest Tokaji is what brought my business partner Gyorgy and I together when we founded Novel Wines in 2016 and to this day the latest vintage 2016 still tastes sublime.

Pic: Kardos Tundermese "Fairytale" dessert wine
It's lighter in sugar than Aszu styles of Tokaji, so you instead get a fruit-forward, fresh palate that's bursting with honey, melon, quince and pear flavours. Not too sweet for desserts and sweet enough to indulge in by the glass or next to a block of good old blue cheese. However, next to Turul Project's sour cherry parfait few events sung fine-dining better.
Hopefully we will see you at the next one!