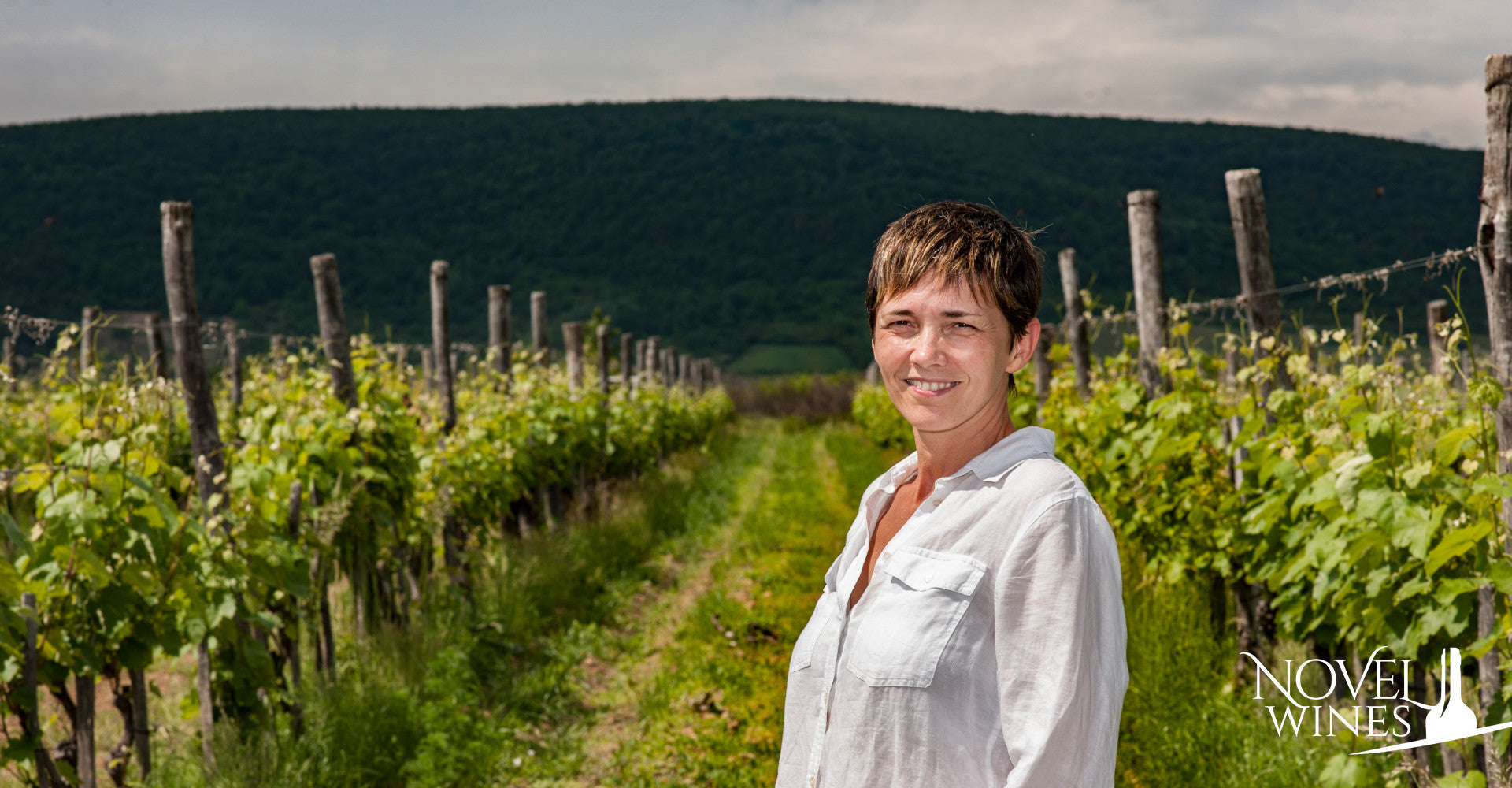 "I have always been in love with Tokaj" – Meet SanzonTokaj Winemaker Erika Racz In This Exclusive Interview for Furmint February 2021
Throughout February we're celebrating the winemakers behind Hungary's most important grape variety: Furmint. In this article, we chat to Erika Racz, who owns the SanzonTokaj winery with her husband Gergely in the village of Erdőbénye in the Tokaj wine region.
Erika celebrates a bumper harvest in her vineyard
Starting with humble beginnings, Erika's original plantings covered 0.3 hectares in a site called Nyakvágó, which she inherited from her parents. Since 2014, her estate has grown to four hectares of vineyard across five sites: Rány, Palánkos, Szentvér, Serédi and Nyakvágó. These vineyard parcels are planted with the two key grape varieties in Tokaj: Furmint and Harslevelu, and Erika's aim is to showcase the influence of terroir on the variety. She also has a small parcel of Muscat Blanc for testing out how this grape can be developed into a more elegant wine by using amfora.
The view across SanzonTokaj's vines and out across Tokaj.
'I was born in Tokaj Hegyalja and since my childhood I've been strongly connected to wine,' Erika tells us. 'Even as my career went a different route, I remained in love with wines and Tokaj. Becoming a winemaker meant full freedom for me, and it's where I can truly be myself.'
When Erika inherited her first small parcel from her parents in 2014, she founded the winery SanzonTokaj and it was a dream come true. 'It had to be Tokaj – I never wanted to become a winemaker anywhere else.'
The view between the vines at SanzonTokaj.
Erika's SanzonTokaj wines have won over our customers since day one. Lean and characterful, they have their own style that defines them against a landscape of exceptional Tokaji wines.
'On one of our tasting events, there was someone who had tasted Tokaj wines 10-15 years ago and didn't have a good experience. He came to the tasting to see a new winery and was interested how young winemakers are making different wines. At the end of the tasting he came and said to me: "Thanks for this, it has re-opened Tokaj for me. I didn't imagine Tokaj wines could be like what we tasted today." It's moments like this that are the most important successes for me – when you can change someone's perception of Tokaj for the better.'
Tokaj's unique volcanic soils make it the perfect place to grow characterful Furmint and Harslevelu grapes.
Making wine in Tokaj might not be easy. Erika describes the 2020 vintage as 'difficult and cold' with no sweet wines being made. However, she is still excited to make her dry wines and is confident they will be 'fresh with crispy acidity'.
Erika delves into hard winter's work, pruning and tending to her vines.
SanzonTokaj in its picturesque, winter wonderland state as we enter 2021.
SanzonTokaj is also in the process of gaining a Bio certification and takes a minimal intervention approach in the winery. This is to capture the grapes' true potential and expression of terroir. As Erika grows the winery's reputation, she is excited to see her wines appear in more foreign markets.
So, as we all settle down to enjoy a glass of SanzonTokaj and celebrate Furmint, what should we pair with Erika's wines?
'My dry wines are defined by crisp acidity, clear and straight character, so they fit very well with seafood and Asian cuisine.'
The range of wines by SanzonTokaj.
The range of SanzonTokaj's dry wines you can buy from us in the UK includes the superb Classic Furmint, a wine full of honeyed ginger cake and zingy limes, and Erika's two Rany single vineyard varietal wines, one from Furmint and another from Harslevelu. We also sell Erika's brilliant Sweet Szamorodni, a new style of Tokaj dessert wine that's luscious and mouth-watering - a perfect partner with duck liver parfait and chutneys.
Cheers!
Browse our range of wines from SanzonTokaj here.
---
Written by our buyer, Ben Franks.