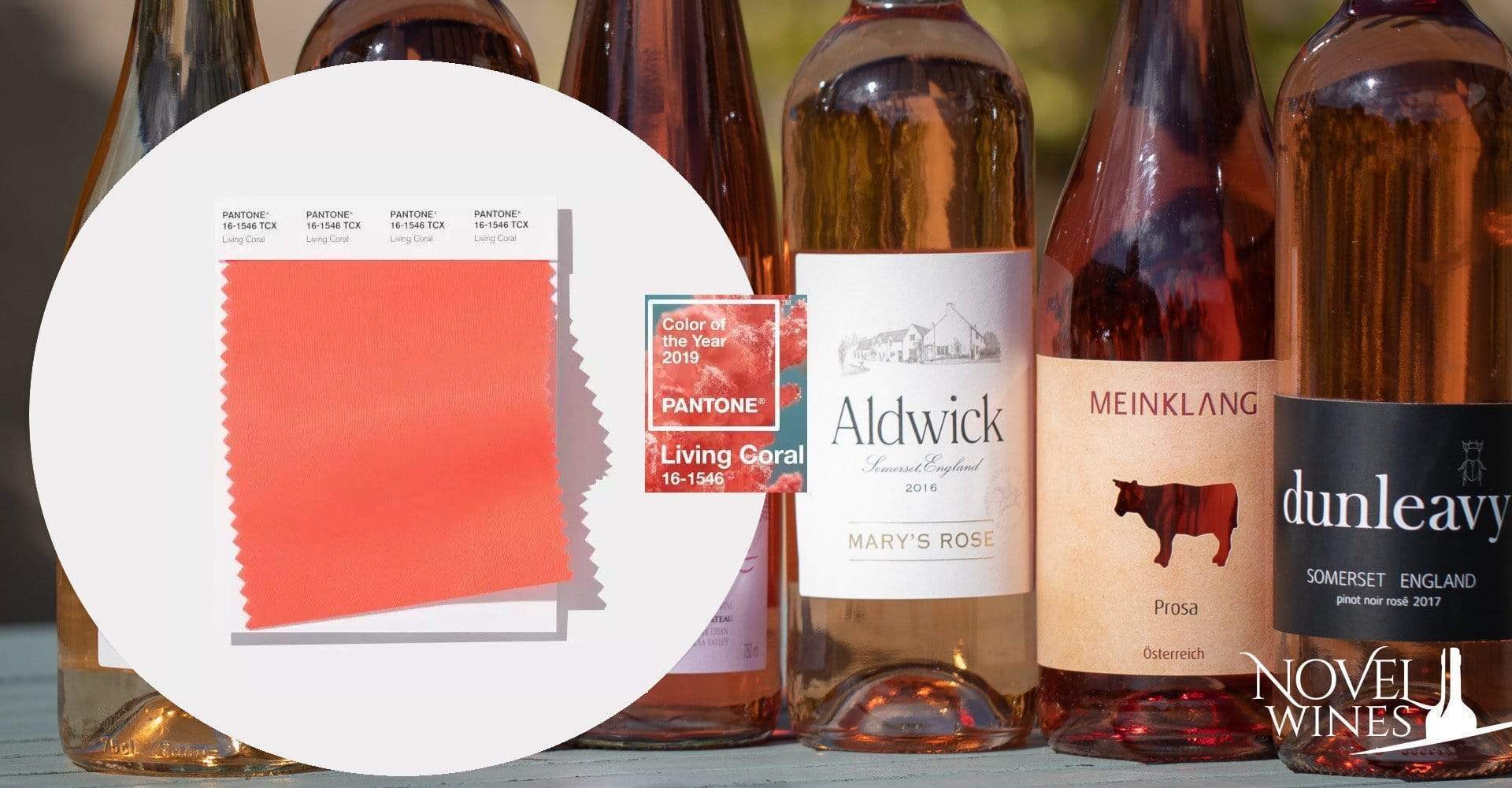 Celebrating 2019 Pantone Color of the Year 'Living Coral' with Rosé
Pantone have announced their 2019 Colo(u)r of the Year as "Living Coral", described by Quartz as "a peachy shade of orange with a golden undertone". It was unveiled in December at the Art Basel Miami and apparently "beams optimism".
Anyway with last year's Colour of the Year being Ultra Violet - "definitely not purple" - it was difficult to tie it back into wine somehow. This year, as soon as I saw the new colour, it screamed rosé!
As customers will know I have been a HUGE advocate for drinking pink all year. The quality just keeps getting better and better. So it seems sensible that when something screams rosé like this we've got to celebrate it.
Quirky
The concept of Colour of the Year gets quirky when you discover Pantone has its own 'Color Consulting Unit' headed by a vice president, Laurie Pressman. That's a pretty cool job in anyone's books.
In the world of wine we meet these quirks all the time and one of our favourites is behind the story of our Meinklang Organic Frizzante Prosa. Austrian winemaker Angela Mitchlits created this biodynamic, lightly-sparkling wine to be enjoyed on her wedding day. It went down such a storm that it quickly became a staple of Meinklang's wine range. Today the vast biodynamic farm sells its Frizzante Prosa across the globe.
The wine is sealed with a crown-cap and has a slightly off-dry fruit salad of blood orange, raspberry, strawberry, guava and cream. Immensely enjoyable and very, very different to the usual pink fizz.
Something a bit closer to "Living Coral"
OK, so the Meinklang is almost cherry-red. If you're really after a bit of bottled up living coral colour, why not have a look at the Lebanese rosé Chateau Ksara Sunset Rosé? A blend of Cabernet Franc and Syrah from the Beqaa Valley, this wine is brimming with guava, raspberries, red cherries and spice.
Château Ksara is Lebanon's oldest winery; you can trace it all the way to 1857 when Jesuit monks acquired the property. The monks used their knowledge of science and agriculture to plant French wines and develop two kilometres of caves to preserve and store the wine. The Jesuits owned the property until they sold it in 1973 to its current owners. The wine is currently made by James Palgé.
Anything home-grown?
Who could write an article on great rosé and forget the English wine trade? Across the southern counties and right-up to the midlands wineries are rolling out rosé that goes from Provence-esque dry and subtle fruit to big, summer berry explosions. 
Invoking a paler, more orange tone than Living Coral is the Aldwick Estate Mary's Rose from Somerset. This local wine is dry and refreshing with hints of strawberry and pink grapefruit. There's also some pops of rhubarb and its mouth-watering with a melon-like texture. 
Aldwick Estate is a stunning vineyard and events venue that has been creating multi-award-winning wine. If you're going to try a home-grown rosé, Mary's Rose is a fantastic place to start. It's also got a wonderful story:
The story of Mary's Rosé
In October 1957, Mary Joyce Hathway came to Aldwick Court Farm as the beautiful bride of Dennis Watts. Farmer's wife and mother of three, she developed a popular Bed & Breakfast business and the tradition of genial hospitality that endures.
Dennis and Mary not only purchased the farm where his family had been tenants, but also extended its holdings. In 2007 Mary entrusted the farm to her only son, the late Chris Watts, who conceived the plan for a vineyard. Her much-beloved gardens often give rise to the observation: 'If there was one spare foot of soil, Mary planted a rose'.
Feeling optimistic?
So what do you think of Pantone's Colour of the Year, "Living Coral"? Does it inspire you to give rosé a go?
If you'd like to know a little more about what rosé to start with, I've introduced three of my favourites in the video below: