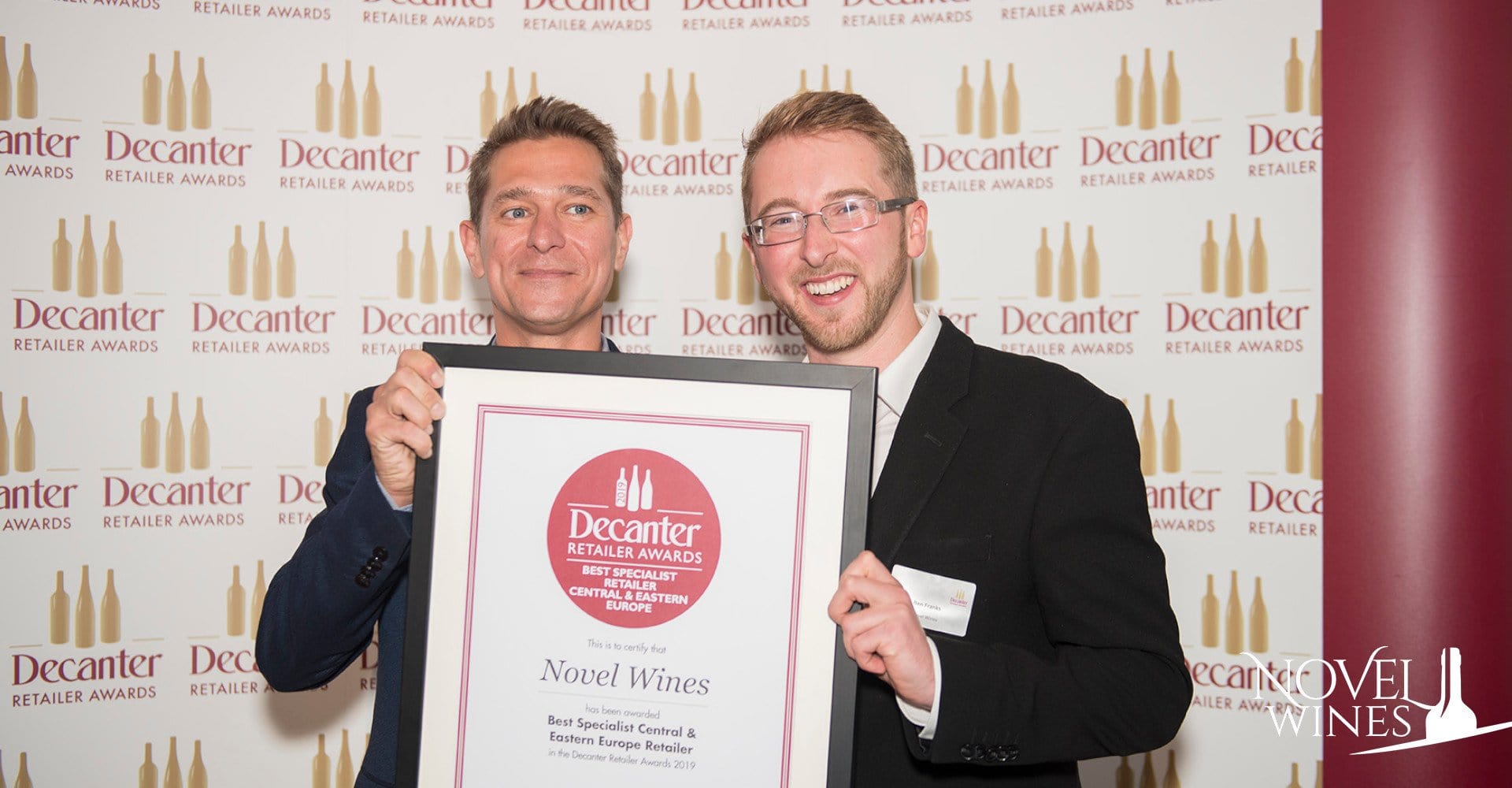 Novel Wines WINS Decanter Award for Best Specialist Retailer
We've won the coveted 'Best Specialist Retailer – Central and Eastern Europe' at the Decanter Retailer Awards 2019. Wahoo!
It's official! After just three years' trading, our wine merchant has been honoured with a prestigious Decanter award, recognising our range of truly unique wines from central and eastern Europe.
The 'Specialist Retailer of the Year – Central and Eastern Europe' award was announced at the Decanter Retailer Awards ceremony on 26 September 2019 with Novel Wines awarded the top gong, with Croatian Fine Wines being named as Runner-up.
Since launching the business in September 2016, wine buyers and founders Ben Franks and Gyorgy Zsiga have grown the wine list from 90 wines to over 250 hand-selected bottles. The wines are sourced from across central and eastern Europe with a focus on Hungary, Croatia and Romania. Novel Wines also sources a range of wine from Asia, England & Wales, South Africa and the Americas to make up its truly unique wine list.
Ben Franks, CEO, commented about the awards: "We are absolutely thrilled to win the Decanter award. Thanks must go to our amazing winemakers across the region for making our job so exciting. We also wouldn't be here without our incredible team who work hard to make sure we succeed in sharing these beautiful wines. We're just absolutely over the moon!"
To date we have served thousands of customers up and down the UK via our online retail and through many restaurants, bars and hotels in London and the south west. 
"It's onwards and upwards from here," Ben says. "The way wine brings people together and creates memories is why we love what we do; and what better way to do that than with a wine that piques your curiosity and then delivers 110% on quality? Central and eastern Europe is a real hotbed for high quality wines and I'd encourage anyone who hasn't tried them to step outside their comfort zone and do exactly that."
Decanter Retailer Awards: The 2019 Judging Panel
The 2019 judging panel consisted of five independent wine experts who have been chosen for their extensive knowledge in the retailer environment.
Peter Richards MW, Chairman – Wine writer and TV presenter
Andy Howard MW – Decanter contributor, wine writer and consultant
Peter Ranscombe – Wine columnist and drinks blogger for the Scottish Field
Matt Walls – Freelance wine writer
Laura Clay – Wine Educator and Chairman of the Association of Wine Educators