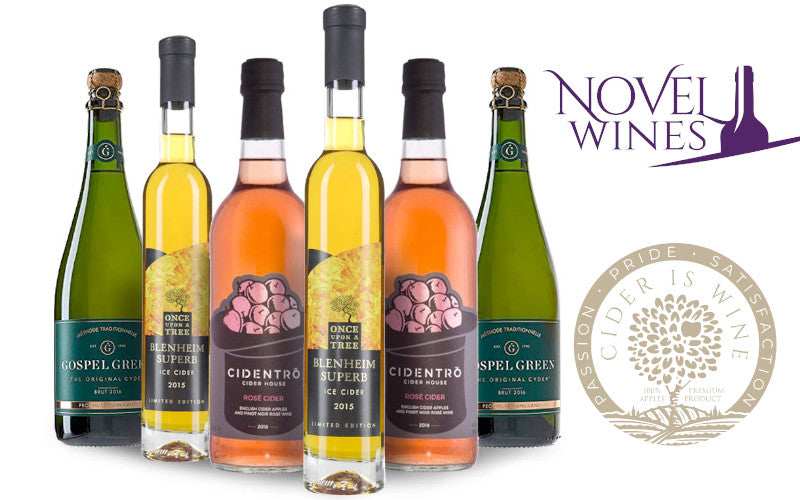 New Ciders Introduced in Partnership with the Cider Is Wine Alliance
Novel Wines is excited to introduce a brand new range of high quality ciders to our shop in May. We are showcasing this new wave of cider in partnership with the Cider Is Wine Alliance, an organisation that sets the benchmark for quality cider making. 
Membership to Cider Is Wine requires the cidery to meet stringent quality requirements and make their ciders from 100% apple or pear juice - no added sugar, water or colourings. 
Wine buyer Ben Franks confessed to being a convert:
"I always had myself down as not liking cider. Something about it never seemed to click with me. However, when I met with Alistair Morrel, Cider Is Wine's founder, I was introduced to ciders by Swedish cidery Brannland, the home-grown Once Upon A Tree, and New Zealand's Abel cidery.
"Wow! These were unlike any cider I'd tried before. Each one intensely characterful in its own right; each one balancing apple skin tannin with bittersweet tones; each one having length and satisfaction. This really felt like wine, but with pears or apples."
The team are now proud stockists of Brannland from Sweden, Once Upon A Tree from Herefordshire, Gospel Green from Hampshire, Cidentro from Leicestershire, and Leduc-Piedmonte* from Canada. In the new range you'll discover still, sparkling and ice ciders, as well as innovations like Bacchus lees-aged cider, oaked ciders and co-fermenting wine with cider. It's a very exciting range to explore!
Shop the full range of Novel ciders here -->
Of course, there's more bonuses to top quality cider that tastes as good as great wine: lower alcohol! So if you still like a drink but want to cut down on your alcohol intake, cider is a great way to go.
Read more about the Cider Is Wine Alliance here.
*Leduc-Piedmonte is not yet a member of Cider Is Wine.