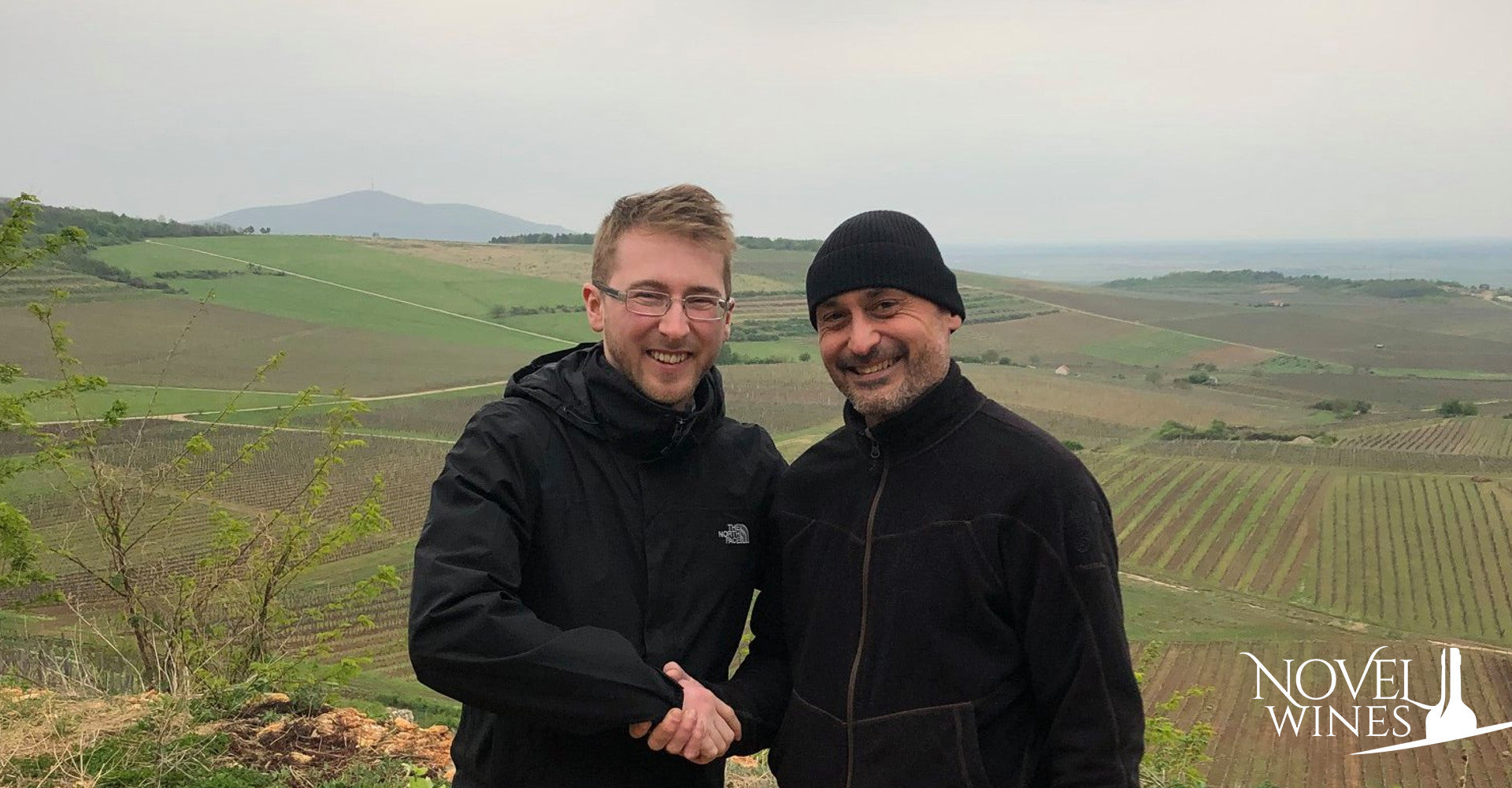 "I consider myself a viticulturist" - Meeting Dr Endre Demeter in his Winter Tokaj Wonderland for Furmint February 2021
Endre Demeter oversees some of the finest parcels of land in Tokaj, Hungary's most famous wine region. The vines are located around the pretty village of Mad and grow in a range of diverse soils, giving Demeter a colourful palette of Furmint styles to play with.
One of Demeter's most sought-after plots is the 100-year-old small parcel of vines on Uragya 57, growing as goblet vines and producing fruit of incredible intensity. It is one of the finest Furmint wines we've ever tried, so I was excited to catch up with Demeter and learn more about his journey. He writes to me from a snowy winter wonderland and explains why he became a winemaker.
'Despite finishing a masters in winemaking at University first,' Demeter says, 'I consider myself a viticulturist. That's my first love: nature, and the purity and nobility of agriculture. 90% of the work we do is done in the vineyards.'
As they say, you can't make good wine from bad grapes. However, Demeter's love for nature and attention to detail is second to none in Tokaj.
'My love for nature and Tokaj's reputation as a world heritage site is one of the main reasons we went organic back in 2004. I love grapes and their nature, and I am still in a burning love with them more than 20 years after getting into this trade.
'Also, I am at home in the vineyard. I find it normal to do physical work, I like working with machines, and I like to hone my craft so I practiced a lot and refined what I do.'
Demeter is a perfectionist, and you can see it in the complexity and harmony of his wines. However, it's not all work and no play.
'Besides the work, later I learned that in wine you get to meet very interesting people and have deep, intelligent conversations with them. You get to meet those people you may never have met otherwise. I think of these opportunities and the friends I make as the bonus to making wine, like the joker in the pack.
'The real highlight for me are the people in my own village of Mád, who have bought and tried my wines in the local pubs. They celebrate with us when a video turns up on the internet about our success around the world, and they'll say hi and congratulate me as I shop in the local store or in the streets.'
In 2011, Demeter was named 'Young Winemaker of the Year' in Hungary and his reputation was solidified. He is also an international wine judge, so continues to taste wines widely.
'Some of my partners around the world send my wines into other competitions, and from time to time I get letters from all over the world with gold medals. It makes my mum happy!'
As someone so passionate about land and viticulture, it's not surprising to find that Demeter chose to build his reputation in Tokaj. After all, the region of Tokaj is Hungary's finest wine region.
'My oldest vineyard turns 100 this year; it is the top parcel of Uragya and was planted in 1921, so it is from a gene bank of vines that were among the first planted following phylloxera. It is one of the oldest living and working vineyards on the continent. I also have vineyards planted two years before my birth and one in 1984 that was planted when I was a kid.
'When I took over I continued to plant vineyards, reprising vines in places where they once existed for many centuries. Tokaj was the first region to have the origin and classification system in the world, so in a way I don't have to find or think of new places as we are actively trying to regain the original state, landscape, charisma and respect of the Tokaj and Mad region.'
Again, returning to the land, this is Demeter's main driving force. He is passionate about sharing the diversity of Tokaj with the rest of the world.
'I want to share Mad's special and complicated geology - I actually have my 8 hectares of organic vines in no soil, just eroded stones and rocks. I like to entertain visitors and show them how we work with these vines, while also balancing the cultural conservation of our world heritage site with the movement of the modern world. The best way to share all this is with wines that are good to drink, and I love to see the smiles on the faces of people who drink them.'
Demeter's range of single vineyard bottlings and his delicious Estate Furmint continue to highlight Tokaj's diversity, as well as Furmint's ability to reflect the terroir in which its grown. While some years, like the rainy 2020 vintage, can bring challenges, Demeter is so in touch with his vines that he relishes solving any issues to continue making great wines.
'The rain meant we had to keep busy tending to the vines to keep them under control and in good shape. So we spent more time than ever outside (in fact, I didn't really notice the lockdown!) and this meant we could harvest a healthy and ripe crop of organic grapes, despite harsh conditions. It was a crazy year, the most rainfall since meteorology data started to be recorded 110 years ago.'
Taste some of Demeter's Furmint wines
As the new wine settles following harvest, Demeter tends to his vines through the cold winter and snow. However, as people all over the world sip his wines, he continues to smile!
If you would like to try some of Demeter's wines, we are honoured to sell his Estate Furmint, a dry wine brimming with apples, peach and quince with a racy, lean finish. We also have his highly-regarded and extremely limited edition Uragya 57 bottling, which is pure and intensely fragrant; think green apple, conference pear, kiwi, zingy gooseberries and a creamy mouthfeel.
For the sweet tooth, the Demetervin Sweet Szamorodni is a masterpiece. Complex and mouth-watering with apricots, acacia, dried fruits and gingerbread spices. What a Furmint!
Demeter beams: 'For a real treat try my Furmint with seafood. I love seafood. It fits very well, partly because of its mineral salinity but also its balance and closed elegance. Furmint also goes well with meat like goat, especially the Uragya, which is a very special wine.'
---
Written by our buyer, Ben Franks. Photos courtesy of Demetervin.