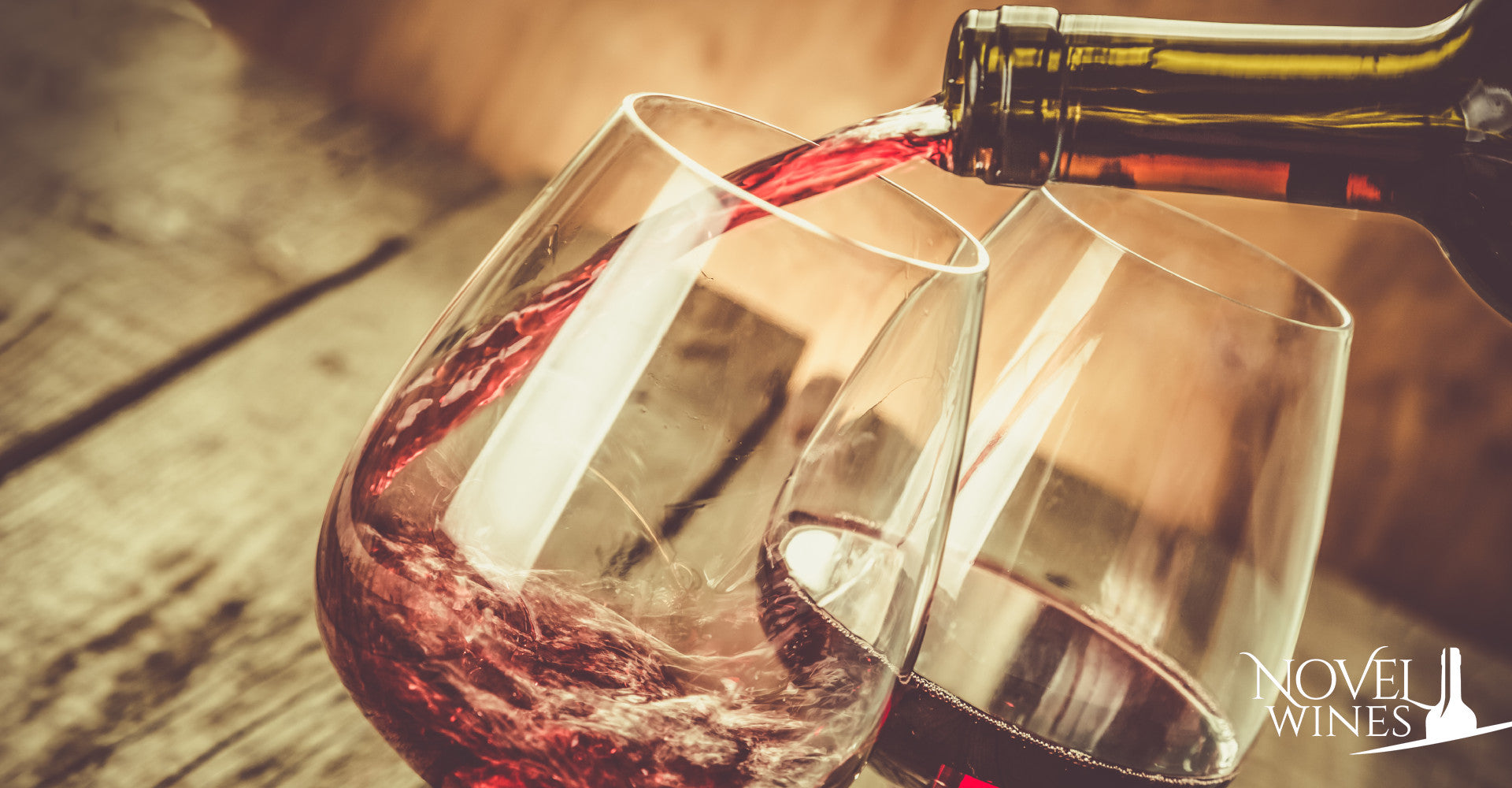 20 Red Wines to Drink in 2020
Welcome to 2020! We can hardly believe how quickly last year flew by... For what seems like decades, we have gazed towards this point on the time horizon. As  January begins, we answer the question on every wine lover's lips - what does 2020 have in store for the world of red, red wine? 
Well, we're eating and drinking more mindfully, and looking for wholeheartedly honest options that are natural and kind to the earth. Luckily, here at Novel Wines we make it our business to source the most weird and wonderful red wines from all corners of the globe - whether they're vegan, organic, lighter-bodied or something that little bit special - all of our red wines have been expertly selected.
We truly believe that the smooth, ripe and delectable character of a red wine is the ultimate companion no matter the time of year. So take a look at our shortlist of vino tinto for 2020. 
A light wine with plenty of bold character
Who said lighter bodied wines have to lack substance? The Theodorus Dornfelder Trocken Qualitatswein 2013 has set out to prove us wrong.
Bottled at 12.5% alcohol content, the plummy tannins and mineral finish gives it a mouthwatering character for such a light wine. We expect to see lots of great lighter bodied wines coming to the fore in 2020, so watch this space. Scents of liquorice intertwine with notes of fresh cherry and violet - and it's both organic and vegan. We certainly approve!
The ultimate bottle for a spicy takeaway

Indian wine is fast making a name for itself, and with good reason. If you're planning a night in with a bottle of red and your favourite Indian takeaway in 2020, be sure to choose the Sula Vineyards Dindori Reserve Shiraz. It's smoky, jammy, and will bring your Jalfrezi to life. 
A red wine from the world's oldest winemaking region
The history of Georgia is built upon an ancient tradition of winemaking, and Tbilvino have drawn upon ancient methods to create something unique for 2020. Taste a piece of ancient heritage with the Iveriluli Saperavi wine - the aromas of cherry, almond and vanilla are to die for, and the palate is distinguished by oak and mulberry.
Berry smooth, berry red wine
The Palmela Tinto is an award winning bottle at an award winning price (we're talking under a tenner here!) - and is rich in berry aromas. Expect red berries, lavender and herb to transform into rich notes of coffee and caramel. The coastal area of the Setúbal peninsula in Portugal certainly plays its part, as the mineral rich soils are prime for growing vines. 
Lighter than a feather English red wine
Light, juicy and quintessentially English, the Aldwick Flying Pig comes from Somerset's finest vineyard. It's naturally low in alcohol content, vegan, and perfumed with fruity aromas of strawberries, plum and cherry. Delicious!
Who said "Good English wine?! Pigs might fly!" Well the pigs certainly fly here!
Organic red wine from a cool Canadian climate

There's something about a cooler climate that makes for a very special dry red wine. This Haywire White Label Gamay Noir from Canada comes from the Okanagan Valley in British Columbia, and is creamy with a gentle acidity on the finish. It's also very well rounded thanks to 11 years spent ageing over lees.  
A Swiss blend of all the greats 
Just like a Swiss cheese, this Swiss wine is bold, rich and full of character. The Paolo Basso 'Il Rosso di Chiara' Rosso del Ticino DOC 2014 is a very fine blend of Merlot, Cabernet Franc and Cabernet Sauvignon, and is the perfect wine for a special occasion in 2020. Expect flavours of forest fruit gateau with blueberry and spice. 
Balearic red wine aged in American and French oak 
The Balearic islands are famous for their olive oil, almonds and ability to produce stunning wine. The Bodega Biniagual in Mallorca sits 140m above sea level; enjoying cool winds and fertile soil. We reckon this is their most exciting bottle of red, as this small batch has spent 15 months ageing in French and American oak. The results are stunning - the Bodega Biniagual Veran 2014 is a complex bottle with aromas of violet, cocoa, blackberry, and a silky finish of nuts and anise. The finale reminds us a little bit of the island's famous Hierbas liqueur. 
Red wine similar to a Merlot
Looking for the Merlot of 2020? Well the indigenous Samsó grape grown in Catalunya will satisfy all your Merlot cravings. The Casa Mario Samso Crianza is a well priced medium bodied wine with aromas of thyme, leather, violet, black cherry and charred toast. Effortlessly smooth. 
The guys at Casa Mariol have a philosophy of "just good juice" and this is exactly that.
An aromatic red wine gem from Turkey
The Kayra Kalecik Karasi comes from one of our favourite producers, and is made with a grape variety native to the Turkish region of Anatolia close to Greece which gives it an earthy character. The grapes have been 100% handpicked from the Denizli vineyard, and you'll love the natural notes of ginger flower.
Organic wine with a glass stopper
This organic wine is big, bold and kind to the earth. Not only is it organic, but it comes with a delicate glass stopper that can be reused again and again. The Terra Tangra Black Label Mavrud is a Bulgarian red with notes of red blackberries, cedar, ripened mulberries and vanilla.
A Double Gold award-winning Shiraz
We love a wine from the Babylonstoren Farm in South Africa, and this one has caught the attention of critics worldwide. Their spicy 2017 Shiraz has won Double Gold for its aromas of cassis, pencil shavings and violet which quickly transform into soft prune, spicy and cherry. 
A bottle from Moldova's first 'wine castle'
Hailing from Moldova's first purpose built wine 'chateau', this red is a great example of their winemaking prowess. The Maluri de Prut is a beautiful blend of two indigenous grape varieties from either side of the Prut River, and has been aged for 6 months in French oak casks. In 2020, discover the ancient savoir-faire of Moldova. 
A Serbian red imported exclusively with Novel Wines 
As the exclusive importers of DiBonis wine in the UK, we wholeheartedly recommend trying the 1697 blend in 2020 (we only have a few bottles left, so do hurry). This Serbian producer ages their wine in new oak to give it a well-integrated tannin structure, and is a complex blend of international grapes. Expect full-bodied notes of rich dark chocolate. 
If you're too late to the party to try the blend, then go for our DiCabernet Sauvignon instead.
Made with Greece's best grape variety

Greece is home to some of the oldest vines in the world, and the Agiorgitiko grape is their most celebrated.
Try the Semeli PDO Nemea Reserve, created by Leonadis Nassiakos, to experience all of the flavours of the Med in one red: fig, spice and forest fruits. 
An incredibly rare Croatian red wine
Ever heard of a red Dalmatian? Well now you have. This full-bodied wine is creamy, rounded and rich with notes of black fruits and dark chocolate. It's truly blissful, and an incredibly rare bottle. The Plavac Mali grape variety is known locally in Croatia as "Blood of the Soil" and the Matusko Rare Supreme Dingac Reserve is matured in new American oak. 
There's nothing quite like a Pinot Noir to get you through the winter months
If you fancy a winter tipple but something a little lighter on the palate, try this ripe red from Germany. The Theodorus Dornfelder Rotwein has aromas of liquorice, cherry and violet. It's also organic and vegan, so completely guilt free. 
A bold Uruguayan Cabernet 
On the other hand, there's no shame in wanting to indulge. 2020 is all about doing away with useless diet fads, and enjoying food and wine for what it is. We recommend starting with this dry red from Uruguay.  The soil in this region is uniquely composed of natural pink decomposing granite about 600 million years' old, which gives this Del Pedregal Cabernet Sauvignon a special something unlike anywhere else in the world. 
There's less than a couple of cases of this one if you're keen!
Better than a Bordeaux
Looking for an alternative to the classic Bordeaux red wine? This South African blend is our best selling red wine, and rightfully so. The Babylonstoren Babel 2017 is brimming with warm notes of chocolate and berries and is a must for any red wine aficionado. 
A warm hug in a glass

Where can I find the silkiest and smoothest bottle of red wine for 2020? Deep in the foothills of Transylvania, of course. This ancient winemaking region is gorgeously gothic, and the grape variety translates to "Black Maiden" for its deep colour. The warm and spicy notes of the Balla Geza Feketeleanyka are sure to entice you, with hints of blueberry and black cherry. 
Have a great 2020!