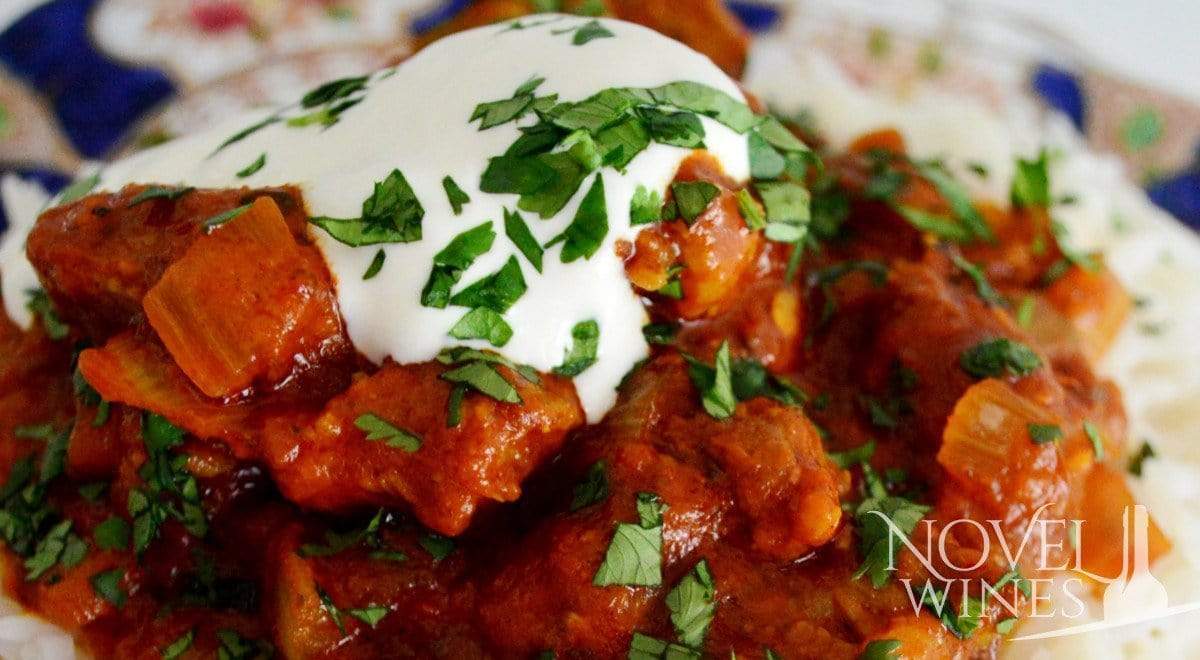 This is a rich tomato-based curry, the ideal partner for the Sula Vineyards Dindori Reserve Shiraz. It combines tender, juicy chunks of lamb with a quick homemade curry paste made with roasted red pepper, garlic & plenty of spices – and although making your own curry paste might seem like a bit of a faff, it makes such a difference to the flavour that it's definitely worth it.
Ingredients
Serves 2
250g lamb neck fillet
1 large onion
Butter for frying
1 tbsp dried coriander
For the curry paste:
1 red pepper
2 cloves of garlic (peeled & chopped)
1 tbsp chopped ginger
1 red pepper
½ tbsp smoked paprika
1 tbsp garam masala
1 tsp turmeric
2 tsp cumin seeds
1 tsp freshly-ground black pepper
2 tbsp tomato puree
2 tbsp oil
1 tsp fresh chilli (or more, to taste)
½ tsp salt
To serve:
A small bunch of fresh coriander
Natural yoghurt
Rice
Method
Start by making the curry paste. Place the red pepper under the grill on a high heat and allow the skin to completely blacken on all sides (keep an eye on it, and turn as needed). Allow to cool for a few minutes, and then peel the papery black skin off. Remove the seeds.
Toast the cumin seeds and black pepper, to release their flavour – simply warm over a medium heat in a small frying pan, with no oil or butter, for about a minute, giving it a gentle shake every now and then to make sure nothing sticks.
Place the toasted cumin seeds and black pepper in a blender with the roasted pepper, ginger, garlic, smoked paprika, garam masala, turmeric, tomato puree, olive oil, chilli and salt. Blitz to create a smooth paste.
Finely chop the onion and fry gently with the dried coriander in a generous scoop of melted butter, until the onion is soft. Cut the lamb into bite sized pieces and add to the pan, frying until just brown, and then add the curry paste and a splash of water. Stir together and simmer while you cook the rice according to the instructions on the packet.