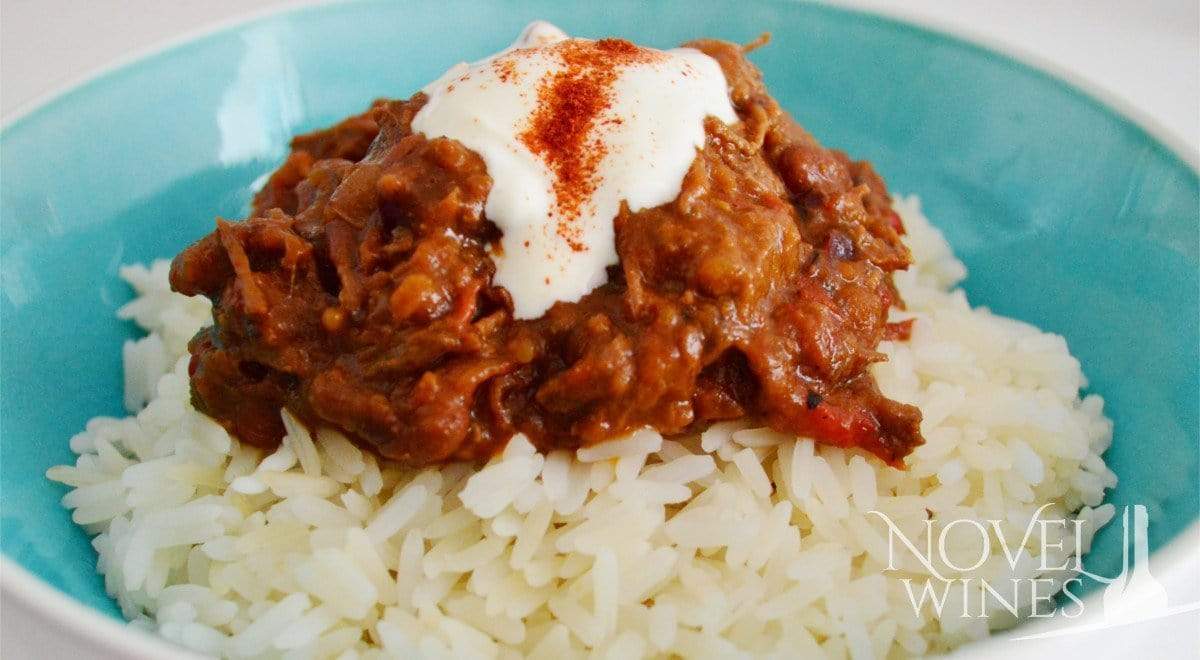 Slow-cooked chilli con carne
This dish needs plenty of time but not much effort – just get it going and then allow it to simmer low and slow until the beef is gorgeously tender. This chilli is rich and smoky rather than particularly spicy (although you can add more fiery heat if you wish, of course) and goes perfectly with the ripe, jammy Chateau Ksara Reserve du Couvent. A full-bodied, mature Lebanese red wine with gentle tannins, opulent red fruits and warm baking spices. An idyllic match with this smoky chilli.
Scroll down for the recipe.
Ingredients
Serves 4-6
2 large onions
1 red pepper
3 fat garlic cloves
Oil for frying
1 tbsp cumin
1 tbsp smoked paprika
1 tbsp oregano
1 tbsp chopped fresh chilli
6 ripe tomatoes
Salt & black pepper
1 tsp soft brown sugar
450g casserole steak
A glass of red wine
200ml water
1 can of kidney beans
1 can of aduki beans
To serve:
Sour cream
Grated cheddar
Plain white rice
Note on ingredients: the best cut for this is variously called casserole steak, braising steak or chuck steak – meat from the shoulder which is cheaper but which, with a little tender loving care, can be full of fabulous flavour.
Method
Peel and dice the onions, and then deseed the pepper and cut into long thin strips. Fry gently in a generous splash of oil with the crushed garlic cloves, cumin, smoked paprika, oregano and fresh chilli, for about ten minutes or until the onions have completely softened.
Roughly chop the fresh tomatoes and add to the pan with the brown sugar, and a good pinch each of salt and black pepper. Cut the casserole steak into large bite-sized pieces and add those too, as well as a glassful of red wine and about 200ml water. Bring to the boil and then put the lid on, turn the heat right down, and simmer for about two hours, stirring occasionally.
After two hours, use a potato masher to break up the pieces of steak – it won't be completely falling apart by this stage, but it should start breaking up.
Drain and rinse the beans and add those to the chilli. Simmer for a further hour without the lid, keeping an eye on it – you don't want the chilli to dry out, but you do want it to become nice and thick. If it catches slightly on the bottom of the pan, don't worry – this adds to the smoky flavour.