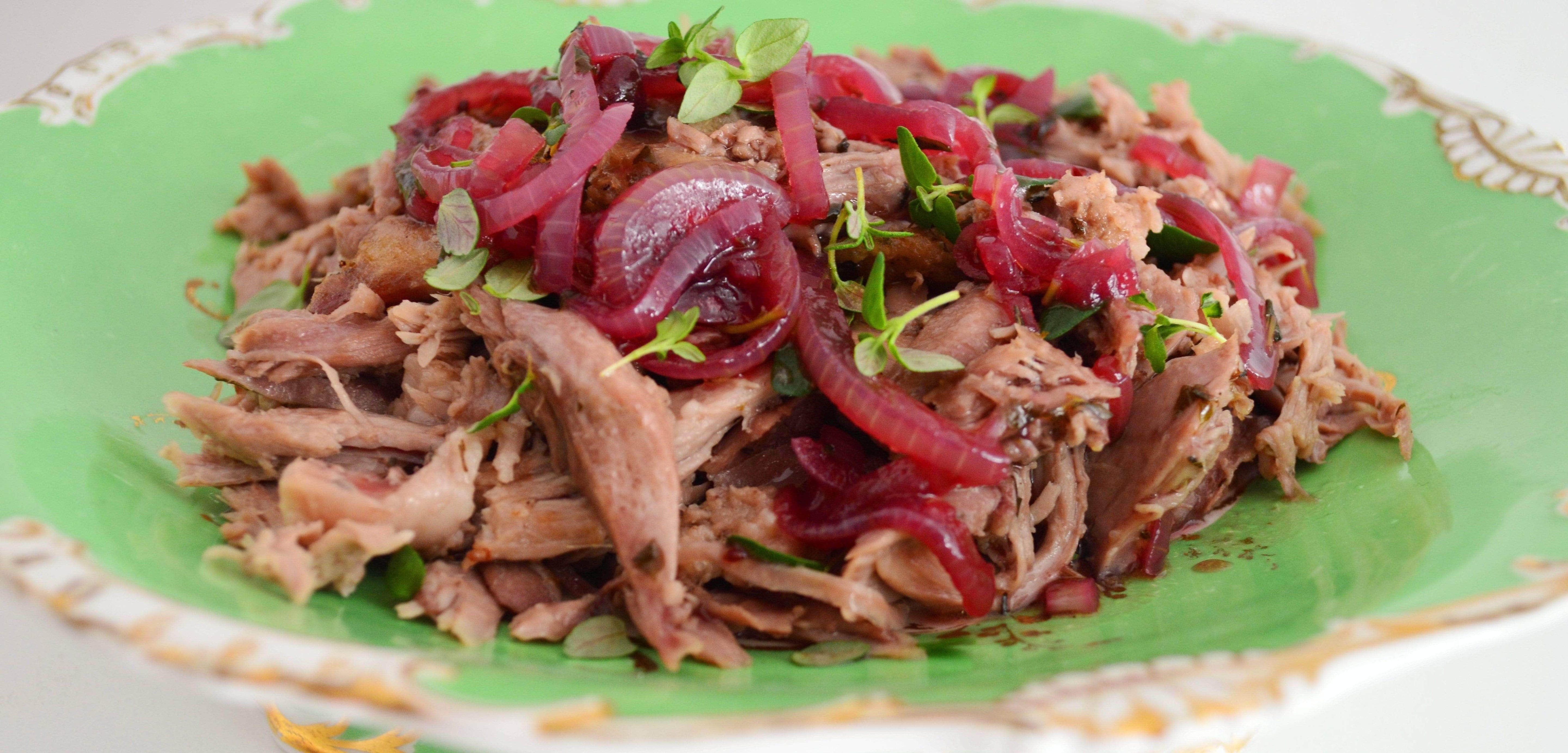 Roast duck with blackcurrant sauce
The rich, indulgent flavours of roast duck need something sharp and sweet to balance them, and blackcurrants are perfect for the job. Serve with roast potatoes and Kayra Okuzgozu, a robust, full-bodied red with its own blackcurrant and blackberry notes.
A note on equipment – you'll need a roasting tin with a rack that fits over the top, to roast the duck.
Ingredients
A 2kg whole duck
A couple of cloves of garlic
Coarse sea salt
Dried thyme
For the sauce:
1 red onion
Butter
A small bunch of fresh thyme
1 tbsp blackberry vinegar
A splash of red wine
1 tbsp blackcurrant jam
300ml chicken stock
Method
For best results, do a bit of preparation the night before – take the duck out of its packaging, blot the skin thoroughly with kitchen paper to dry it out, and leave the duck, uncovered, in the fridge overnight. Drying out the skin helps it become really crispy during cooking.
Preheat the oven to 220°C (200°C). Blot the skin again with kitchen paper, then sprinkle the duck with coarse sea salt and dried thyme. Peel the garlic cloves and cut into a couple of pieces, and then cut slits in the flesh of the duck and insert the garlic pieces.
Place the duck on a wire rack over a roasting tin, and roast in the preheated oven for two and a half hours. Every now and then, drain the fat from the roasting tin underneath. Use it to cook your roast potatoes, and save a little bit for the sauce.
When you've got about 45 minutes left on the timer for the duck, make the sauce. Slice the red onion as finely as you can, and get it frying gently in a scoop of melted butter and a little of the reserved fat from the roasting duck. You want the onions to soften, rather than crisp up, so keep the heat low. Finely chop half of the fresh thyme and add to the onions.
Once the onions are nicely soft, add the blackberry vinegar. Fry for a minute or two, and then add a good splash of red wine, the blackcurrant jam and the chicken stock. Turn up the heat to get the sauce bubbling a little so it reduces and thickens.
You can, of course, carve the duck and serve it as you would normally, but here's what I like to do: when the timer goes for the duck, carve it and remove the tender meat from the bones. Shred the meat and skin with two forks, pile onto a serving platter, and drizzle with plenty of the sauce. Scatter the rest of the fresh thyme over the top and serve with the rest of the sauce in a jug.