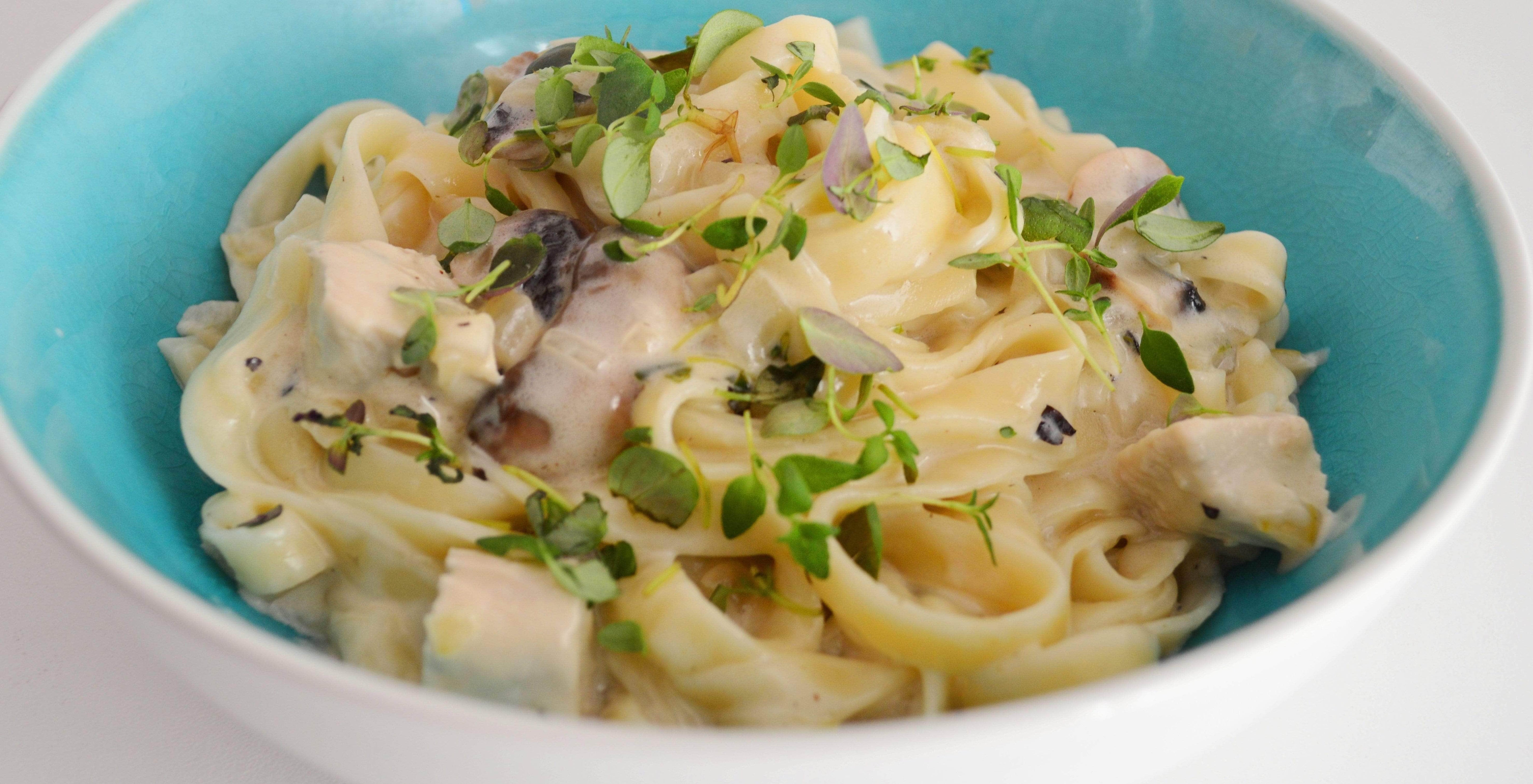 Chicken & mushroom tagliatelle pasta
This is a lovely rich pasta dish, perfect for chilly winter evenings, with a silky sauce, tender chicken and mushrooms, and plenty of fresh thyme. Poaching the chicken might seem like an extra faff but it gains so much flavour, and ends up fabulously soft and juicy. The SanzonTokaj Classic Furmint has a nutty, savoury quality that echoes the savoury yet sweet flavours of mushrooms and thyme. Furmint, as a grape, is also brimming with orchard fruits like apples and pears, which combine perfectly with the body of this dish.
Scroll down for Sal's recipe...
Ingredients
Serves 4
1 onion
1 fat garlic clove
Butter
Olive oil
A double handful of white mushrooms
1 tbsp flour
A small glass of white wine
100ml chicken stock
175ml double cream
2 chicken breasts
1 lemon
A bunch of fresh thyme
Freshly-ground black pepper
Salt
200g tagliatelle
Fresh parmesan, to serve
Method
First, dice the onion and garlic as finely as possible, and get them frying gently in some melted butter and a splash of olive oil. In the meantime, half-fill a small saucepan with water, add a couple of slices of lemon and a few sprigs of fresh thyme, and bring to the boil on the hob.
Cut the chicken breasts into three or four strips, lengthways. When the water boils, add the chicken to it and set a timer for three minutes. Meanwhile, the onions should now be nice and soft. Slice the mushrooms and add to the pan with the onions.
When the timer goes, take the chicken off the heat, cover with a lid and leave to sit in the hot water for a further nine minutes. To the pan with the mushrooms, add the flour and white wine, and stir to make a thick paste. Fry for a few more minutes, and then add the chicken stock. Stir well to make sure there are no lumps of flour.
When the timer goes again for the chicken, drain the water and set the chicken aside for the moment. To the pan with the mushrooms, add the cream, a little more of the fresh thyme (chopped), a pinch of salt and a generous grinding of black pepper. Simmer gently while you cook the tagliatelle, according to the instructions on the packet.
When there's just a couple of minutes left on the timer for the pasta, cut the chicken into bite-sized pieces and add to the sauce. Once the pasta's cooked, stir through the sauce and serve topped with more fresh thyme and parmesan.
Like this recipe? Share it on socials!
Make sure you cook it at home and taste it with the wine :)