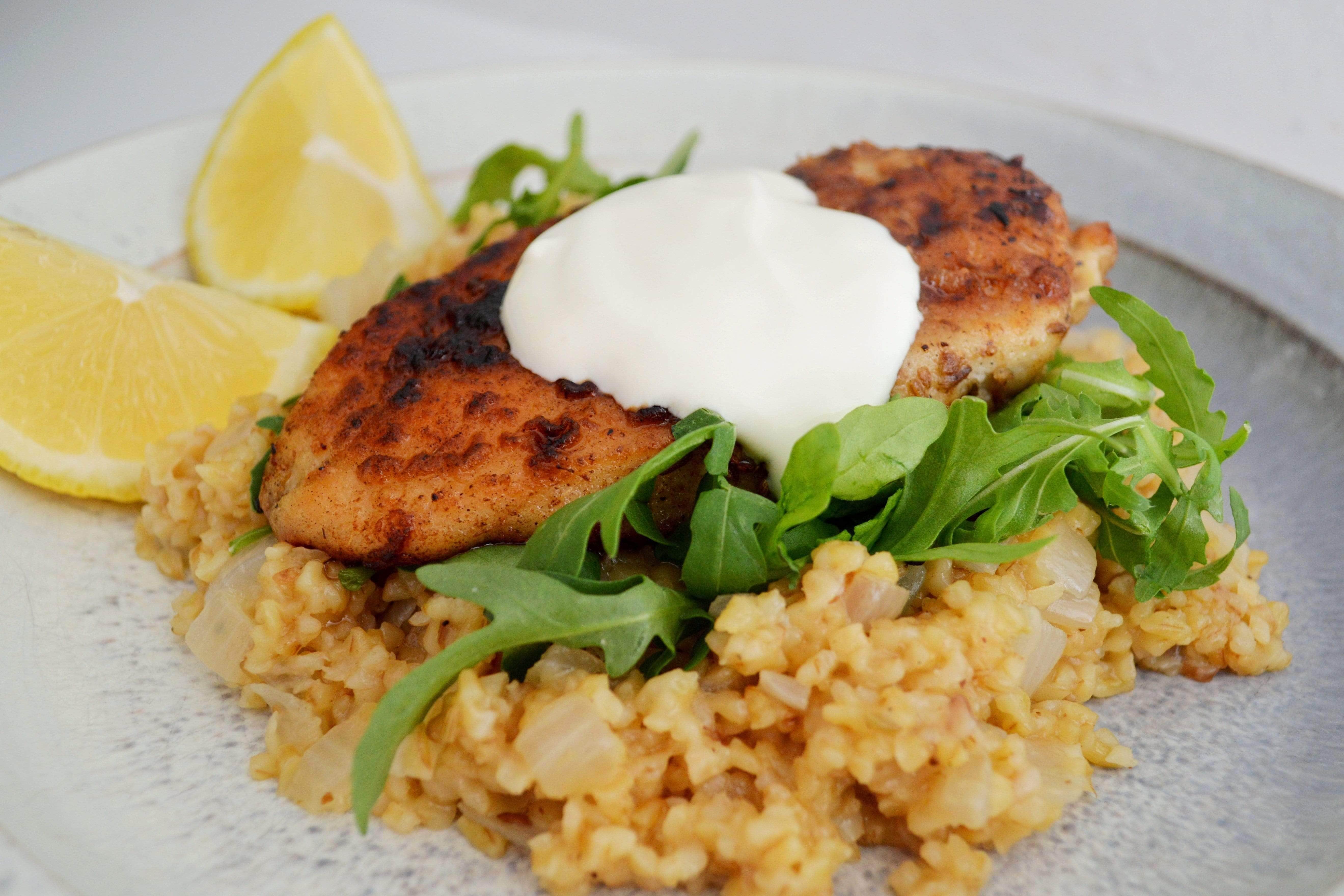 This dish is full of flavour - just what's needed to stand up to the complexities of the Bibo Runge Riesling Dry. A rub prepared with fennel seeds, cumin seeds, salt and black pepper is used to infuse the chicken, which is served on a bed of aromatic bulgur wheat cooked with preserved lemons.
Ingredients
Serves 2
2 chicken breasts
2 tbsp fennel seeds
2 tbsp cumin seeds
1 tbsp black pepper corns
1 tsp coarse sea salt
2 tbsp plain flour
15g butter
1 small onion
1 small preserved lemons
150g bulgur wheat
1 small glass of white wine
500ml chicken stock
To serve:
Fresh rocket
Sour cream
1 fresh lemon, for squeezing (optional)
Method
Start by preparing the spice rub – in a pestle and mortar, grind together the fennel and cumin seeds, black peppercorns and sea salt. If you're in a hurry or you can't get the seeds, you could use the ready-ground version, but grinding the seeds freshly yourself gives much more depth of flavour. Mix the ground spices with the plain flour.
Next, finely chop the onion and the preserved lemon. Melt the butter in a pan and fry the lemon and onion gently until soft, and then add about half of the prepared spice rub and fry for a few more minutes. Add the bulgur wheat, stir to coat with the melted butter, and then turn up the heat and pour in the white wine. Let it all sizzle, stirring frequently, until the wine has all been absorbed.
Now, pour in about half of the chicken stock, and leave to simmer, stirring regularly, until all the liquid has been absorbed. Add the rest a bit at a time (you may not need all of it) until the bulgur wheat is soft and fluffy.
In the meantime, prepare the chicken. Lay out on a chopping board, cover with a layer of clingfilm, and beat with the bottom of a pan until no more than 1cm thick, then remove the clingfim and rub the chicken all over with the spice mix.
In a griddle pan, heat a small amount of olive oil and then griddle the chicken until golden brown on both sides and cooked through.
To serve, prepare a bed of bulgur wheat on each plate, topped with a layer of fresh rocket. Lay the chicken breast on top and finish off with a dollop of sour cream and a squeeze of fresh lemon.