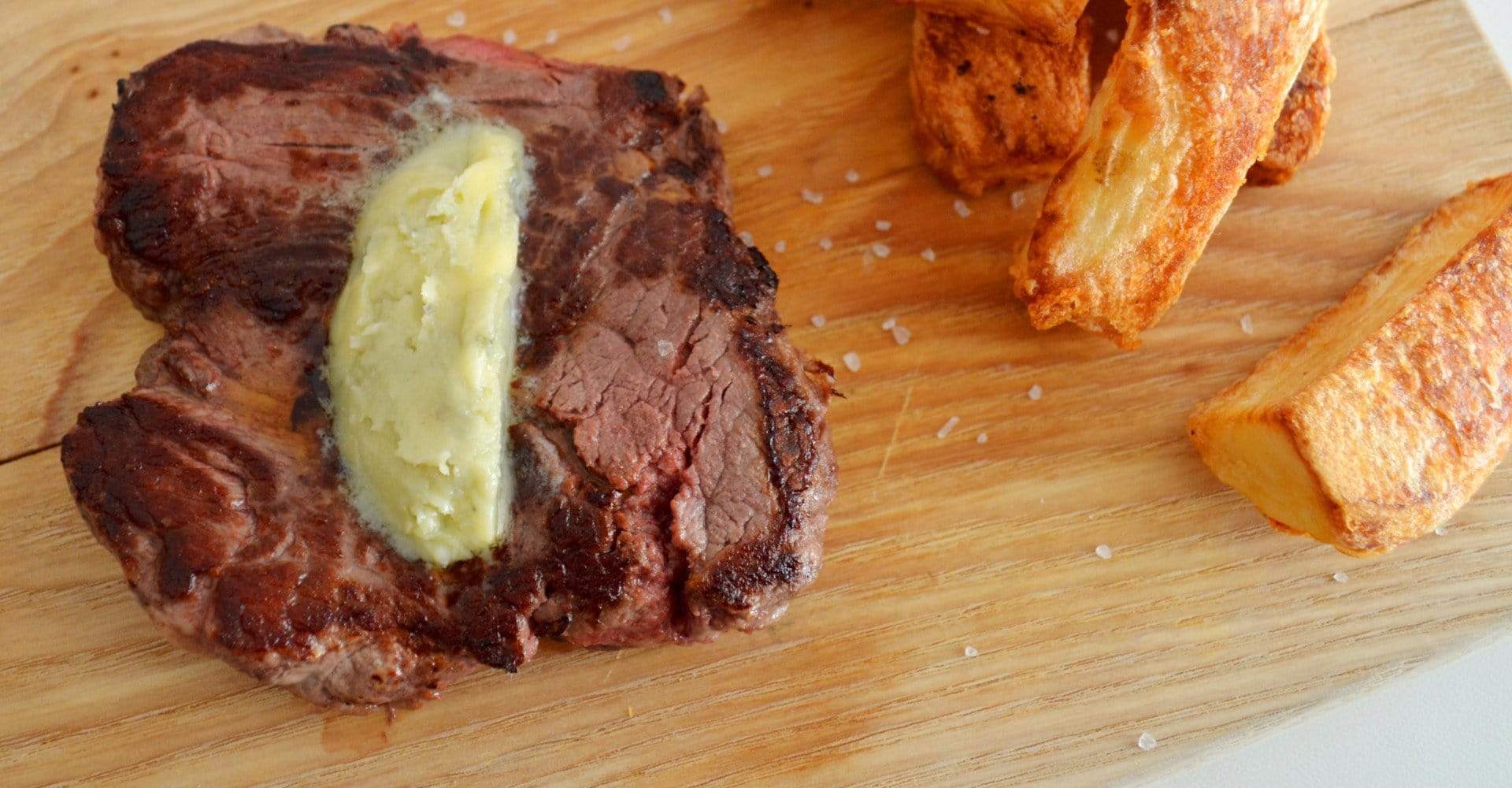 Fillet steak with Roquefort butter & homemade chips
This is the perfect meal when you want something indulgent but not too time-consuming. The red berry and chocolate flavours of the Prima Donna Tannat cry out to be paired with a really good piece of beef, and are hearty enough to stand up to the rich Roquefort butter too. To be honest, the chips are technically roasties, but they taste just as good and are easier to do at home without a fryer.
Ingredients
Serves 2
2 pieces of fillet steak, about 2-3cm thick
Olive oil
Sea salt and freshly-ground black pepper
50g Roquefort
50g butter
For the chips:
2 large potatoes
Lard for cooking
Method
First, make the chips – they take a while to cook but require hardly any effort. Preheat the oven to 220°C (200°C fan). Peel the potatoes, slice off the ends, and cut the middles into fat chips. Pop them into a saucepan, cover with boiling water, and boil on a high heat for around five minutes.
After five minutes, drain the potatoes and leave the lid off to allow them to steam dry for a minute or so. Then add a generous scoop of lard to the pan and gently stir until the chips are coated in the fat, and their edges are slightly fluffy. Spread them out in a single layer in a roasting tin, and put in the oven for 40 minutes.
After 40 minutes, the chips should be nicely golden and crispy – you can turn them over at this point, if you want them to be really crispy all over. Meanwhile, place a frying pan on the hob and get it screaming hot. Oil the steaks and season with black pepper, and then pop them into the hot pan.
For a rare steak, cook for about 2 minutes on each side, or 3 minutes for medium-rare. Then remove the steaks from the pan and allow to rest for a few minutes while you make the Roquefort butter – simply beat the butter and cheese together in a small bowl.
To serve, top your steaks with a generous dollop of your prepared butter, add plenty of chips on the side and sprinkle with sea salt.