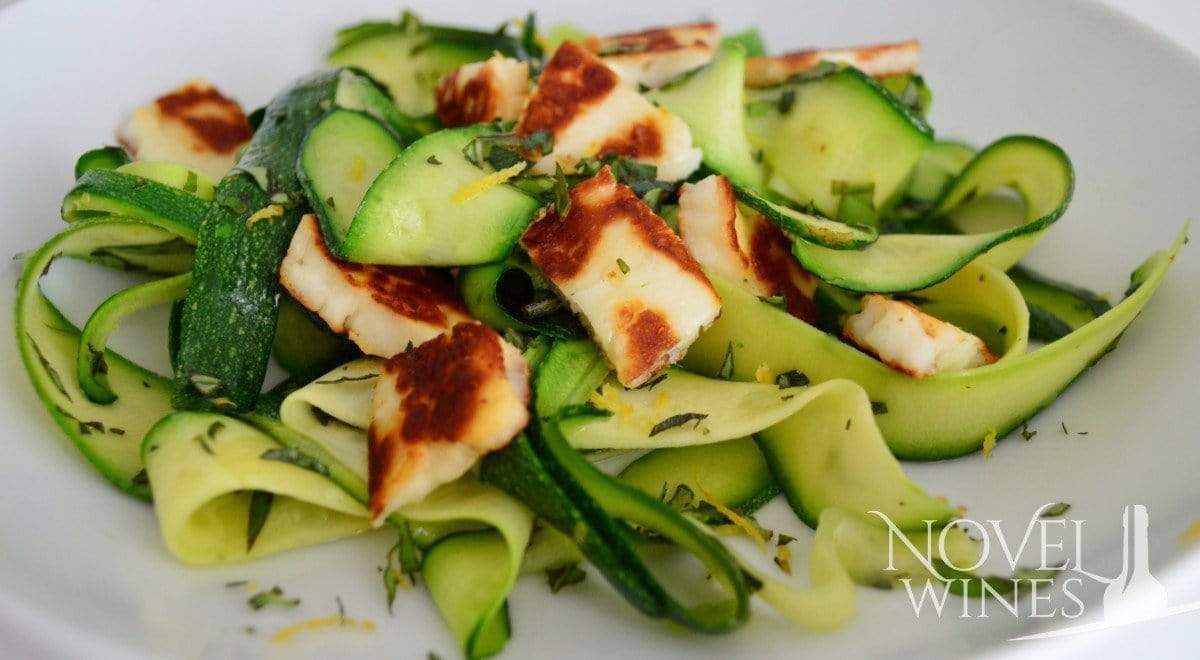 Courgette ribbons with crispy halloumi
This dish is really fast and easy to throw together, so it's ideal for nights when you want something low on effort but still healthy. Fine courgette ribbons are stir-fried and tossed in a quick homemade nut-free pesto made with mint, oregano and lemon zest, then served with crispy halloumi on top. The natural buttery richness of courgette is the perfect partner for the soft, juicy Semili Nassiakos Mantinia Moschofilero.
Ingredients
Serves 2
2 courgettes
Olive oil
100g halloumi
For the nut-free pesto:
A small handful of fresh oregano
A small handful of fresh mint
A good pinch of lemon zest
1 tsp chopped chilli
Olive oil
Method
First of all, make the pesto. Finely chop the fresh oregano and mint, and mix together with the lemon zest, chopped chilli and a splash of olive oil. Set aside.
Next, get the halloumi started. Cut into slices about 5mm thick, and fry in a griddle pan with a little splash of olive oil. Keep an eye on them, and turn when the undersides are golden and crispy.
While the halloumi is frying, use a potato peeler to slice the courgette, creating thin ribbons. Once you get down to the seeds, turn the courgette and slice again until you get down to the seeds. Repeat all the way round and with the other courgette.
In a wok, heat a small amount of olive oil and add the courgette noodles. Keep them moving regularly, but be gentle – tongs are the best way to do this. They will only need a few minutes.
Finally, remove the wok from the heat and stir through the pesto. Serve with the crispy halloumi pieces on top.