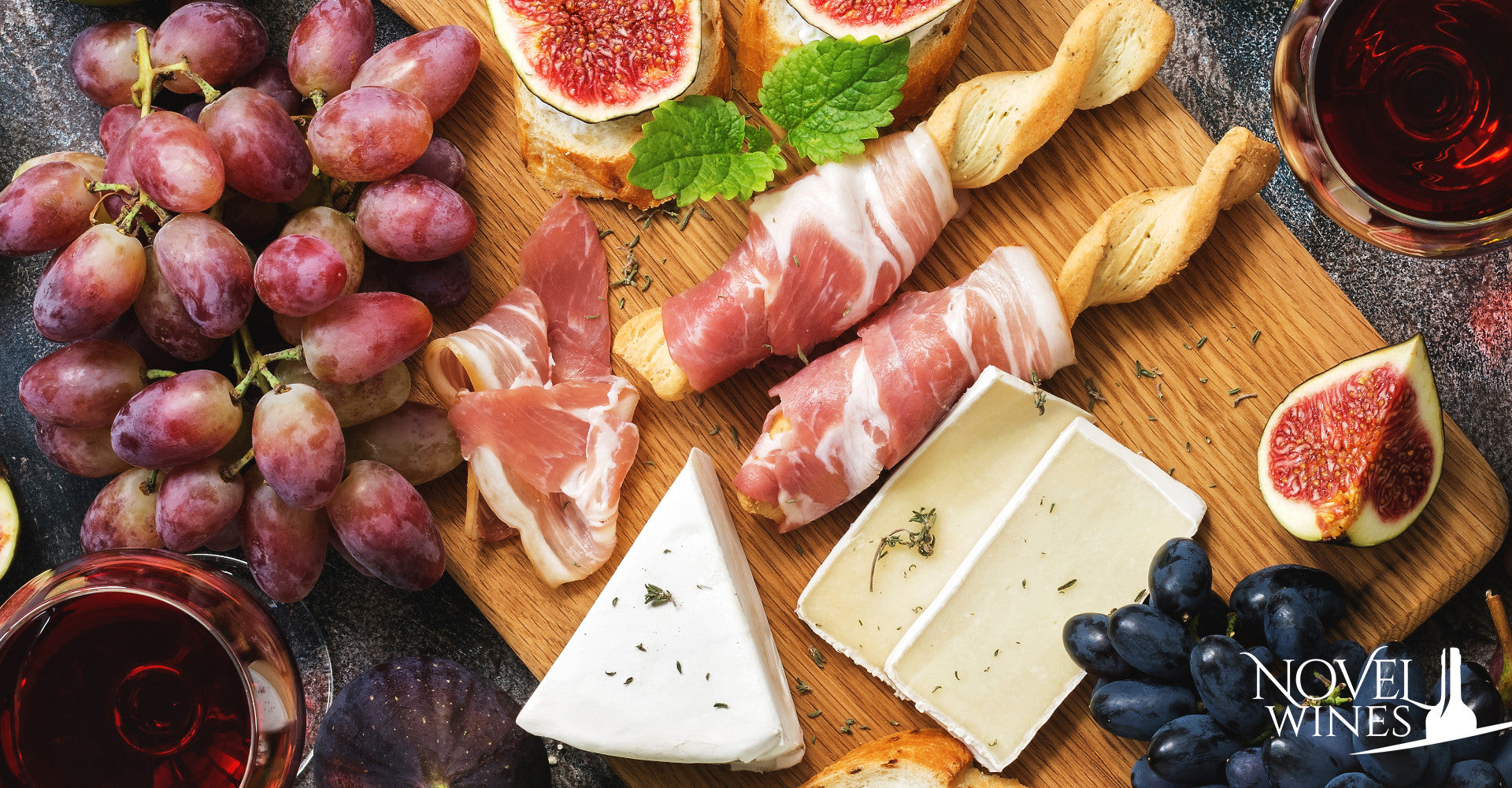 Ben's 4 Wine And Food Matching Cheats
How do you pick the right wine to go with your food?
Don't worry, it's not as complicated as it sounds; in fact, wine and food pairings are completely subjective and depend on what you do or don't like in your wine.
Having said that, there are a handful of cheats that really work when it comes to getting your match in the right ballpark. That's because these cheats will bring out the best in both your wine and your food.
Cheat 1: Salt needs acidity
When you have salty foods, you should look for a wine with good acidity. Salt is a flavour enhancer, which is great for your food, but it also cuts through and subdues our palate's response to acidity. The result being your wine tastes fruitier.
Here's an example:
Prosecco, or any sparkling wine, is made with a "clean juice". No sparkling winemaker wants too much complexity in their pressed grapes, because fizz can accentuate these flavours massively. Fizz is for celebrations and by nature it needs to be crowd-pleasing. Therefore, grapes are often grown in cooler climates and picked earlier, while their acidity is much higher and fruit ripeness is lower.
Pair these sparkling wines with anything salty - fish and chips, full English breakfast, grilled sea bass, halloumi or feta - and you'll soften the acidity and bring out a very fresh, fruity aroma in the wine.
Another example is crisps. Notice how much nicer wine is with some salted crisps? How much "easier" it is to drink? That's because your wine is softer and fruitier on the palate thanks to the salt!
Some more? Try Sauvignon Blanc with goat's cheese or white fish and you'll probably have a great match. Hungarian Furmint with chicken salad or cold cuts. A light and dry Riesling or Japanese Koshu with sushi.
Mouth-watering yet?
Cheat 2: Fats go best with body and acidity
Fats need a little complementing (body) and a little contrasting (acidity).
Let's start with red meat. I bet you opt for the Malbec? Perfect, why not! Malbec works because it gains its body from being nice and ripe, thanks to those sunny hills in Argentina, but great quality Malbec also has good acidity. Next time you try one, feel the back of your cheeks and how they pull-in - this isn't tannin, it's acid.
While tannin (the dry feeling you get from wine on the roof of your mouth, usually after an oaked red) can complement fats well, the main thing you need to get right is body and acid.
If you're eating beef, hopefully you season it well with salt. As before, salt and acidity work wonders together. Beef is quite an intensely flavourful meat, so you need to look beyond just big, ripe fruits (blackberry, etc) and also at structure (oak, spice). That's why Cabernet Sauvignon, Malbec and my all-time favourite Tannat work so well with beef. When made well they all have: good acidity, loads of fruit and full-bodied structure from oak.
Meats like lamb require a bit more thought. Lamb's more delicate, so going for something like a New World Pinot Noir from New Zealand, the USA or Australia can work really well because it has lots of acidity and lots of fruit ripeness. A Pinot's lighter structure means you won't overpower the lamb. Want a really good match? Seek out Kalecik Karasi from Turkey.
White meats like chicken or pork actually have quite delicate flavours, so it depends how you cook them. Butter chicken loves creamy white wines. Pork actually goes well with sweetness and tart acidity (apple sauce, anyone?) so try an off-dry Chenin Blanc. If you're BBQing pork or chicken, think about the intensity you're adding and look again at fuller-bodied wines that match in weight.
Buttery dishes like risotto can pair really well with full-bodied wines that are creamy like rich and full Chardonnay or soft and plush Viognier.
Cheat 3: Sugar loves spice
Spicy food can be really difficult to pair wine with. In fact, most of us in the UK opt for beer or hard spirits with our spicy food. We're missing a trick here because there's some absolutely lovely sugar and spice pairings to explore.
Sugar softens the heat of most warm spices. Think about sweeter curries you've had, or even baked sweet goods filled with spices. Maybe you're a chilli chocolate fan?
It's important not to forget your other cheats with this though. For example, if you're having ramen or a hot sweet and sour soup then think about the natural salt content. Same with spicy soy dishes. By our cheats, you'll need a wine that's both sweet and acidic to work. Opt for wines like Mosel Valley German Riesling or maybe even a late harvest sweet wine.
When you get to curries, think about the ingredients. Dal, with its range of soft and sometimes creamy lentil dishes, need something with some body but also sweetness. Indian wineries like Sula Vineyards specialise in this and their creamy Chenin Blanc, an off-dry white wine bursting with peaches and apples, is perfect for dals or coconut curries.
Similarly, tomato and onion based curry dishes are probably going to overshadow most white wines, even the sweetest. However, the concept of sugar and spice still applies to finding the best match. We found it in Sula's intensely smoky-sweet Shiraz, which is made from slightly overripened grapes in the heat of Maharashtra. Its smoky-sweet flavour and full body works brilliantly with tomato and onion based curries.
Cheat 4: You
While I swear by my three cheats:
Salt needs acidity
Fats go best with both body and acidity
Sugar loves spice
The most important thing to remember in any food and wine matching moment is what you like.
Most wine drinkers have a preference towards tannin (red wines) or acidity (white wines). You also have the sweet tooth crowd and those who avoid sugar at all costs.
While I would still recommend giving something different a go and find out more about your tastes when drinking a wine alongside different food, sometimes you just need to pick for you.
If you're a red wine drinker, for example, and you're having fish or goat's cheese, don't be at a loss. There's a whole world of beautifully soft, lighter styles of red wine out there. Wines that can still give you structure, tannin and those black fruits in a bundle of softer acidity. Actually a great example is Beaujolais, where you could try Moulin a Vent wines for a richer, plusher style that will still sing with salty foods.
If you prefer white wines and you're having red meats or rich BBQ food, equally look at white wines with much fuller bodied profiles. Warmer climate white wines might be a better option with these foods, such as southern Italian Greco di Tufo or a Sicilian Zibibbo (Muscat).
Finally, if you're not a sweet tooth and you're faced with spice try complementing instead. Big spicy red wines like Barossa Shiraz, if you're used to them, can work for you with curry or chilli, especially if they're chocolatey as well (think about those chefs who dollop chocolate in their chilli con carne). Lime-fresh white wines with hot and sour soups or soy dishes can also work, such as Pinot Blanc from Alsace.
Go and explore!
The most valuable thing in any wine drinking experience is pleasure. Go and explore food and wine pairing, enjoy experimenting and here's to discovering something new!