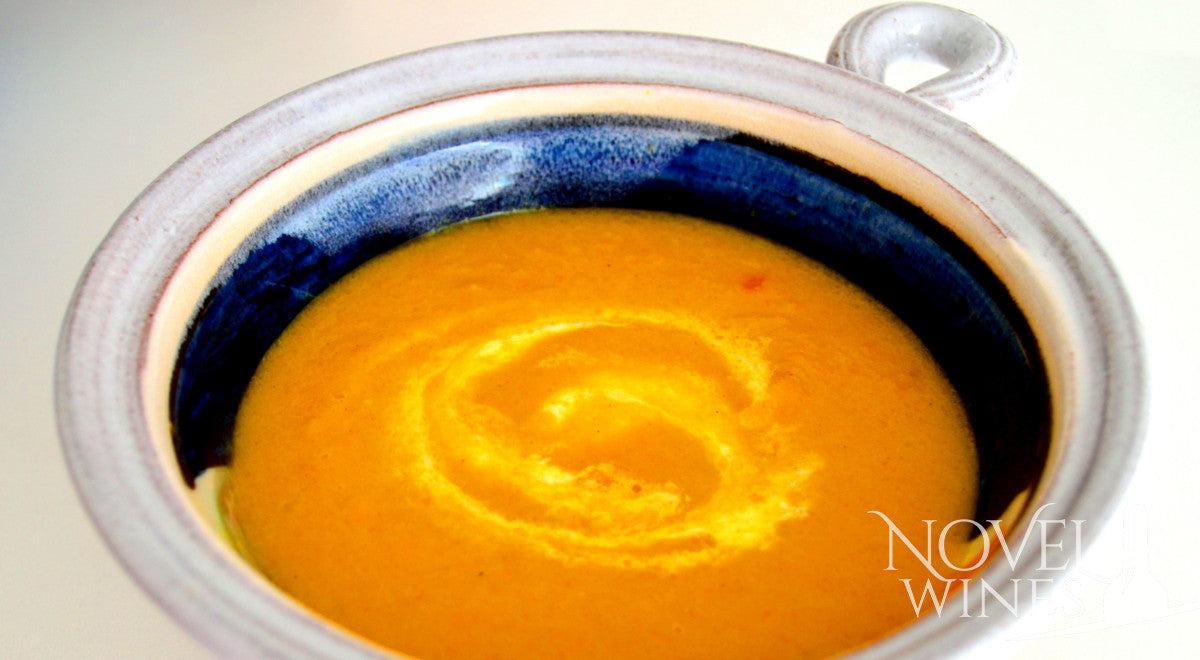 5 lockdown meals and wine pairings
With towns and cities around the world under lockdown, it's about time we revised our home-cooking repertoire. And what better way to do so than with a specially selected wine pairing?
When the leftovers in your fridge have been left to languish, give them a new lease of life with a bottle of red, white or rosé. Here at Novel Wines, we'll find you a bottle to match every dish. 
Our mixed case deals are the best way to trial a number of wine varieties, in as few deliveries as possible. You may just find the perfect bottle to see you through until quarantine is lifted - and beyond. 
And with no such thing as a "night off" cooking anymore, bring that restaurant panache into the comfort of your home - with a bottle of very Novel wine. 
Nourishing carrot and ginger soup 
One of the best ways to boost your immune system is by cooking with the right ingredients. Spice up Omega-3-rich salmon or carrot and ginger soup with a glass of Babylonstoren Chenin Blanc, an award-winning white wine from South Africa. With juicy notes of guava, pear and melon, you'll be transported to summer in seconds. 
The holy trinity of pizza, pasta and lasagne
Lockdown means fewer trips to the supermarket, so you'll need a versatile red to accompany a series of home-cooked meals. The full-bodied Colomba Bianca Nera D'Avola Vitese will make any basic pasta, pizza or lasagne dish come alive. That's if you can manage to get your hands on a packet of pasta! Expect ripe notes of black cherry and plum, with aromas of violet and a spicy finale. 
Spring lamb with homegrown herbs
Regardless of whether or not you have outside space, the lockdown is a great way to finally get the green fingers you've always dreamed of. With small potted herbs planted outside or by the window, you can grow your own mint, rosemary and thyme - ready to season your springtime lamb for a stunning Sunday roast. 
The perfect pairing for a herbaceous lamb roast has got to be the Sixteen Ridges Pinot Noir Early, a British wine made by cider farmers in Herefordshire. This lighter-bodied red wine features notes of cherries, raspberries and fresh herbs - with a soft, oaky finish. 
The trusty veggie risotto 
When flour and pasta are hard to come by, there's always risotto to see you through the week. We love the Sabar Keknyelu Komagas 2018 vegan wine, a dry white from Hungary that will compliment any vegetable risotto. Fermented in stainless steel then partly aged in oak barrels, the nose is floral and vivid with crisp notes of white flowers and citrus. 
Fresh (or frozen) stewed fruit 
We're officially entering the season of spectacular spring and summer fruits; rhubarb is particularly abundant right now in the UK. A bag of frozen fruits (or fresh!) can be stewed and made into a versatile compote. We adore the award-winning Aldwick Marys Rose English Wine for a bit of lockdown luxury. 
This delightful pink wine is grown from fruit grown in the Mendip Hills, and has a refreshing palate of strawberry, rhubarb and pink grapefruit. If you're wondering where to source your flour for a quarantine crumble, opt for ground up almonds, oats or even chickpeas.