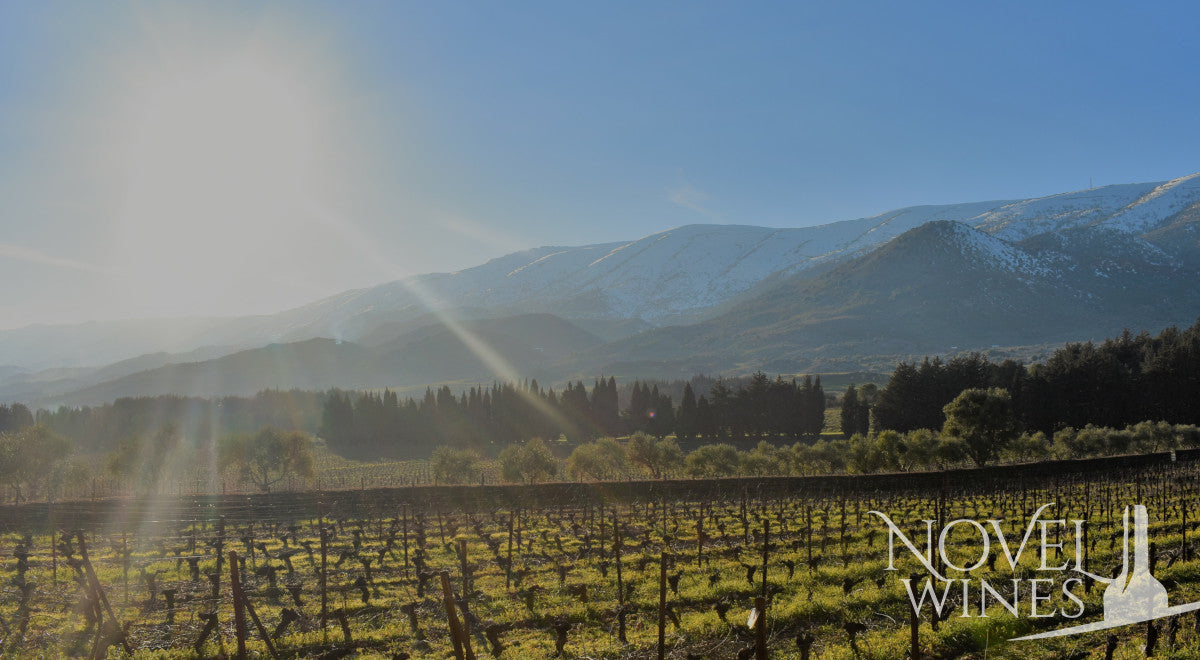 Your Lebanese Wine Guide to the Beqaa Valley - This Month's Novel Wines Explorer's Club
Welcome to this month's Novel Wines Explorer's Club, the UK's most exciting wine subscription for the curious drinker. Each month, we will introduce you to a new wine region as part of our promise to deliver no two wines the same for a whole year. Not a member yet? Subscribe here.
What's in this month's Explorer's Club?
This August, we're diving into the unique wines of Lebanon, one of the most beautiful wine regions in the world. A melody of French investment and viticultural experience wedded with Lebanon's idyllic vineyard climate, the Beqaa Valley is one of the most important wine regions in the Mediterranean. Nestled 1,000m above sea level on a plateau to the east of Beirut, the Beqaa provides long sunshine hours, cool altitude and rich soils that ensure ripening is no problem year in year out. Natural irrigation flows from the mountains to the west, so the vines don't curl away under the heat pressure. The results are a series of fruit-led wines with packs of character.
If you have any specific questions about the wine, you can get in touch with our team here. However, we've got lots of info on the wines below, so pull the cork and get stuck in!
Château Oumsiyat Cuvée Membliarus Assyrtico (included in The Rambler and The Globetrotter) is the first white wine in your box. This wine is made by Joseph Bou Sleiman and is an innovative wine made from one of the earliest plantings of the Greek Assyrtiko grape variety in Lebanon. As such, Cuvee Membliarus is named after the Phoenician governor of Santorini, the grape's home region, as a dedication.
Sleiman is focused on great winemaking, sourcing the finest high altitude fruit from his 78 hectare estate and gently pressing it for careful flavour extraction. The must is racked and cool fermentation in steel tank preserves the fruity flavours in the wine. The style is fresh and crisp with notes of white peach, passion fruit and melon over flinty minerality and floral aromas. The finish is spicy and juicy, leaving your mouth watering for more.
Lebanese Assyrtico like this pairs well with classic Greek salad, fresh vine tomatoes, oysters, fatty fish (lobster, sardines) and lemon, or try with pasta bake.
Next is another wine from Sleiman, the Château Oumsiyat 'Obeidy' (included in The Globetrotter only). Obeidy is a rare, indigenous Lebanese grape variety sometimes spelt as Obaideh. Historically used for the production of Arak, wineries like Chateau Musar changed its fortunes as a wine grape. It's a sensitive grape with a thin skin and low disease resistance, which may be part of the reason why you don't see it outside of Lebanon. If you press it too aggressively, it can be bitter and unpleasant, so winemakers like Sleiman need to ensure the grape is pressed very gently.
The wine was then skilfully blended with the Odeidy variety given prominence (92%), offering a creamy texture and flavours of honey and lemon; beautifully balanced by the addition of small amounts of Sauvignon Blanc, giving trademark crisp vivacity and citrus tones, and Viognier, which complements with heady, peachy and floral aromatics. A unique and complex blend, which was lightly filtered prior to bottling.
This wine is particularly good with pulled pork, pasta dishes in cream sauce, or nut roast.
Next up is a bottle from Lebanon's oldest commercial winery, the former monastery Chateau Ksara. Chateau Ksara Blanc de Blancs (included in The Globetrotter only) is bursting with pineapple and juicy citrus over a layer of cream, nuts and spice. It's an easy wine to fall for, especially if you've got a cheese like gruyere to enjoy alongside it.
Chateau Ksara lies in the heart of Bekaa, near Baalbeck, and takes its name after 'Ksar', meaning fortress, as this site was once a fortress during the Crusades. The winery was founded by Jesuit monks in 1857 and developed by the French. Some of those French influences are still felt in the wines today, even with the ripe fruit achieved in this much warmer climate.
Another from Chateau Ksara is this first red in your box, Chateau Ksara Le Prieure (included in The Globetrotter only). Le Prieure is brightly coloured and leads with intensely juicy red fruit aromas. It's soft and supple to drink with a mix of plums, berries, warming spice and liquorice. Each variety is fermented separately and matured for 14-18 months before being blended together for the final wine.
It pairs very nicely with classic pasta or pizza dishes, but really comes into its own alongside slow-cooked seasonal veg ratatouille or chicken marengo.
Another entry from Chateau Oumsiyat, this time on the red wine front. Chateau Oumsiyat Mount Lebanon Syrah is a dry, medium-full bodied red reminiscent of the Southern Rhone. Intense, concentrated and layered with black fruits over hints of chocolate and pepper spice. The fruit was carefully sorted to ensure only healthy, ripe grapes were vinified, so you're in for a quality, smooth textured bottle. Traditional fermentation took place in stainless steel tanks as it lets Sleiman control the temperatures to 28°C, with remontage or pump overs periodically to oxygenate the wine and extract tannins, as well as its deep colour. Pigeage or punching down of the cap also took place, encouraging even more extraction. A long post-fermentation maceration took place to extract colour, flavour and impart structure to the wine. Finally the wine was gently filtered prior to bottling. This wine is big, brash and memorable.
Finally we have the Chateau Ksara Reserve du Couvent Red (included in The Rambler and The Globetrotter). Unlike Le Prieure, this wine is much fuller in style. The Reserve du Couvent blend takes its inspiration from the French wine regions of Bordeaux and the Rhone, combining structure and elegance with a rich fruit flavour. The wine is matured for six months in second-fill French oak before being bottled. Fruity, spicy aromas lead into a full palate of blackberries, vanilla and dried cherries with rustic wood tannins.
This wine will pair well with cheddar and cured meats, spiced lamb dishes, steak and ale pie, or kibbeh with a salad of grains, legumes and pomegranate. The Reserve du Couvent red is a real crowd-pleaser for Rhone fans, and you might be quite happy sipping it solo in front of a good bit of telly!
Lebanon is a jewel worth exploring
While Lebanon has received acclaim in the late 20th Century and 21st Century for its wines, it is actually one of the world's oldest wine producing countries. The Phoenicians were instrumental in spreading viticulture across the Mediterranean in ancient times. Patrick McGovern references the Israelite prophet Hosea (780-725 BC) telling his followers to return to god so that "they will blossom as the vine and fame be like the wine of Lebanon, their fragrance will be like that of Lebanon".
For years winemaking in Lebanon was a vocation of the Christian churches and Jesuits. However, the culture of drinking and the investment in quality viticulture came from the French, particularly between the two World Wars, and was energised by Beirut, a city that for much of the 20th Century became a tourist and business hotspot as a gateway to the Middle East.
Today just under 10m bottles of wine are produced annually, despite difficult growing conditions - not the responsibility of nature, for the Beqaa Valley really is a paradise for vine growing, but the responsibility of humanity and its wars.
Eating with Lebanese wines from the Beqaa Valley
As you can probably already tell from the wine pairings we've made for each wine, Lebanese wine is versatile. The thing to remember is you have lots of ripe fruit, paired with good acidity. In the reds you have rustic tannins that make it a great partner with fatty meats like lamb or pork, while in the white wines you have nutty notes that pair well with cream, or roast dinner dishes and all the trimmings. 
However, it is true to eat local and Lebanese wines pair best with Middle Eastern cuisine. Kafta meatballs filled with onion, parsley, breadcrumbs and spices pair so well with these wines, as do Mediterranean salads with plump tomatoes, or harissa spiced grilled fish.
Where can I find out more?
There's information all about Lebanese wine regions on Jancis Robinson's purple pages website here.
If you're not subscribed to the Club, crack on and get your subscription online by clicking here and join from only £49. If you'd rather just stock up on Lebanese wines, you can see our range here.