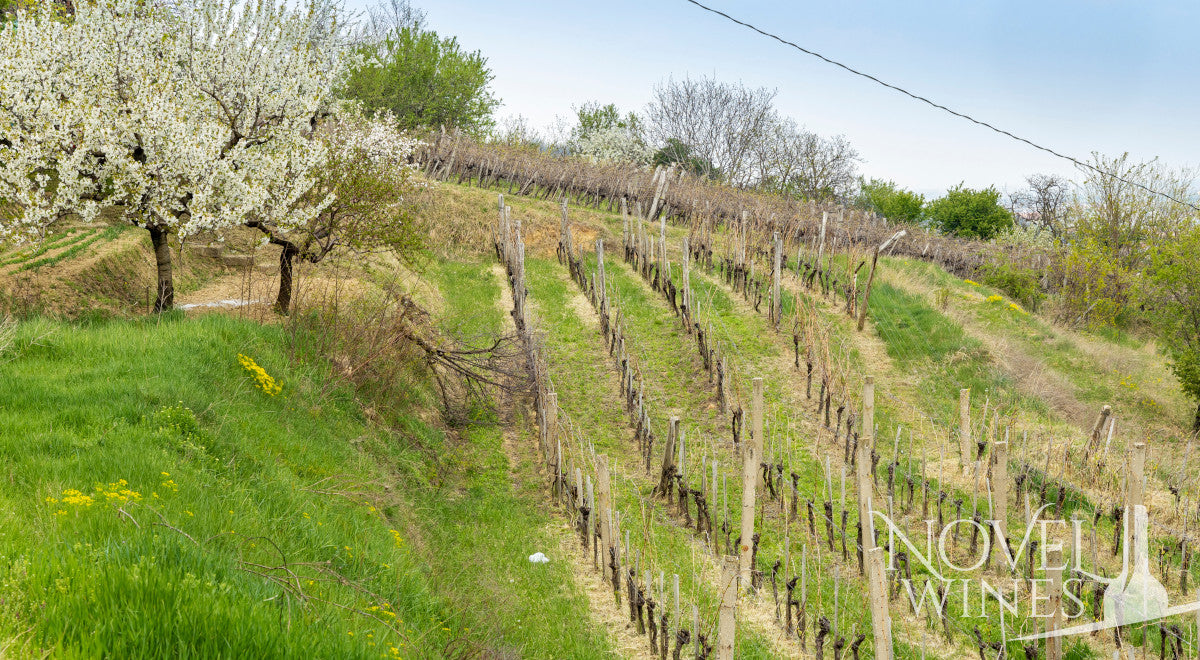 Your Guide to Southern Hungarian Wines - This Month's Novel Wines Explorer's Club
Welcome to this month's Novel Wines Explorer's Club, the UK's most exciting wine subscription for the curious drinker. Each month, we will introduce you to a new wine region as part of our promise to deliver no two wines the same for a whole year. Not a member yet? Subscribe here.
Looking for an older guide? See all the Explorer's Club guides here.
What's in this month's Explorer's Club?
Welcome to your August selection of the Novel Wines Explorer's Club, this month featuring a range of exciting wines from Szekszard and Villany, two winemaking regions at the south of Hungary. Villany is a small gastronomic village surrounded by vines to the south-west of the Danube River as it leaves Hungary and curves its way down the Serbian/Croatian border. Szekszard is a little further north and is a region of rolling hills and and greenery peppered with vineyards.
OK, we know you received a bottle of the Heumann Blue Secret in last month's BBQ box, but hear us out: the story-telling of these regions is all about the reds and we think the box wouldn't be complete without that mix of Bordeaux inspiration and delicious Kekfrankos as a benchmark wine to taste alongside the other bottles. We hope you loved it last month (and genuinely did try it with a BBQ), but this month, we would love you to open it alongside Markvart's traditional 100% Kekfrankos and see the two different directions these regions are pulling in. Who does it best? Is it more attractive in its purity, or as a blending agent for international varieties? Or maybe they are both great, but for different occasions? Let us know!
If you have any specific questions about the wine, you can get in touch with our team here. However, we've got lots of info on the wines below, so pull the cork and get stuck in!
OK let's kick-off this month's Explorer's Club with our Heumann Rhine Riesling (included both The Rambler and The Globetrotter), actually one of my favourite wines. This premium dry white wine was a great discovery when we went to meet Erhard and Evelyne Heumann, the Swiss/German couple behind their namesake estate in Villany. The Riesling is organically farmed and selected by hand for the best fruit, and it offers something quite different from the Rieslings of Germany and the New World. Clean and fresh but with an intense note of white peach, apricot, lime blossom, lemon citrus and zingy apple. This is fruit-forward and proud of it. Partial malolactic fermentation adds softness to the finish.
I like this wine with spice and have recommended it with chicken chimichanga or stir fries. If you're not a fan of spice, it's a really nice option with oilier fish like mackerel or to elevate classic simple but delicious food like pizza or pasta.
Next up it's pink wine time with the Heumann Rosé (included both The Rambler and The Globetrotter). The loess and limestone soils in Villany provide the ideal home for 'Kekfrankos'; in fact the high proportion of limestone in Siklós leads to fruit with a distinct note of elegance and minerality. The resulting deep salmon-colour (but dry) rosé has a soft nose of cherry, orange rind and cranberry fruit. It's very smooth with an elegant palate of spicy paprika and pepper over pink grapefruit, orange, fresh cherries and thyme. The finish has hints of apple, cherry stone and almonds. 
Rosé as good as this love umami (think soy-based dishes), sweet and sour pork, or picnic food. It's particularly good with goat's cheese, too.
Next up is the Markvart Kekfrankos (included both The Rambler and The Globetrotter). One of Janos Markvart Jnr's finest Kekfrankos wines, this medium bodied and silky red wine leads with fresh cherries and light, rustic wood notes. The acidity is tight and fresh, complementing the fruity palate and leaving a moreish finish. The wine is softened in large, used barrels prior to bottling. Kekfrankos may be central and eastern Europe's most-planted black grape variety but to master it takes a talented winemaker like Markvart and idyllic terroir like the rolling hills of Szekszard.
A really versatile red thanks to its acidity and fruit-forward style, enjoy this with sage and onion pork sausages, grilled meat and fries (think Med-style), jacket spud topped with cheesy beans, or Italian food, especially lasagne.
Another bottle from Markvart next with the deliciously Northern Rhone-esque red, Markvart Syrah (included The Globetrotter only). 
A tasty, and powerful Syrah grown on south-east facing hills and sandy topped terroir in the rolling hills of Szekszard. This Syrah is spicy, smoky and bold but is backed up with dark fruits and red berries to make it easier to drink compared to fuller reds. Complete with mineral notes and tannins making it well structed and a very enjoyable red.
It has a wonderful affinity with food, but particularly roast lamb and trimmings, or aubergine dishes.
Our next wine is the Heumann Blue Secret (included in The Globetrotter only).  The Blue Secret is a brand new blend from Hungary's leading red wine area, Villany, in the south of the country. Selected from 14-24 year old vines, the fruit is carefully ripened and gently crushed. The wine's a mix of red cherries and vanilla with a deep purple colour and notes of smooth blackberries, cherries and plums on the palate. The tannins are soft and gentle with a rather long finish.
This is one of those wines that illustrates the style aspirations of the Villany wine region, so if you like it, make sure you look out for the wines of Villany in Hungarian selections. Do you prefer this or Markvart's pure take? Let us know!
Pair this richer take with blue cheese burgers or rich stews. It will also marry really well with pungent soft cheese.
Finally let's introduce you to the modern day Bull's Blood, the Markvart Szekszardi Bikaver (included in the The Globetrotter only), which comes with a striking label.
Unlike the story of Bull's Blood to the north, in Eger, which centres around the myth of the Ottomans routing at the sight of Hungarian knights with red wine down their beards, the Szekszardi story of Bull's Blood is a softer one. The term Bikaver was a slang word in the region for the finest blends of red wine, made with love from people's homes, and was coined by a local poet who enjoyed drinking the wine. It has lived on to this day as a word given to the region's most celebrated wines.
Predominantly made up of Kekfrankos, central and eastern Europe's most planted red grape, this blend also includes rich and fruity Cabernet Sauvignon, and spicy, meaty Syrah. The wine is traditional in style with notes of cherries and blackberries over a structured palate with herbaceous hints and milk chocolate tannins.
Enjoy it with braised beef, Porcini mushroom risotto, game dishes, or sirloin steak and truffle chips.
Where can I find out more?
If you're not subscribed to the Club, crack on and get your subscription online by clicking here and join from only £49. If you'd rather just stock up on Hungarian wine, go here.