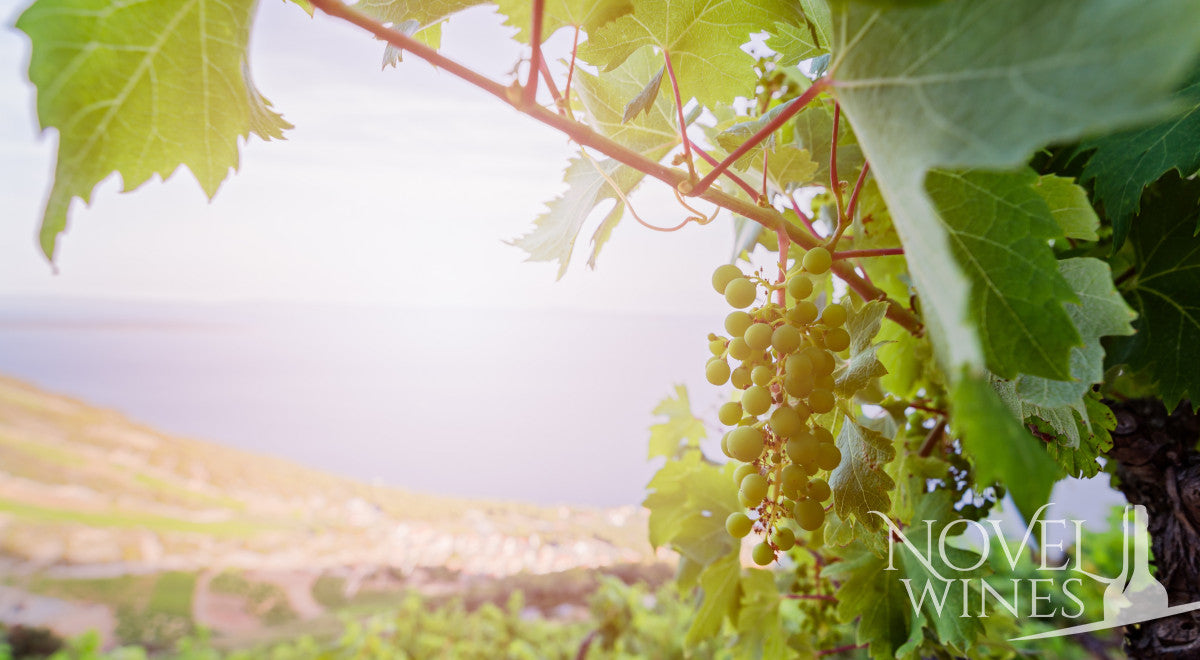 Your Guide to Croatian Wines - This Month's Novel Wines Explorer's Club
Welcome to this month's Novel Wines Explorer's Club, the UK's most exciting wine subscription for the curious drinker. Each month, we will introduce you to a new wine region as part of our promise to deliver no two wines the same for a whole year. Not a member yet? Subscribe here.
Looking for an older guide? See all the Explorer's Club guides here.
What's in this month's Explorer's Club?
Welcome to your September selection for the Novel Wines Explorer's Club, celebrating the return of our delicious Croatian wines. The case features a half dozen different varieties to try from across the country, from Malvasija-Istarska in Istria on the northern Adriatic coastline, via Traminac grown in the north-east Danubian plain of Slavonia, and the iconic Plavac Mali deep red wine of Dalmatia in the south. 
Croatia's unique position with the Adriatic coastline to the west offering cooling, saline-fresh winds, and the Mediterranean climate in-land to the east, leads to wine with both intensity and freshness. The Istrian peninsula in the north-west is the country's wine jewel, dipping deeply into the Adriatic's cooling influence with its flatter plots and eastern valleys that channel the coastal winds. The south, particularly Dalmatia, is a hot and dry region but the vines here sit on islands with steep aspects, surrounded by the sea and enjoying long ripening periods to create characterful, bold reds with lots of alcohol but great balance.
I am sure you'll love these Croatian wines, especially if you've been to the country and will enjoy a little taste of your holidays. If you have never visited Croatia before, then let these wines entice and tempt you into booking that next trip!
If you have any specific questions about the wine, you can get in touch with our team here. However, we've got lots of info on the wines below, so pull the cork and get stuck in!
We start this month's Explorer's Club with the Kabola Organic Malvasija-Istarska (included in The Globetrotter only), grown on elevated terraces on the south-west facing side of the Momjan Valley, with views of the Adriatic Sea. The 2021 vintage follows a string of successful vintages in 2019 and 2020, bursting with honey apple, melon, peach and lime. There's also a lovely bittersweet note, reminiscent of quince and grapefruit with a grassy, herbaceous hue. Sauvignon fans will love this as a sun-kissed, riper choice to their usual tipple. 
A lovely and fresh Malvazija like this is going to sing with coastal food, unsurprisingly; go posh and try it with lobster roll, or stay simple with grilled white fish and a squirt of fresh lemon. The wine's also a great pick for picnic grub like potato salad, fish cakes, pork pies, quiche and the like.
Next up we have the Testament Organic Posip (included both The Rambler and The Globetrotter). I still remember trying this wine for the first time in London around 5 years ago and absolutely adoring it. I'm so pleased we can share it today with wine lovers here in the UK. Posip is a delicious variety indigenous to the southern winegrowing region of Dalmatia. It loves the heat and gets plenty of it around the medieval town of Šibenik in northern Dalmatia. 
Straw gold in colour, dense and aromatic, this mouth-filling and full white wine brings a tide of flavour with apple, pear, chamomile and white peach. It's not sweet, rather opulent in texture, making it massively satisfying.
Pair Posip with asparagus wrapped in Prosciutto ham, roast chicken and trimmings, or baked salmon. 
Your final white wine in the case this month is the Ilocki Podrumi Traminac Premium (included both The Rambler and The Globetrotter). Ilocki Podrumi know how it's done - they are one of Croatia's oldest wineries. For their 'Vrhunsko' wines, meaning 'Supreme quality', Ilocki takes the best fruit from the vineyards of Srijem in the north-east region of Croatian Danube.
Using the Traminac grape, grown widely in these parts, they focus on making a pure style that evokes the fruit of the sunshine and the minerality of the terroir. The result is something more approachable than more pungeant styles of the similar Gewurztraminer variety, instead favouring an intense nose but a clean, elegant palate of fresh fruit and hints of honey and Turkish delight.
An amazing white wine with Thai cuisine or spice in general. It's also a good choice with semi-soft, strong cheese.
Time for reds! So much to choose from in Croatia but let's start with an iconic northern Croatian red, Pilato Teran (included both The Rambler and The Globetrotter). Teran is a quintessential Istrian dry red wine. The vines grow in 'rust' red terra rossa soil over a layer of limestone rock on a slightly elevated plain at 200m above sea level. The average age of the vines is around 15 years.
When the wine's young it can sometimes be tangy and astringent, but as it ages Teran matures beautifully into a poised, ripe and memorable red wine. This Teran is 2015 with 8 years of ageing, leading to a mix of dried cherries, tea leaves, pepper and blackcurrant. 
As it's not too rich, this red is a brilliant partner with lamb dishes or mushrooms, especially if a bit of soy is used to add caramelisation and sweetness. 
Our next wine is the Franc Arman Cabernet Franc (included in The Globetrotter only). I am a huge fan of Cabernet Franc, often from the Loire but especially from warmer climates like Villany and here, in Istria, Croatia. The result is a bold, deeply hued red with blackberries, blackcurrants, and black cherries. Hints of leathery tannins, vanilla and leather round out the wine, giving it structure and length.
Franc Arman's winery is based in Narduči, western Istria. Franc and Oliver continue the traditions of their ancestors, who first planted vines in the region in 1850. They make a lot of wine from international varieties but they are discerning in their selection and source the right varieties to fit the valley climates of north-west Croatia, like this excellent Cab Franc.
These kinds of reds work really well with red meat, strong cheese (think aged Cheddar or Gruyere), or stews. 
Finally let's introduce you to chocolate in a bottle: Matusko Dingac (included in the The Globetrotter only), which is the 2017 vintage.
Matusko is a pioneer of the premium Dingac red wines made from Plavac Mali (a variety known locally as the "blood of the soil"). Dark ruby red in colour, this is a full, rounded and harmonious wine with brooding black fruits, dark chocolate and a silky texture. Truly special! Created by one of Dalmatia's most respected winemakers, Mato Violić Matuško.
Pair with blue cheese, chocolate desserts, or rich gamey stews.
Where can I find out more?
If you're not subscribed to the Club, crack on and get your subscription online by clicking here and join from only £49. If you'd rather just stock up on Croatian wine, go here.