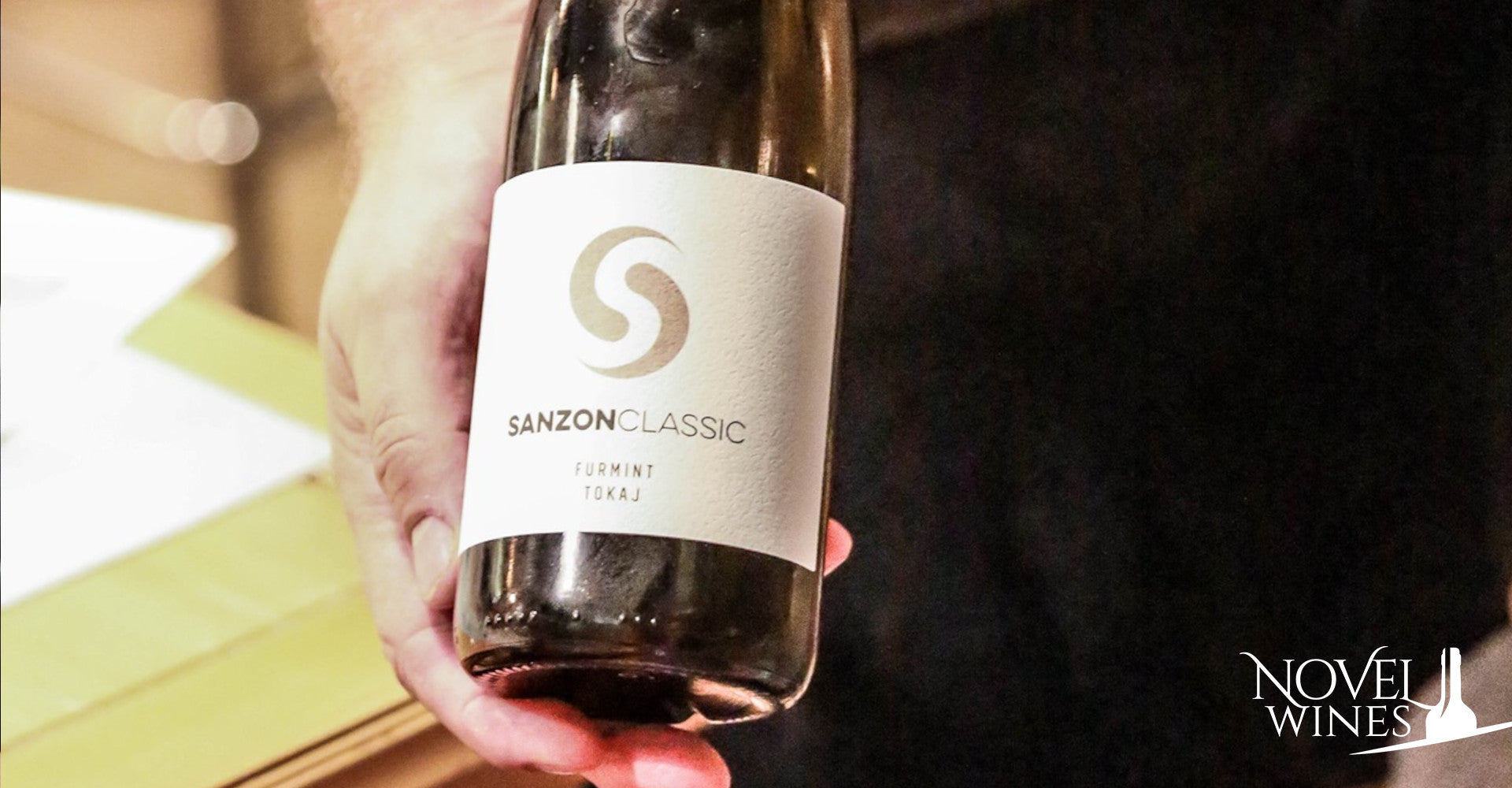 Welcome to Furmint February! Here's What You Should Drink
As we begin Furmint February, wine buyer Ben Franks takes you through what Furmint wines you should be sipping this month.
If you've never tasted a Furmint before, then there's no better time than now. Over the last 20 years, winemakers in Hungary's famous Tokaj wine region have been experimenting and honing their craft with the country's most important white grape variety: Furmint.
Known world-over for its sweet wines, Tokaji Furmint has a naturally high acidity and an affinity to noble rot. This means even its sweetest wines are wonderfully refreshing.
In its dry form, Tokaji Furmint shares similar characteristics to Burgundian Chardonnays and, sometimes, it is reminiscent of dry Rheingau Riesling. The versatility is down to an array of passionate winemakers all doing different things throughout the region, but also in Furmint's ability to reflect the terroir in which its grown - and few places are quite as diverse in their topography and climate as Tokaj.
Below are just a few examples of the styles we stock at Novel Wines that will give you a view into this glorious grape variety. Most are from its home in Tokaj, but there is also one from the picturesque hills of Lake Balaton.
Enjoy - and don't forget to let us know what you think of Furmint once you've tasted one!
Demetervin Estate Furmint: A pure flavour of Tokaj
Dr Endre Demeter is one of Tokaj's best wine producers, dedicated to making the finest quality wines that celebrate the land in which their grown. He has some of the finest sites in Tokaj, including the Uragya (bed of the lord, named as the sun sets below it) and Kiraly (taking its name from the word 'King'). 
His Estate Furmint is a blend of selected parcels from his land and offers a pure taste of Furmint from around the village of Mád in Tokaj. It's a rich, racy wine full of red apples and quince. Grab a bottle here and serve it with thyme grilled pork chops. 
Kardos Dry Furmint: A great introduction to Furmint white wines
Gabor Kardos is a good friend of my business partner Gyorgy Zsiga and his wines are among the first we imported for Novel Wines. His dry Furmint is a fab introduction to the grape variety. Unoaked and fruit-driven, the wine still displays Furmint's trademark acidity and freshness. Kardos' vineyards are also based around the village of Mád, and he has a wine bar that's well worth a visit!
Buy this fruity, great value Furmint here.
Peter Pince Meszes Maly Furmint: the honey pot vineyard
Along the border of the villages Tokaj and Tarcal, the southern-most villages of the larger Tokaj wine region, you'll find the honey pot vineyards owned by winemaker Akos Peter. Named after the area's unique micro-climate that allows for a warmer, riper style, these wines are full and waxy. Matured in oak, they offer peach, buttery vanilla spice and apple turnover notes.
This is a fab pairing with oily fish or meats like venison or veal, if you'd prefer to drink a white. Dive into Tokaj and try something from these honey pot vines here.
Pure, full and rich: Gizella's pursuit for perfection
Gizella is another exciting edition, based in the city of Tokaj with vineyards in Tokaj and Tarcal. Winemaker Laszlo Szilagyi is emboldened by the growing appeal of Tokaj wines and is honing his skills every vintage. His wines are already delicious and exciting, but they are also improving every year. Alongside single varietal Furmint, you can also discover Harslevelu varietal wines and blends in Laszlo's range. Have a look at what's available here.
SanzonTokaj: Lean, fresh Furmint winemaking for the Riesling fans
While the Furmints of Mád, Tarcal and Tokaj offer a textured, mouth-filling and Burgundian style experience, in the hills of Erdőbénye village to the north-east of Tokaj you'll find Erika Racz's vines. This fully organic, tiny estate is making some very interesting Furmint wines that are almost like the rich, dry Rieslings of the Rheingau.
In her Classic Furmint, one of my favourite wines, you get a plethora of stone fruits and orchard apples, but this time over a backbone of zingy limes, spicy gingerbread and smoky, flinty character. It's a moreish, mouth-watering style that pairs effortlessly with Mediterranean cuisine like stuffed bell peppers or feta cheese, or alongside Asian food like Ramen.
Give this truly unique wine a try.
St Donat Marga Furmint: Taste Furmint from another land
It's not all Tokaj though! Travel westward, past Budapest, and to the west bank of the stunning Lake of Balaton and you'll discover Szent Donat Winery. Owned by the young, innovative winemaker Tamas Kovacs, these marl and loess soils are suited to a leaner, fresher Furmint. 
Pops of pink grapefruit, bittersweet apple and lime are bound together in a mineral palate. The wine is matured for 8 months in ceramic eggs, which gives it a soft plush texture. This is the Furmint to have with fish, especially when its all bundled together in a warming fish pie with buttery mash topping.
Give it a go here!
TR Muvek Furmint: A new wave of Furmint wines
Returning to Tokaj, here's the Radicals - quite literally, Tallya Radicals. This group of four friends, based in the village of Tallya just north of Mád in western Tokaj, are the owners of the Palota vineyard. Planted with 15-40 year old vines, the Furmint style here is concentrated, bathed in sunshine and matured both on its lees and partially in oak.
Their flagship Furmint, TR Muvek, is spilling over with apple blossom, nectarine, almond and juicy pears. It's perfect with trout, grilled halloumi and vegetables, or roasted pork belly.
Szamorodni Sweet Furmint: Time for a treat
Of course, we can't ignore sweet wines when we're talking about Furmint from Tokaj, can we? Its unique area and Furmint's thin skins make Tokaj the home of the best noble rot dessert wines. Furmint also retains high acidity, even as it concentrates and sweetens, giving you freshness in even the richest of dessert wines.
While many Tokaj fans will have heard of Aszu, made by painstakingly selecting only the best noble rot berries for each bottle of dessert wine, you may not yet have head of Szamorodni. This new style, named after the Polish phrase 'as it has grown', sits between late harvest dessert wines and the ultra-sweet Aszu wines. You can also find dry styles, which are sherry-like, but the sweet wines are intense and voluptuous, full of apricots, honey and apple jam. 
If that's got your mouth watering, then check out the dessert wine selection we have here.