Article: Pairing wines with Pelagonia's Griddled Chicken with Aivar and Cheesy Bacon Topping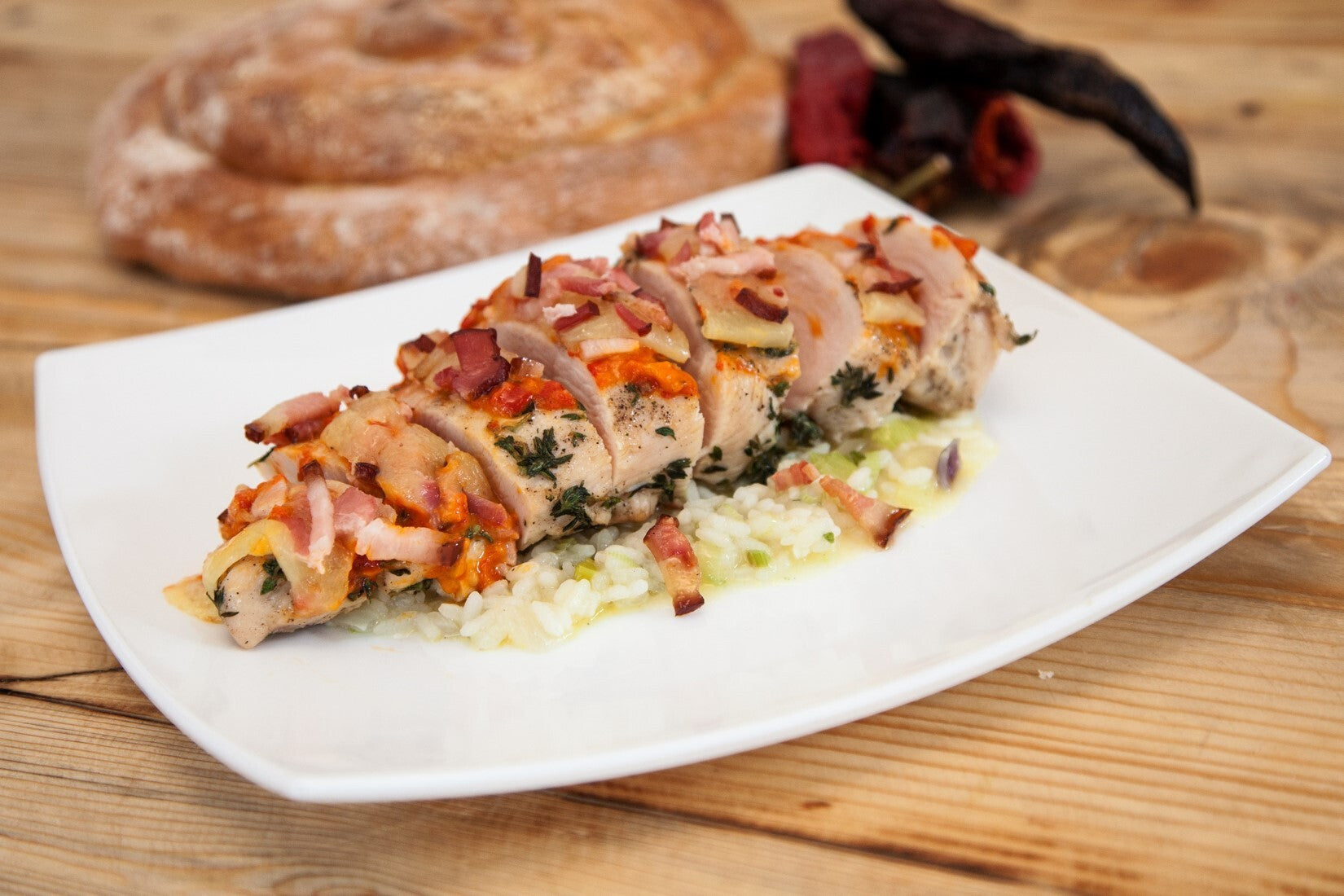 Pairing wines with Pelagonia's Griddled Chicken with Aivar and Cheesy Bacon Topping
We have partnered with Pelagonia for this wonderful and truly Macedonian recipe! Pelagonia is an award-winning Macedonian food which specialises in the best traditional recipes from their region. This recipe will be using their Aivar. Aivar (or Ajvar) is an iconic recipe and trademark product of Macedonian. Made from roasting sweet juicy red peppers ground with aubergine, creating sweet tasting, creamy condiment the has no sugar, cream and is very healthy and low in fat and calories. You can find out more about Pelagonia on their website here and you can find their products in Waitrose & Co-op stores.
What you will need
1 medium (170g) chicken breast

1 tbsp of Aivar Pelagonia

Slice of tea smoked or cured bacon

1/2 a cup of grated mature cheddar

1 tsp chopped garlic

Sprigs of lemon thyme
Method
Marinade the chicken breast in olive oil, garlic and lemon thyme

Place the marinated chicken onto a griddle pan and griddle for two to three minutes on each side, season with rock salt.

Griddle the bacon slices

Remove and chop the bacon into thin strips

Place the chicken breast onto a tray, spread the Pelagonia Aivar with a table spoon and top with the bacon strips and grated cheese - bake for 10 minutes until the chicken is cooked.

Slice the chicken breast and it's ready to serve.
Don't forget the wine!
So, what wine do you pair with a Macedonian Griddled Chicken and Cheesy Bacon with Aivar?
The wine will need to need to match the smooth, sweet and spicy Aivar while also having some acidity to contrast well with the cheese and meats. It's also common for wine to match well with dishes from similar regions.
Luckily at Novel Wines we have Tikves Cuvee Methodius Vranec, a vibrant red wine coming from North Macedonia. Vranec (pronounced Vran-ash) means 'strong, powerful horse' and is celebrated for its opulence. It bursts with vibrant blueberry and blackberry aromas. Silky-smooth with flavours of black fruits, hints of cocoa and juicy plum, with fine tannins and a hint of bramble leaf on the finish.
If you're a fan of white wine, our Chamlija Blanc de Noir Papaskarasi is a great pairing; broad, full-flavoured white wine with citrus blossom, white peach, jasmine and apple aromas. The great flavour mix of sweeter fruits and acidic citrus will match the Aivar, along side that, the full bodied nature of the wine helps it stand along side this tasty recipe.