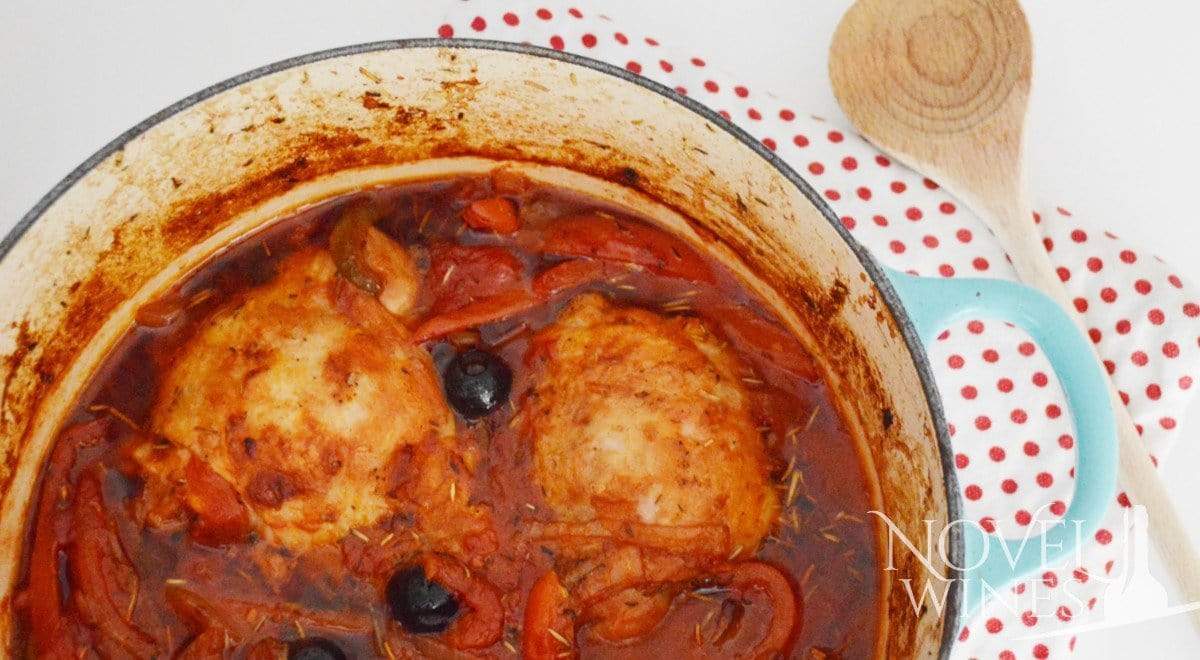 One pot Andalusian-style chicken
This is a lovely one-pot dish – chicken thighs are braised in a sauce of tomatoes, peppers, rosemary and black olives, which over the cooking process becomes thick, rich and slightly caramelised. The sweet freshness of the peppers contrasted with the saltiness of the black olives goes beautifully with the juicy, fruity Chateau Purcari '1827' Viorica. Coming from Moldova, this ripe, full and plush white wine has plenty of exotic fruit and a rounded finish. It's the best white wine for dishes like this!
Scroll down for our one pot chicken recipe.
Ingredients
Serves 4
4 chicken thighs
Olive oil
Dried rosemary and thyme
Salt and freshly-ground black pepper
2 onions
3 mixed peppers (any colour is fine)
A glass of red wine
2 tins of plum tomatoes
A big handful of black olives
1 tbsp sweet chilli sauce
Method
Preheat the oven to 200°C (180°C fan). Start by warming a splash of olive oil in a large casserole dish. Sprinkle the chicken thighs with salt, black pepper and dried rosemary, and then brown in the pan until no longer pink. Transfer to a plate and set aside.
Peel the onions and de-seed the peppers, and cut both into long thin slices. Add a little more olive oil to the same casserole dish (no need to wash it) and fry the vegetables until they start to soften. Then pour in the red wine and let it all sizzle for a few minutes.
Add the plum tomatoes to the pan and break them up with a wooden spoon. Stir through the black olives and sweet chilli sauce, and season with rosemary, thyme and a little salt and pepper. Simmer for about five minutes.
Return the chicken thighs to the pan, nestling them amongst the other ingredients so that the skin-side is facing upwards and just clear of the sauce. Place in the oven (without a lid) and cook for 45 minutes to an hour, or until the sauce is just starting to catch and blacken around the edges. Serve straightaway, with bread to mop up the juices if you fancy.